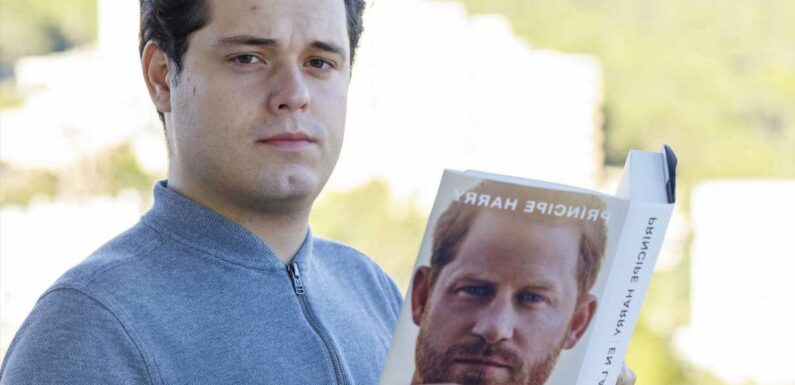 PRINCE Harry's bombshell book accidentally went on sale early in Spain – and we got our hands on one of the first copies.
A customer grabbed two Spanish editions of Spare from the shelves for 22.90 euros (£20.23).
He tipped us off and we jetted out to snap up one of the hardbacks – which is 557 pages long.
The memoir is entitled En La Sombra, which translates to "In the Shadow", with "Príncipe Harry" written at the top of the cover.
Inside, it says "Para Meg, Archie y Lili… y, for supuesto, mi madre" – which means "for Meg, Archie and Lili… and, of course, my mother".
The customer, who wants to remain anonymous, said: "I was shocked when I saw them selling it.
READ MORE ON HARRY'S BOOK
Harry says he DOES want to go to Charles' coronation but 'ball is in their court'
Harry blames William & Kate for encouraging him to wear Nazi uniform to party
"They didn't seem to know how big this was – they're not as high-profile here.
"It must've been some kind of mistake."
Spare is due to be published on January 10.
It is expected to reveal more than Harry's Netflix series did about the way he feels he has been treated by his family.
Most read in Fabulous
I got Turkey teeth but trolls say I'll regret it and think they're too bright
I'm a super scrimper – I don't wash my hair or shave & don't care if I stink
I'm a mum but look so young that security was called when I was with the kids
I'm a cost-cutting dad – I've saved £10k on my bills with my three top hacks
In an extract obtained by The Guardian, he claims his brother "knocked him to the floor" during an argument about Meghan.
Harry, 38, writes how William, 40, branded the former actress "rude" before grabbing him by the collar, ripping his necklace and sending him down on top of a dog bowl.
The explosive revelations in Harry's book include:
Prince Harry claimed his brother William 'attacked' him in a row over Meghan Markle
Harry called his therapist instead of Meghan after the confrontation with his brother
Charles pleaded with Harry and William not to 'make his final years a misery'
The Duke of Sussex revealed the nicknames he uses with William
Harry claimed William and Kate Middleton encouraged him to wear the infamous Nazi uniform
The duke said he does want to go to King Charles' coronation, a trailer for his ITV interview has revealed
Meanwhile, seven times Harry was welcomed by the Royals have been revealed
Harry has already attacked the Firm in two TV interviews with ITV and CBS ahead of the book's launch.
In a clip from a chat with Tom Bradby, which airs on Sunday, the duke says he wants his father and brother back but he wants "a family not an institution".
He also reveals how he wants to go to the King's coronation but "the ball is in their court".
And talking to Anderson Cooper, Harry says the family motto is: "Never complain, never explain."

Source: Read Full Article