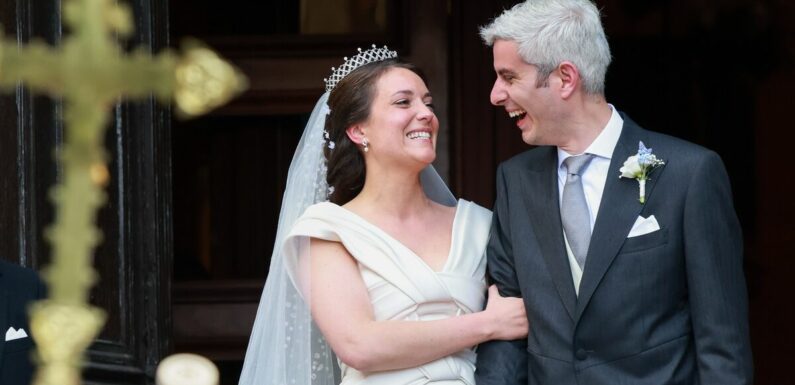 Princess Alexandra of Luxembourg is the daughter of Henri, Grand Duke of Luxembourg, and Maria Teresa, Grand Duchess of Luxembourg. The royal married businessman Nicolas Bagory in a little town in the south of France, Bormes-les-Mimosas, on Saturday. The couple had a religious ceremony and later made their way back to the Grand Ducal Palace for a private reception.
Get the latest royal news straight to your phone by joining our Whatsapp community!
Luxemburg Palace confirmed last year that Princess Alexandra would have two wedding ceremonies.
In November 2022, when she got engaged, the Palace announced: "The civil wedding will take place on April 22, 2023, at the Town Hall of the City of Luxembourg.
"The religious wedding will be celebrated on April 29, 2023, in the Saint Trophyme church in Bormes-les-Mimosas. The two families join in the happiness of the engaged couple by surrounding them with their affection."
For the religious ceremony in France, Princess Alexandra wore a stunning Elie Saab wedding gown and the Grand Duchess Josephine Charlotte's diamond choker tiara.
The royal chose an off-the-shoulder wedding gown with pleated details and an embellished long veil.
She accessorised with a pair of pearl drop earrings and a sparkling diamond bracelet as well as the stunning Luxembourg Chaumet Choker Tiara.
The beautiful tiara, which belonged to Grand Duchess Joséphine Charlotte of Luxembourg, was made by Chaumet and can be worn without the top pearls and as a necklace.
Grand Duchess Maria Teresa of Luxembourg inherited the stunning jewel from her mother-in-law in 2005.
Don't miss…
Kate may have 'delicious' breakfast food every day to lose weight[DIET]
Kate's gesture to Prince William put her 'in the role of control'[BODY LANGUAGE]
Danish royals pose for portrait in 'midlife crisis' shoes, claim fans[STYLE]
Lately, Princess Margaretha of Liechtenstein and Princess Alexandra of Luxembourg have been seen donning the sparkling piece.
Duchess Maria Teresa of Luxembourg, who is Princess Alexandra's mother, loves the diadem's versatility and she has been spotted wearing it as a choker on multiple occasions.
Princess Alexandra decided to alter the original Elie Saab gown for her wedding day and the dress was divine, but the new design divided fans on social media.
On Instagram, one user commented: "It's the first Elie Saab dress I don't like" and @birdner327 said: "Firstly I'll say she looks radiant, so that's always a hit."
The royal fan claimed, however, that the dress had "extra fabric added to some areas making it look bulky and seeming off. I do like removing the long sleeves though".
Social media user @limonelemons said: "I love the fabric of the gown and her veil is beautiful but not a fan of the criss-cross detail on the bodice of her gown. But her smile radiates, she is a beautiful bride."
While some opined that the dress "seemed to be the fit for this bride" as it was "very coherent with what we've seen Alexandra wear before", others disagreed.
A royal watcher with username @bluefood_obsess commented: "She looks happy and that makes her a beautiful bride. But this is a busy dress with all the knots happening at the front. I also don't think it fits her body type."
Royal fan @paulaarsans added: "I wouldn't wear it myself and it makes her look older than she is but she looks gorgeous! I think she is one of the prettiest princesses in Europe."
"Very disappointed. It's a no. The original version in beige is great though. The long sleeves make it all I think," another Instagram user opined.
Source: Read Full Article