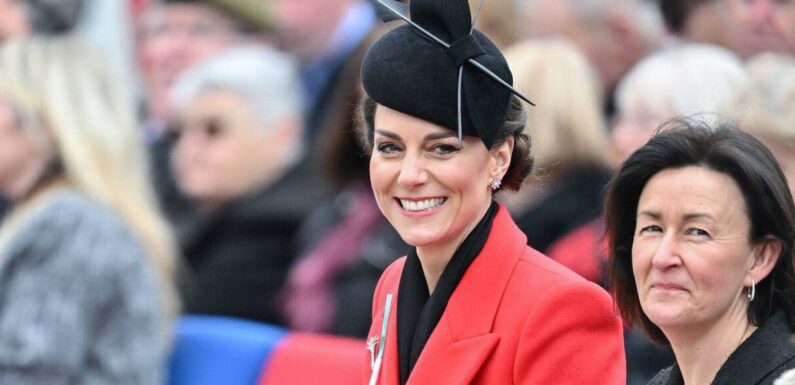 Prince William and Princess Kate paid tribute to Wales today as they visited Welsh Guards – the first time William has done so since becoming their Colonel. To celebrate the patron saint of Wales, the royal couple presented leeks to officers and guardsmen. The leek is a quintessentially Welsh symbol and is often consumed on March 1 in soups or stews.
For today's occasion, Kate looked dazzling in a long red coat and black boots.
The Princess also donned a black scarf and black leather gloves.
She accessorised with a black hat and carried a black leather bag.
The royal seemed to be wearing a red skirt or dress underneath her coat – paying tribute to Wales by wearing its national colour.
READ MORE: Prince Edward has 'suddenly lost so much weight' fans claim – pictures
Kate's boots were her trusty suede, knee-high Gianvito Rossi boots that she often wears for royal engagements.
These were the boots the Princess wore yesterday for a slew of visits in south Wales. Gianvito Rossi, an Italian designer, is popular among British and European royal circles.
Today, Kate's hair was in a rare updo, kept in place by her sophisticated black fascinator.
She also wore gloves that she rarely dons – they were leather with patterned cut-outs.
DON'T MISS:
Keep bananas yellow and firm for 3 weeks with clever storage method [GUIDE]
Aldi Wine Club is offering customers free wine [APPLY]
Beauty fans praise £7 'Botox' cream that 'smooths skin' in two weeks [COMMENT]
Kate completed her look with smokey eye make-up and a slick of pink lipgloss.
As for accessories, a silver, leek-shaped brooch was pinned to her left lapel and she wore dainty floral earrings. These too were silver.
The royal couple arrived in Combermere Barracks in Windsor to attend the St David's Day Parade today.
After the parade, Kate and William will sit for an official photo with The Prince of Wales's company.
They will then meet families from the Regiment as well as a group of troops from the Fifth Royal Australian Regiment (5RAR) who are currently in the UK helping to train the Ukrainian Armed Forces.
Established in 1915 by King George V, the Welsh Guards are a Light Role Infantry battalion based in Pirbright, Surrey.
The guards have taken part in almost every British Army campaign since the First World War.
Buckingham Palace announced William's new role as Colonel of the Welsh Guards, which was previously held by King Charles, in December.
Kate and William began the St David's Day celebrations a day early with a visit to south Wales yesterday.
The couple visited the Brynawel Rehabilitation Centre, near Pontyclun, where they met with local communities to learn more about mental health initiatives in the region.
They then visited the Aberavon Leisure and Gitness Centre to meet those living locally and hear about how sport and exercise can support mental health and wellbeing.
The Waleses' ended their visit at the Wales Air Ambulance's headquarters, where they met with emergency responders.
Source: Read Full Article