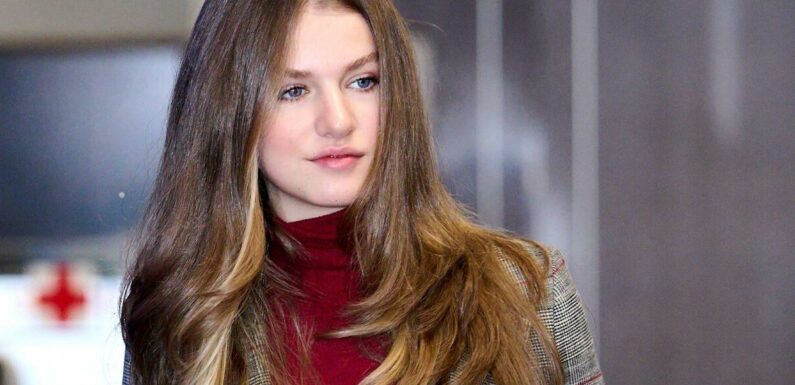 Princess Leonor of Spain, 17, met youth volunteers from Red Cross programmes on Thursday in a very grown-up outfit. The royal teenager wore two items from her mother, Queen Letizia's wardrobe.
Leonor opted to wear a Carolina Herrera "Prince of Wales Check Blazer in Grey", which was previously worn by Queen Letizia in 2020.
The description for this blazer said: "This Prince of Wales check blazer features a single-breasted front with flap pockets, notched lapel and black buttons."
The grey blazer features subtle red checked stripes, which adds a lovely bit of character to the designer garment. Especially because Princess Leonor paired her blazer with a red wool turtleneck jumper, which looked very sophisticated.
Queen Letizia previously wore this blazer in May 2020 when she visited Madrid's wholesale Mercamadrid market during the coronavirus pandemic.
We use your sign-up to provide content in ways you've consented to and to improve our understanding of you. This may include adverts from us and 3rd parties based on our understanding. You can unsubscribe at any time. More info
Princess Leonor paired her upper half with a simple pair of black trousers, that were tight-fitting but flared ever so slightly at the bottom.
The 17-year-old purchased a new pair of Unisa "Albeno 21 Ns Black Leather Flats", which are now no longer in stock.
The description for these items says: "This model of ballerinas has a trendy leather add-on, which makes the shoes look stylish and timeless with any outfit – both everyday and elegant.
"Comfortable and feminine summer shoes, where comfort is enhanced by a solid and durable sole made of high-quality material."
To accessorise, Princess Leonor wore a pair of gold bamboo earrings, which were also previously worn by Queen Letizia.
Letizia debuted these unidentified gold earrings on a royal tour to Cuba in 2019. They are small gold hoops with a slightly chunky shape as opposed to a smooth circle.
Royal fans mainly praised Leonor's outfit and took to social media to discuss her more adult look.
For instance, Instagram user @ale_campos_gua said: "She looks so mature and grown up!"
Another fan, @duchess_of_raleigh22 said: "She's beautiful. Another Princess with incredible hair!"
Similarly, @babygoatx__ wrote: "Leonor is such a beautiful girl and I love her hair."
Royal watcher @birdnerd327 commented: "I love this colour palette and she looks great. Hard to be a teenager and doing these professional types of engagements."
However, a few fans claimed that the look was "too old" for a 17-year-old. For instance, Instagram @emm_a_lire said: "This outfit looks old for such a young lady. I wonder if this is her choice."
Similarly, @luxmeagainpreloved added: "I agree with getting her some good foundation pieces but the cuts and colour blocking here is very matronly. She should just shop her mum's closet for some sharp classics."
Fan @nic.olepapa noted: "I wish she had tucked in her top and maybe worn some boots instead." Similarly, @traceybsam said: "Put her in some age-appropriate clothes. This is horrible."
In addition, @martina_schippers_ wrote: "I think this outfit is okay. Difficult for such young girls to dress for official duties.
"She is beautiful. She looks very young, her sister looks more grown up than she does. Not that it matters but I find that very noticeable."
Source: Read Full Article