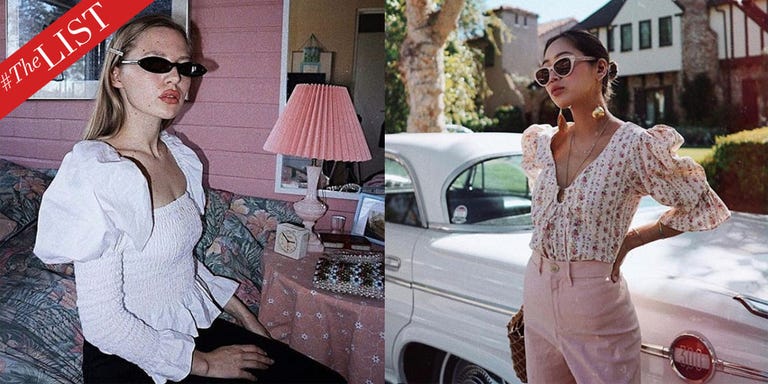 Last summer was ruled by the ubiquitous off-the-shoulder top, but this season has a new fashion contender: the puff sleeve. The perfect hybrid of the Victorian era meets the era of Dynasty (the OG '80s version, obviously. You can keep the reboot, CW), the puff sleeve is both flattering and playful—not to mention it makes the perfect pairing for all your blue jeans.
Quickly rising as every fashion girl's favorite new silhouette, puff sleeve blouses and dresses are taking over in a major way this season. Bring some drama into your wardrobe and shop our favorite puff sleeves of the moment below.
The Esmeralda Top in White ? @lottaliinalove ❤️ WWW.OLIVIAROSETHELABEL.COM
A post shared by OLIVIA ROSE THE LABEL (@oliviarosethelabel) on
Go big or go home with this British brand's ultra-feminine, ultra-puffy handmade blouses that feel like an extra special addition to your wardrobe.
Olivia Rose The Label blouse, $157, oliviarosethelabel.com.
SHOP NOW
Keep the look feminine with a Victorian-inspired floral print dress.
Embrace the throwback trend for summer with this sunny, retro waist-tie blouse that will pair perfectly with high-waisted white trousers or denim cutoffs.
??Leather & Lace?? a Lil bts✨
A post shared by ᴀᴅᴀᴍ ᴠᴀɴ ᴏᴤᴅᴏʟ✨ (@adamvanosdol) on
Make a statement with a crisp white blouse that brings on the volume in sleeve form.
Orseund Iris top, $595, orseundiris.com.
SHOP NOW
For a top that goes from day to night, try an all-black blouse complete with unexpected tulle detailing.
Go girly in LPA's pink puffed mini dress.
The Esmeralda Top in Pink? @kaseyandherklothes? Available tomorrow over on www.oliviarosethelabel.com???
A post shared by OLIVIA ROSE THE LABEL (@oliviarosethelabel) on
Try the trend in a bold color that only makes the look stand out more.
Olivia Rose The Label blouse, $157, oliviarosethelabel.com.
SHOP NOW
If you're still hooked on off-the-shoulder sleeves, this floral summer top makes the perfect hybrid between the two trends.
Tone it down with a breezy white blouse that's perfect for a laid-back summer look.
Ring the alarm ! There's a red leopard on the loose ? #slipintostyle
A post shared by Ellie (@slipintostyle) on
Or take the look up a notch with a bold print dress that you can wear from summer into fall.
Ganni dress, $315, net-a-porter.com.
SHOP NOW
For more of a boho take on the look, this LBD can be worn with sandals now or a pair of ankle booties when fall temperatures set in.
A post shared by Petersyn (@petersyn_clothing) on
This brand is emerging as a new favorite amongst the fashion set—and it has plenty of pretty puff sleeve tops to choose from.
Petersyn blouse, $255, shopbop.com.
SHOP NOW
Transition your wardrobe into fall with a work-friendly blouse that will get you a lot of wear this season.
Pair it with lace-up sandals and gold jewelry and you're good to go with an ethereal summer look.
Summer at Surf ?‍♀️ cheers @donjuliotequila #donjuliopartner
A post shared by Danielle Bernstein (@weworewhat) on
Try a cropped iteration on the trend for the perfect summer top.
1.State crop top, $89, revolve.com.
SHOP NOW
Source: Read Full Article