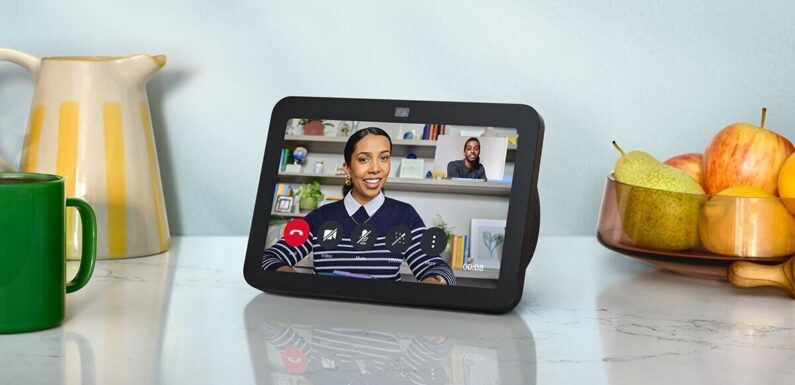 Amazon just unwrapped a redesigned Echo Show 8 for 2023. The new third-generation model arrives with a sleek curvaceous new design, improved speakers, and a clever software tweak that changes its behaviour on-screen depending on where you are stood in the room when using the Echo Show 8.
So, if you're standing on the other side of the room, the user interface will feature much larger text and icons. A proximity sensor knows when you're standing a little closer, shrinking the size of the text and making everything on-screen more touch-friendly.
This is something we've seen before from the biggest Echo Show competitor, the Google Nest Hub. Google shrinks and expands the size of text on-screen – like timers – based on where you're standing in the room.
It's brilliant to see the same enhancement coming to the new Echo Show, and it should make this clever smart home gadget more useful as you move around the room, setting timers, asking about the forecast, switching smart bulbs on and off, and tracking Amazon deliveries. Echo Show 8, which has the same 8-inch touchscreen as previous generations, is incredibly versatile and is often used on desks, kitchen countertops, coffee tables, bookshelves, and bedside tables.
Speaking to Alexa should be much speedier than before, thanks to improvements packed inside the new Echo Show 8. According to Amazon, responses will be fired back up to 40% faster than previous generations. The fastest responses will be for smart home commands, like turning on lightbulbs, adjusting smart thermostats and pausing music playback around the home.
We'll need to test out the new Echo Show 8 ourselves to see whether these speedier responses drastically improve the experience in the home.
If you rely on an Echo Show to listen to music, podcasts or audiobooks – this new Echo Show 8 could be a worthwhile upgrade. Amazon has added support for Spatial Audio, which is included as part of Amazon Music and Apple Music subscriptions. Spotify has yet to add support for the standard, which maps out the instruments in three-dimensional space.
New hardware packed inside the redesigned Echo Show 8 senses the acoustics in the room to tune playback for the space. Again, we'll need to hear this for ourselves, but it all sounds very promising.
Echo Show 8 will cost $149 in the United States and is available to preorder now. We'll update you with UK pricing as soon as we hear from Amazon. The first orders of this redesigned Echo Show 8 start shipping next month. The new smart home speaker will ship in 100% recycled packaging as part of Amazon's ongoing push for sustainability with its hardware efforts.
We use your sign-up to provide content in ways you've consented to and to improve our understanding of you. This may include adverts from us and 3rd parties based on our understanding. You can unsubscribe at any time. More info
Source: Read Full Article