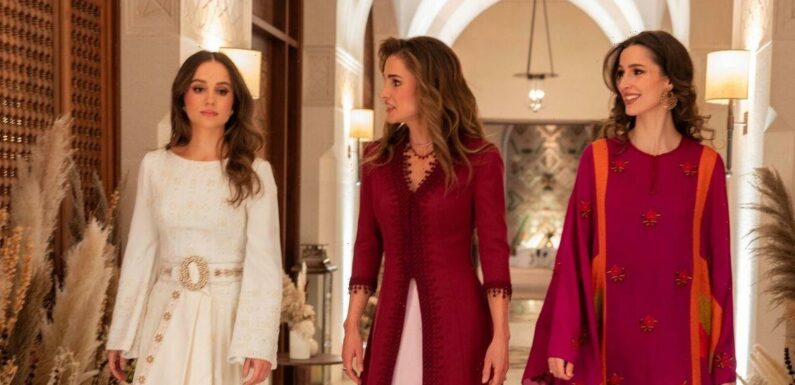 Princess Iman of Jordan, Queen Rania of Jordan's daughter, is set to marry Mr Jameel Alexander Thermiotis this month. For her engagement party held by her mother at Al Husseiniya Palace, Princess Iman wore a beautiful custom-made dress
Princess Iman donned a long white dress from designer Reema Dahbour featuring long sleeves and delicate embroidery.
The royal altered the gown to fit the belt Queen Rania wore on her wedding day in 1993.
Adding her mother's belt, from designer Bruce Oldfield, was a lovely touch and elevated her unpretentious engagement outfit.
Designer Reema Dahbour commented: "It's a moment of pride where as a Jordanian fashion designer I am deeply honoured to see our piece on Princess Iman on such a special day. Congratulations to our Royal Family!"
Tune into our Royal Family Snapchat Show, every Monday exclusively on Snapchat
Queen Rania shared some photographs of the special event on her social media account including the moment the dress was being modified to add her belt.
"We took care of the bride and showered her with love, and with all the family, our joy was completed with the night of Henna Iman.
"So much love in one room! With friends and family at Iman's Henna party yesterday," Queen Rania explained.
A Henna party is one of the most important wedding celebrations in Jordan and is the event where the bride gets henna paint applied to her hands and other parts of her body.
Don't miss…
Kate may have 'delicious' breakfast food every day to lose weight[DIET]
Kate's gesture to Prince William put her 'in the role of control'[BODY LANGUAGE]
Danish royals pose for portrait in 'midlife crisis' shoes, claim fans [STYLE]
A royal fan explained on social media: "Henna party for us is like a bachelorette female family and friends from both the groom's and the bride's side gather and we dance and sing and do henna drawings."
Royal watchers took to social media to praise the Princess' style with many saying that including a part of her mother's wedding gown was "so touching".
Instagram user @clemiechaz commented: "Absolutely stunning" with others saying it was "so cute" and she looked "beautiful".
"So touching!" said royal fan @rogerrafacat and another one, @nic.olepapa, added: "She looks so gorgeous and I love the belt!"
Instagram user @kieriay commented: "The shot of Queen Raina helping her with the belt is so special!"
"What a beautiful touch of using the belt from her wedding dress. Just lovely," agreed @isabelq42.
Royal fan @florence.pit opined that the dress was "very timeless, chic and a lovely touch with the belt".
"She is so beautiful and looks like her mum," added @adeyemisofiyyah and another social media user, @farah_abd_elwhab, agreed: "I liked her wearing the traditional dress of Jordan.
"And adding a memory of her mother to the dress. It is clear that everyone prefers to borrow belts from Rania."
Queen Rania added on social media: "In a week, she will be a bride. My precious Iman, I am so happy for you and so proud of everything that you are.
"Thank you to the very talented @elissazkh and to the brilliant @imarwankhoury for this wonderful gift and for your amazing ability to capture sentiments so beautifully."
Source: Read Full Article