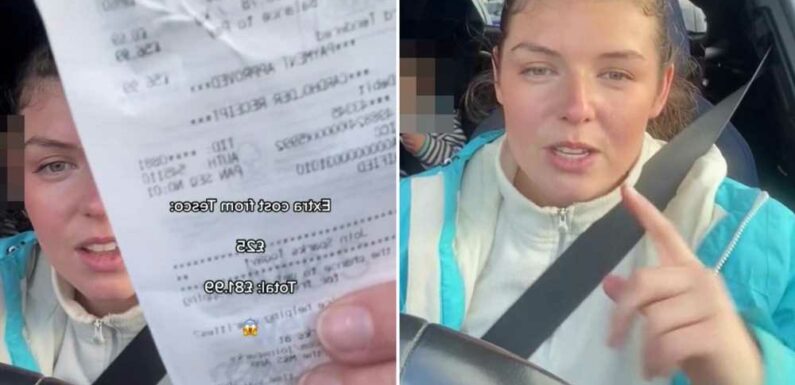 A SAVVY shopper was floored when she did her weekly food shop at Marks & Spencer to check the price difference between the store and her usual Tesco's.
Claudia took to her TikTok page to share a video revealing her thoughts about her comparison.
"I just did something that I would never usually do," she began.
"My For You Page has been absolutely flooded with people doing comparisons on their weekly shops at places like Waitrose vs Aldi, M&S vs Tesco, and so on.
"So today, I thought, do you know what, I'm going to do my weekly shop at M&S and see if there's that much of a difference.
"Now I am a Tesco girl and I will die on that hill.
Read more Food stories
Little-known supermarket tricks to get you to spend more
Tesco makes a major change to supermarket essential – and shoppers will love it
"I just did the bulk of my shop – bearing in mind that we are vegan – at M&S."
Claudia went on to explain that she couldn't get a few things from Marks & Spencer, such as the milk she and her family has, vegan cream or the vegan pizza base mix they use, so would pop to Tesco for those bits.
"My weekly shop at Tesco last week was £91," she said.
"My total for today at M&S – £56.99. What?
Most read in Fabulous
I burst into tears when Harry attacked me and I think he's being influenced
I don't have toilet roll in my house – guests have to use my bidet instead
Harry 'felt less important than Wills when he was given fewer sausages'
The Radford's torn apart by decision that left Sue and Noel in a power struggle
"I'm just going to come and do my shop at M&S!"
She added that even after getting the extra bits from Tesco, on which she spent £25, the total came to £81.99 – saving her almost £10 on her weekly shop.
And, as an added bonus, Claudia pointed out that the "quality at M&S is unreal".
"I am now an M&S girlie," she wrote over her video, before adding in the caption: "M&S you've just gained a loyal customer."
"I used to work at M&S for 7 years and It is honestly the best food & they always try and keep the prices down!" one person commented on her video.
As another added: "Honestly I shop there quite often there's so much that's affordable fresher and fruit and veg lasts longer also I find!"
"It's so true!" Claudia replied.
"I couldn't get over the size of the peppers!"
Read More on The Sun
I'm a speed camera officer… here are three myths drivers always get wrong
You're charging your iPhone wrong – how to make it charge much faster
"I spent £70 at m&s and got most of my monthly shop last week," someone else wrote.
"Lasts longer and fresher and better quality."
Source: Read Full Article