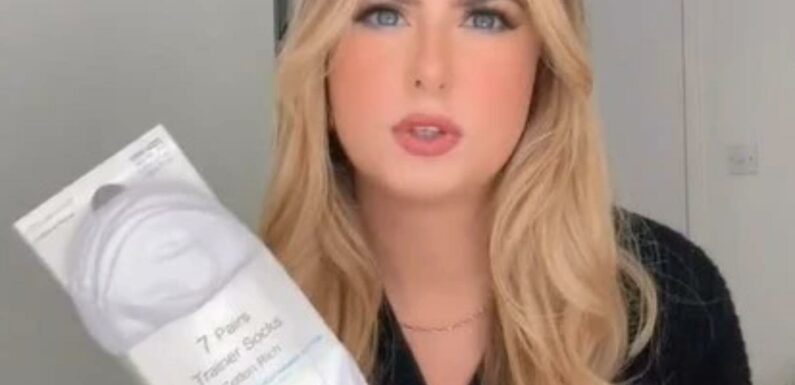 A SAVVY Shopper who went to Primark to pick up a pack of socks was stunned up spending much more than she bargained for.
Maria Joyson revealed she was baffled when she got to the till to pay for her items – and saw it came to £38.50.
In a TikTok video, she said: "Every time I go to Primark I get a shock at the till.
"This was £38.50 and I literally thought I bought a pack of socks.
"What did you get you ask? Well, I'm going to show you.
"It's going to be a learning experience for us both."
READ MORE ON PRIMARK
I tried out Primark's £8 chopstick curler on my long hair – here's how it went
I'm a savvy mum & got 5 outfits for £80 in Primark haul, jumper was a bargain
But as we all do, Maria got carried away once she entered the store.
The first item she picked up was the Primark bodysuits in black and beige which were £8 each.
"I'm kind of remembering where the money went when I see these two bodysuits," she admitted.
Next, Maria picked up a loungewear set in grey.
Most read in Fabulous
Guest at Will's wedding pours cold water on Harry's claim that he wasn't best man
Harry is a good kisser – he clearly likes an older woman, says ex-lover
Woman shares clever trick to dry clothes with no tumble dryer in under two hours
I bought a £309 Amazon returns pallet and ended up with a haul worth thousands
The trousers were £11 and the top was £9.
Lastly, she picked up the pack of socks she initially went into Primark to get, which cost £2.50.
Back in April, the fast fashion retailer announced that due to inflation it would have "no option" but to raise its prices for a selection of this season's range. 
Maria has attracted over 70k followers and two million likes on the video sharing app.
Her Primark haul went viral with over 120k views and almost 10,000 likes.
People quickly took to the comments sections to share their thoughts, with many claiming Primark is too expensive now.
One wrote: "Nah fr why is Primark so expensive now."
Another person commented: "Fr Primark keeps upping the price of things every time I go."
"Good old Primark, hard to beat, value and quality," penned a third.
Read More on The Sun
People are only just realising that XXL and 2XL aren't actually the same size
Millions on Universal Credit missing out on cash worth £1,200 – how to get it
Meanwhile, a fourth added: "The bodysuits are GOOD – I live in them."
Well show us the bodysuits on then," asked a fifth.
Source: Read Full Article