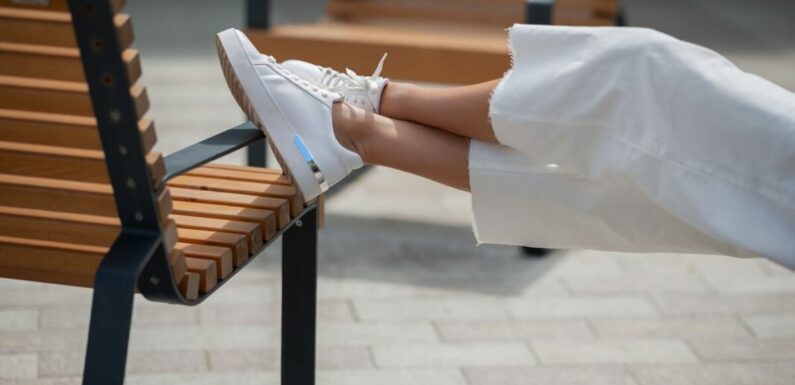 YouTube channel 50 & Fabulous with My Friend Deirdre is a fashion, beauty and skincare platform for women over 50. Influencer Deirdre shared which popular clothing item mature women should stop wearing today.
Personal style is very important, and if you absolutely love something you should continue wearing it.
However, being fashion forward is a way to modernise and rejuvenate any woman's look.
Deirdre told ladies over 50 to ditch the very popular loose capri trouser or run the risk of looking "frumpy".
She explained that these can be "lovely pieces" in that they are cool in the summer and "hide quite a bit of leg". They are also a nice hybrid of shorts and trousers.
However, the influencer branded them "unflattering" because they stop at the widest part of the calves.
Rather than slimming the leg down, this actually makes it look wider.
She explained that this style of trouser actually makes the leg look "much chunkier and much thicker" than it is.
Deirdre continued: "That length of trouser is actually very frumpy to any age and it doesn't show anybody's legs to their best advantage."
Don't miss…
Royal Mail shares latest postal delays – 21 UK areas 'most impacted'[LATEST]
Astrologer shares 5 zodiac signs that 'hold grudges for years'[ASTROLOGY]
Expert shares 3 fruits that may slow down weight loss – 'avoid' them[DIETS]
What's more, capri trousers aren't very lengthening and make the leg appear shorter.
Deirdre's solution is to invest in some trousers of different lengths – "essentially every other length of trouser is more flattering".
To keep cool, the influencer suggested wide-legged linen trousers or longer-length shorts.
Ankle-grazer trousers are also a great option and look great all year round, paired with T-shirts, jumpers or cardigans.
Shop the anti-aging complete Set and Save £35.75
£107.25 View Deal
All our best-selling anti-aging products, in one luxurious bundle.
This box contains affiliate links, we may receive a commission on any sales we generate from it. Learn more.
In a second video Deirdre shared her two favourite style of trousers for spring.
One is the ankle-grazer, which she describes as the "ultimate investment", and another is wide-legged trousers.
Speaking about ankle-grazers, Deirdre said: "Showing the ankle is not only flattering but it looks fresh and spring-like.
"It's really comfortable too – and there's no point dragging them in the dirt anyway."
Loafers and ballet flats go particularly well with this style of trousers, however the influencer would not pair them with chunky boots.
As for wide-legged trousers, these "automatically look modern and contemporary without looking like you've tried too hard".
Deidre pairs these with pointed-toe boots to draw the eyes in, plus a fitted top to contrast the wide leg.
In another YouTube video the style influencer told women over 50 to "stop wearing only basic, classic clothes".
Source: Read Full Article