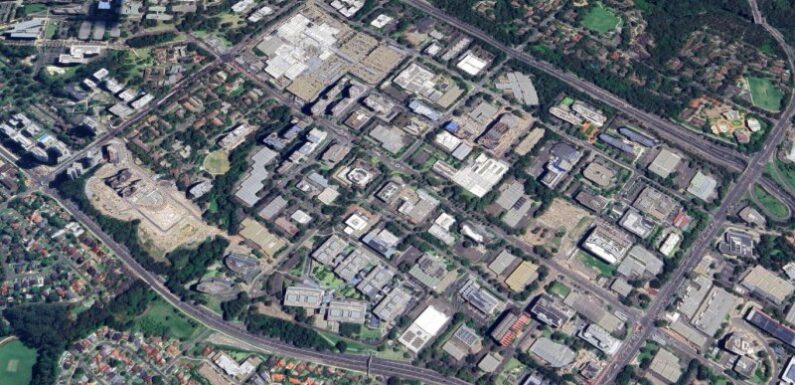 Save articles for later
Add articles to your saved list and come back to them any time.
The Minns government will rezone a 68-hectare precinct surrounding the Metro North West line at Macquarie Park as it seeks to convert excess commercial land into new residential housing to meet the ambitious housing targets agreed to by national cabinet.
The rezoning — which the government hopes will deliver at least 3000 homes within 800 metres of the Macquarie University and Macquarie Park metro stations — will also allow developers to convert existing commercial land into build-to-rent apartments amid a downturn in demand for office space following the COVID-19 pandemic.
The development could see apartment towers of between 14 and 60 storeys built within the precinct.
NSW Premier Chris Minns has made no secret of his intention to boost density along transport routes in Sydney as the city grapples with a worsening housing shortage. Minns has been critical of what he sees as the former government's failure to maximise density along existing metro lines.
Macquarie Park has long been identified as a priority growth region, and its residents will be able to reach the CBD within 20 minutes when the new City and Southwest Metro opens between Tallawong and Sydenham in 2024.
But the government will try to boost the residential housing built in Macquarie Park by announcing on Thursday that it will allow build-to-rent homes on commercial land in the precinct.
The Macquarie Park area between metro stations as it appears now.Credit: Google Maps
The decision — which comes as demand for commercial space fails to keep up with the growing residential housing shortfall — means the overall number of new homes could end up above 3000.
The government is planning to unveil a series of similar precincts surrounding other Metro stations in a bid to dramatically boost density.
While the Macquarie Park rezoning is separate to those reforms, the Planning Department will lead the rezoning. Planning Minister Paul Scully said it would deliver more density close to the city.
"This rezoning is an opportunity to deliver more homes on the doorstep of the CBD and near well-connected public transport including the Macquarie Park metro station," he said.
Planning Minister Paul Scully will announce plans for a major state-led rezoning in Macquarie Park on Thursday.Credit: Dominic Lorrimer
"We want to see density in precincts like this be part of Sydney's future, supporting homes and jobs that are accessible to everyone in the community. The precinct's growth has the potential to provide a huge economic boost and secure Macquarie Park's reputation as a world-class place for business, innovation, research, and education."
The government says the rezoning will also include eight hectares of new public open space, a large indoor recreation facility, along with paths for walking and cycling. There are also proposals for two schools.
The government's push for higher density is likely to set Minns on a collision course with some local councils, and comes as the Herald revealed last week that Scully had written to mayors urging them to "continue to undertake their legal responsibilities" to approve more homes.
"I am asking you to begin work identifying locations and permitting more low and mid-rise homes immediately," Scully wrote in a letter to mayor.
Start the day with a summary of the day's most important and interesting stories, analysis and insights. Sign up for our Morning Edition newsletter.
Most Viewed in Politics
From our partners
Source: Read Full Article