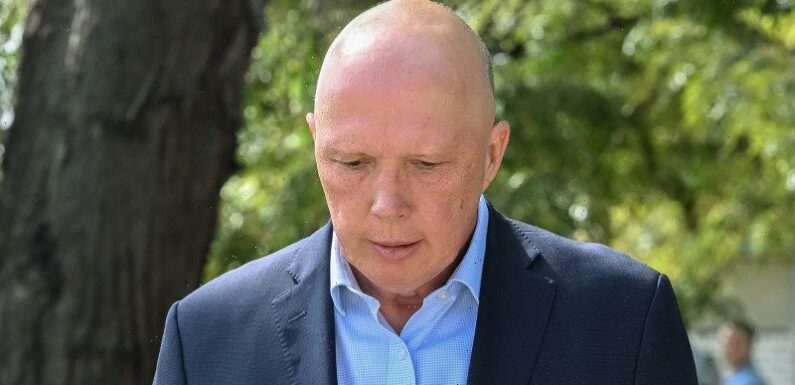 A status quo result at the Aston byelection – that is, a win for the Liberal Party – is unlikely to provide the job security Peter Dutton craves.
That is somewhat remarkable given Dutton hasn't had too many slip ups since taking over as opposition leader in May 2022. Well, not the sort of mistakes that have your colleagues plotting your downfall.
Liberal Opposition Leader Peter Dutton in Aston last month.Credit:JOE ARMAO
The perception among Liberal MPs is that Dutton may not have made a big impression, but he's managed to keep the team together and land a couple of blows along the way.
Those uninspiring KPIs are likely to be reviewed if the Liberals fail to not only win the outer-eastern seat on April 1, but to improve their margin.
While there are limits to treating byelections as litmus tests, the Aston result will give those in Canberra – crucially, MPs in marginal seats – a midterm report card of just how both sides are fairing.
This national duty will fall to about 110,000 voters from Boronia, Wantirna, Scoresby, Rowville, Bayswater and adjoining suburbs in the Dandenong Ranges when the first ballot will be dropped into a cardboard box at the St Jude's Parish hall in Scoresby when pre-polling begins on Monday.
Labor's candidate for the seat Mary Doyle (left) and Liberal candidate Roshena Campbell.
Locally, the byelection has been a modest affair. Not so much a clash of ideas, but a contest in expectations management.
With the earliest date for the next concurrent House of Representatives and half-Senate election just 16 months away, the result will be viewed, internally at least, as an indicator of both parties' chances of holding seats at the next general election.
While there are some risks for Anthony Albanese, for Dutton the stakes are much higher. Perhaps that's why, as one of his colleagues quipped, the party would be willing to "sell the party's headquarters" if necessary, to get their candidate, Roshena Campbell, across the line.
Proving he isn't afraid to cross the Murray River, Dutton returned to Aston on Wednesday to campaign in Wantirna South where he predicted "a very tight election". As a political strategy, this was smart, but history and common sense suggest the Liberals should comfortably hold the seat.
As Labor is keen to remind anyone, the last time a government won a seat from an opposition was in 1920. While Aston slipped into the marginal seat category when outgoing MP Alan Tudge's two-party preferred margin was cut to just 2.8 per cent last year, it has long been a safe seat for the Coalition.
Removing Scott Morrison and outgoing member Alan Tudge from the equation, and adding a smart, professional woman from a multicultural background – the very candidate the Liberal Party's review said it needed to win elections – should see Aston shoot higher up the electoral pendulum after 1 April.
The Liberals have also been gifted three cancelled road projects and a cost-of-living crisis which both sides admit is repeatedly cited as the number one issue affecting voters in the mortgage belt seat.
Despite this, there is still a level of nervousness among Liberal MPs who fear the public aren't yet willing to blame the somewhat new Labor government for their financial woes.
There is also a lingering concern about Campbell's tenuous links to the seat. When pressed on this, the Liberals are quick to point out that Campbell has already paid a bond on a property in the electorate and that Labor's candidate Mary Doyle, also lives outside the electorate, albeit in the neighbouring suburb of Mitcham.
The problem for Campbell is that her current home in Brunswick is seen as more of a lifestyle choice than a postcode and is causing some consternation for Liberal MPs who fear a small backlash from locals after witnessing Kristina Keneally's unsuccessful attempt to hold the safe western Sydney seat of Fowler last year.
Despite this, it's impossible to find a Labor MP confident the government can win in Aston. They believe the current margin isn't a true reflection of the safety of the seat.
Unfortunately, for Dutton, Liberal MPs broadly agree.
While a win may help Dutton shake the nagging perception that he's hard to sell to the AFL states of Victoria, Western Australia, South Australia and Tasmania, he will need to deliver a cushier margin, too.
Of the 36 byelections between 1983 and 2013, there was an average swing against the government of the day of 5.1 per cent on a two-party preferred measure. While the swing was smaller at just 1.7 per cent for first term governments, the benchmark has been set.
Until now, Dutton's leadership has been protected by the Liberal Party's failure to find anyone with the self-belief, internal support or national prominence to rival him. But a loss or narrow victory may trigger a hunt for a new candidate.
Annika Smethurst is state political editor.
The Opinion newsletter is a weekly wrap of views that will challenge, champion and inform your own. Sign up here.
Most Viewed in Politics
From our partners
Source: Read Full Article