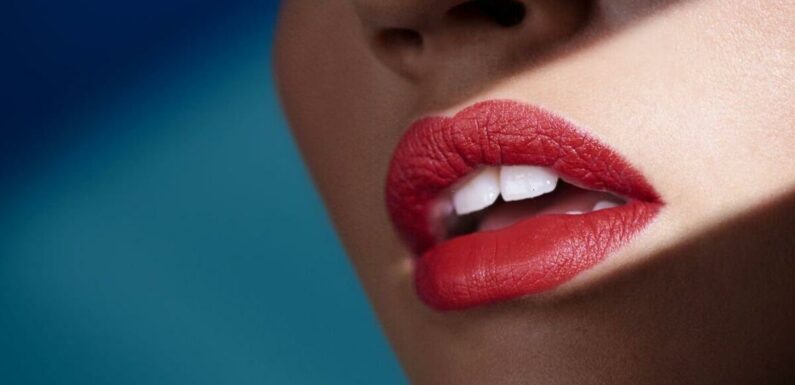 Meghan Markle's makeup artist shares video from The Hague
We use your sign-up to provide content in ways you've consented to and to improve our understanding of you. This may include adverts from us and 3rd parties based on our understanding. You can unsubscribe at any time. More info
Your makeup application routine may be honed to a tee, but is it adding years to your face without you noticing? Makeup Expert Laura Kay spoke exclusively to Express.co.uk about the makeup tricks women should avoid at all costs if they want to look younger – and what to do instead.
The expert told Express.co.uk: "To look your best you should follow a set of make-up application rules for your age.
"Clever make-up tricks can enhance your best features, but it is important to note that different rules apply for different ages.
"If you fail to follow these rules, then you could risk looking older than you are."
Laura began with beauty advice for mature women on lipstick types, advising them to ditch matte products in favour of gloss.
She explained: "In your 30, you may start to see your lips lose definition, so at this age you should use a lip liner to accumulate."
But, Laura stressed that the "key" to young lips is opting for a "glossy" product – "use the gloss to blend in the liner to help give the appearance of plumper lips – almost a 3D effect".
Gloss can have a plumping effect, which is fundamental as "the ageing process results in losing elasticity and our collagen production declines".
Laura told mature women: "The plumper your lips, the younger you will appear."
As for lipstick colour, the expert believes this is "crucial" when it comes to adding to or taking away years from the face.
She advised: "In your 40s don't use deep tones or strong colours as they will only age you, instead opt for light or beige toned lipsticks.
"Lighter colours will help your lips stand out but they also won't look overly done either."
According to Laura, there is a key difference between the right lipstick in your 40s and the right lipstick in your 50s and later.
The expert said: "In your 50s and beyond, a sheer peach or pink gloss lip will complement your eyes.
"Use a fine lip liner pencil to help define the edges without looking noticeable."
As well as the lips, it's important to think about the face as a whole when going for a younger look.
Laura stressed the importance of using highlight "in the right places" and going matte on the t-zone.
She instructed: "Apply a highlighter on your cheeks to achieve a healthy, ageless look.
Revolution Pro Miracle Eye Cream
£8 £8 View Deal
Formulated to transform dull, lacklustre complexions, Revolution Beauty's Miracle Cream delivers intense hydration to help smooth and plump skin's appearance.
Lacura Rejuvelate Day Cream
£3.49 £3.49 View Deal
-SPF 30-Dermatologically tested-Cruelty free-Reduces visible signs of ageing-Hydrates and firms skin
Elemis Pro-Collagen Marine Cream with
£68.08 £68.08 View Deal
An anti-wrinkle moisturiser that is clinically proven to improve hydration, leaving skin looking and feeling firmer and more radiant.
"A liquid bronze highlighter (such as Laura Kay London Illuminate in Bronze) is the best type of product you can use which will give you a gorgeous natural glow."
However, Laura added a caveat: "Many people make the mistake of not using the correct product."
This means that instead of accentuating your features, you end up with an "overly shiny and oily t-zone" – and nobody wants that.
She continued: "To ensure you shine and highlight the right places use a good product such as Mac Block Powder or Laura Mercier translucent powder."
Laura Kay is a makeup expert and founder of Laura Kay London.
Source: Read Full Article