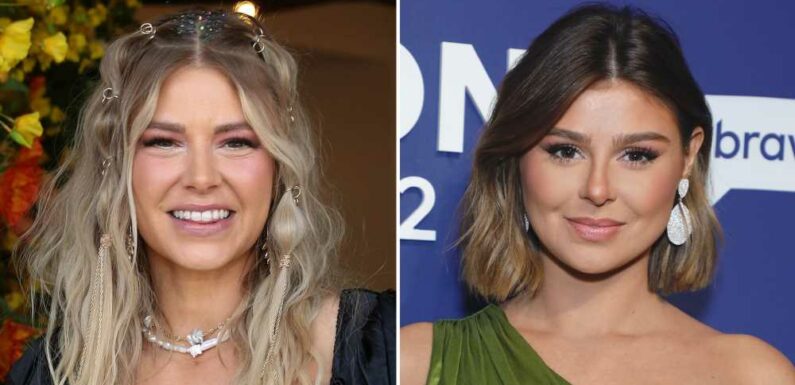 Weighing in. Raquel Leviss was thrilled by her hookup with Tom Schwartz — but her Vanderpump Rules costars had different thoughts on the matter.
During a new episode of the hit Bravo series, which aired on Wednesday, April 12, Raquel, 28, gushed about her decision to make out with Tom, 40, at Scheana Shay and Brock Davies' wedding. In response, Ariana Madix questioned the beauty pageant contestant's interest in the bar owner.
Vanderpump Rules' Ariana Madix and Raquel Leviss' Friendship Ups and Downs
"I am starting to think that Raquel might actually have feelings for Schwartz because it feels like she's living in some sort of rom-com," Ariana, 37, told the cameras about the August 2022 incident. "I think she's the only one in it."
Meanwhile, Lala Kent called Raquel out while showing her support for Katie Maloney. (The "You're Gonna Love Me" podcast host, 36, announced her split from Tom in March 2022.)
"What I care about is how you affected my friend. I think it is gross and dirty and disgusting. I think you need to go find yourself elsewhere," the beauty mogul, 32, said to Raquel later in the episode. "I think your self worth comes from the approval of a man which is very sad to me. I think you have a mental breakdown coming. You are going to need some love and support. You appreciate people who bob their head and tell you it is all good."
In order to view the video, please allow Manage Cookies
Raquel and Tom got cozy one day before Scheana, 37, and Brock's nuptials, which aired on Bravo earlier this month. As they discussed their chemistry in new episodes, news broke in March that the California native was involved in an affair with Tom Sandoval.
At the time, the model addressed the drama by issuing a public apology to her former friend. "I want to apologize for my actions and my choices foremost to Ariana, and to my friends and the fans so invested in our relationships. There is no excuse, I am not a victim and I must own my actions and I deeply regret hurting Ariana," she wrote via Instagram on March 8.
Biggest 'Vanderpump Rules' Feuds Ever — and Where the Relationships Stand
Raquel also opened up about where she and Sandoval, 40, stand now. "Besides the indefensible circumstances surrounding our relationship, my feelings for Tom have always been sincere and born out of a loving friendship," she wrote via Instagram. "Knowing how many people we hurt, I need to understand my choices and learn to make better ones. I need to take care of my health, work on self-growth and take time to be OK with being alone. I care for Tom and I don't want to label anything or predict what lies ahead. Right now I need to heal."
The Missouri native, for his part, recalled how his connection with Raquel grew before the scandal. "The feelings were something very, very strong," he said during the Tuesday, April 11, episode of the "Howie Mandel Does Stuff" podcast. "Those feelings that I had started to take over in a sense. Logic went out the window. Because I wasn't experiencing that [with Ariana] — I hadn't experienced that [before]."
Raquel Leviss and Tom Sandoval's Relationship Timeline
Sandoval claimed his relationship with Ariana was over before he developed a romance with Raquel. "Like many relationships, it felt like it became more of like a best friends, family [thing] — sometimes roommates," he continued. "There were a lot of ways where the relationship was just lacking the intimacy, the connection. We would travel more by ourselves than we would together. I would go to weddings by myself."
The businessman said he and Leviss took a step back amid the drama, adding, "We're really good friends. We are not putting any label on it."
Sign up for Us Weekly's free, daily newsletter and never miss breaking news or exclusive stories about your favorite celebrities, TV shows and more!
Vanderpump Rules airs on Bravo Wednesdays at 9 p.m. ET.
For access to all our exclusive celebrity videos and interviews – Subscribe on YouTube!
Source: Read Full Article