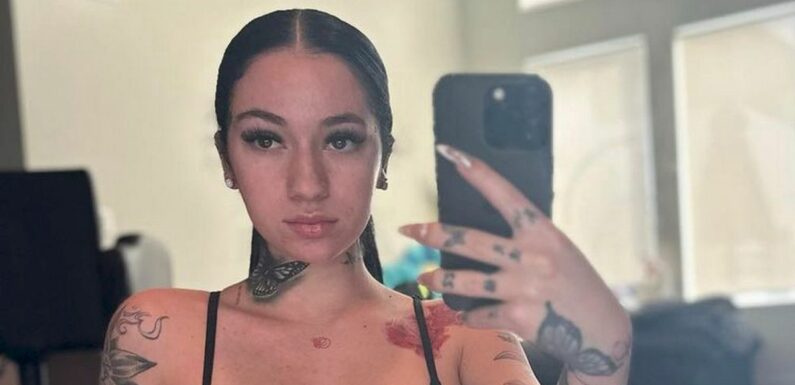 US rapper Bhad Bhabie is known as one of OnlyFans' biggest stars.
However, it seems not everyone is happy with her success.
The 20-year-old signer, who's real name is Danielle Bregoli, took to her Instagram page this week to share a direct message from a woman who was annoyed her boyfriend was subscribed to her page and buying her sexy snaps.
READ MORE: Bhad Bhabie's wild life – from Dr Phil tearaway to earning £56m on OnlyFans
The rapper shared a screenshot of the message on her Instagram grid, where the woman asked her if she could spill when her boyfriend first signed up.
The message read: "I recently found out my boyfriend of three years has been using OnlyFans.
"He tried telling me it was only once, but I don't believe him.
"Can you tell me when he first subscribed to you please."
Bhad Bhabie didn't seem to have much sympathy for the woman, named Kaylee, though, as she brutally captioned the post: "Tell him thanks for the Birkin" – referring to the pricey handbags.
Despite the post getting 112,000 likes from her 16.2million Instagram fans, the 'Cash Me Outside' star had turned off comments to avoid any backlash.
Bhad Bhabie is one of OnlyFans' highest ever earners – banking a reported $70million (£56million) on the raunchy site, according to her former manager.
The brunette, from Florida in the US, broke an OnlyFans record back in April 2021 after earning $1million within six hours of joining the site just after she turned 18.
She first found fame on TV show Dr Phil back in 2016 after she went viral with her "Cash [sic] me outside, how 'bout that?" catchphrase.
The singer now enjoys a successful music career – becoming the youngest female rap artist to debut on the Billboard Hot 100 chart.
However, she's not too bothered on breaking more goals, with the singer recently described as 'living the life of a college student without any classes'.
Talking about her OnlyFans recently, she simply said: "I get new bathing suits or new lingerie and take some pictures.
READ NEXT:
Mum bullied over 34H chest spends £12k on reduction to make them 7 times smaller
'We're a care worker and bricklayer by day – but make sexy vids when we get home'
Model rocks cowboy boots trend – as she dons them with not much else
Body positive babe exclaims 'I'm no before pic' as she flaunts her 'belly rolls'

For more lifestyle stories, sign up to the free Hot Topics newsletter here
Source: Read Full Article