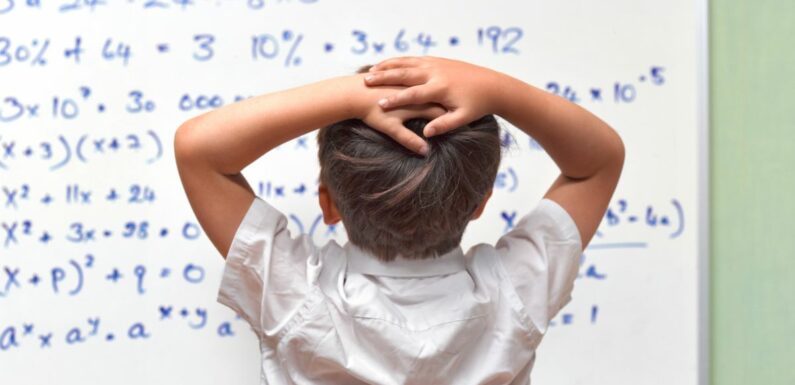 Fancy a maths question?
For many Brits, the last time they solved an equation would have been at school.
Now as students across the UK are gearing up for their first round of exams, one GCSE question is confusing everyone.
READ MORE: People with eagle eyes can spot hidden ball within 38 secs in optical illusion
Meanwhile polls found many students don't think their parents are up to scratch with their numeracy skills.
And research from SaveMyExams also showed only 42% of pupils believe their parents could pass an exam today.
An additional 30% admitted their parents were left stumped when trying to help them out with exam questions.
One tricky question featured on the website was so difficult over 92% of parents said they couldn't answer it.
It discovered only 8% were able to guess the answer.
The question involves a shape with all measurements set out in centimetres.
Underneath, it says: "The area of the shape is A cm². Show that A=2x²=24x=46."
Don't worry if you're confused as SaveMyExams has an expert to explain how to solve the mind-boggling question.
Scroll down for the solution…
Lucy Kirkham said: "Seeing questions with loads of algebra can be scary.
"But breaking them down into smaller chunks will help you work through them more easily."
She said to find the solution, start with the first step which might just surprise you with how far you can get.
'Wrinkly Karen told me to leave beach as bikini was "too small" – I'm hot so who cares'
Lucy added: "Even if you don't get all the way through, marks are awarded for different stages of your working.
"You can always try to pick up some marks and use our model answers to see how you'd pick up the rest."
Let us know how you got on in the comments section below…
Want all the biggest Lifestyle news straight to your inbox? Sign up for our free Daily Star Hot Topics newsletter
READ NEXT:
People with sharp eyes can spot hidden face in mind-boggling optical illusion
Optical illusion challenges people to find all 13 hidden animals in 19 seconds
People are struggling to spot insects within 90 secs in tricky optical illusion
People with sharp eyes can spot odd number among 278s in fiendish optical illusion
Only people with sharp eyes can spot hidden toothbrush within 7 seconds
Source: Read Full Article