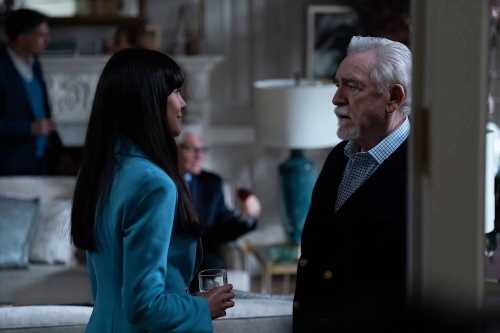 SPOILER ALERT: This interview contains spoilers from the Season 4 premiere of "Succession," now streaming on HBO Max.
In the season premiere of "Succession" — despite having gotten the deal he seemingly wanted — media titan Logan Roy (Brian Cox) paces through his birthday party, looking lost and miserable. Having pushed away his adult children Kendall (Jeremy Strong), Roman (Kieran Culkin) and Shiv (Sarah Snook) in the Season 3 finale, by totally fucking them over in favor of selling Waystar Royco to Lukas Matsson (Alexander Skarsgård), Logan is dissatisfied with the party's attendees: Of his kids, only the absurd Connor (Alan Ruck) is there. He's surrounded by succubi and suck-ups, and he knows it.
In an interview with Variety, Cox delved into Logan's thinking in the premiere. "The moroseness is the fact that in a sense, he knows he's failed in relationship to his children," Cox said. "He's not a fool. He knows he's failed."
It's their fault, of course! According to Cox (and Logan): "They haven't stepped up to the plate; they haven't stepped up to the mark," he said. "And he knows it's partly his fault. He understands that."
Logan looks around the party, and doesn't like what he sees. His wife Marcia (Hiam Abbass) is gone, supplanted finally by his Waystar assistant/mistress Kerry (Zoë Winters), who says Marcia is away shopping in Europe forever. "He's completely lost," Cox said. "He's lost his wife, he's lost his partner. He's got this relationship with his secretary, which is not really explained, but it's there and she's constant. That's the great thing about Kerry, she's constant."
But where are his kids, Logan wonders? "He's trying to think, 'How do I reclaim my children? How do I get them back?" Cox asked rhetorically.
He doesn't have long; the fourth season of the Emmy-winning "Succession" will be its last, as declared by its creator Jesse Armstrong.
"That's really what the fourth series is about," Cox said. "Struggling to see how the children come back into the fold — or do they come back into the fold? So that's really what is key for Logan, that he needs his kids because they are his kids and he loves them. If he didn't love his children, it would be so much easier. But the fact that he loves his children is his Achilles heel. That's his Achilles heel."
The disgruntled Logan leaves his party to take a walk in Central Park, accompanied by his bodyguard, Colin (Scott Nicholson). Later, in a coffee shop, Logan tells Colin he's his best pal — a truly poignant moment.
"Colin has emerged as a really interesting character," Cox said. "All Logan wants is constancy."
After all, Logan's life is populated by people who want things from him. "The great thing about Colin — and why he thinks Colin's probably his best friend — is because he's never on the make," Cox said. "The relationship is straight. He's his employer, and he likes being employed by Logan."
"Therefore, he does then venture the idea, you're probably the best friend I've ever had," Cox added. "And it's a sad thought in many ways, but it's also something which is heartfelt. He feels it."
Logan's kids — the ones he cares about, anyway — are inconstant at best, according to Cox: "The children have no consistency whatsoever. And that's his sadness." But when they're absent, Logan feels the void. "When the kids aren't around, he is very focused on who he is," Cox said. "And not in a good way."
As for whether he's really selling Waystar to Lukas Matsson, the Elon Musk-like founder of GoJo, Cox thinks Logan very much wants to complete the deal. "He's clear, he's bright, he's creative, and he doesn't let get things get in the way," he said of Matsson, while also taking a swipe at Kendall, Roman and Shiv. "He just wishes some of his kids had that quality that Lukas has."
Yet here's another factor: Logan's health has always been fluctuant, and Armstrong has said that the character was meant to die in Season 1. Whether he'll survive these final episodes of "Succession" is very much in question.
Cox feels Logan's exhaustion. "He's getting on!" he said. "He's getting old. He's tired — he's very tired! He doesn't want to be doing the same old, same old again and again and again. He wants some kind of completion to what he does, and who he is.
"But of course, he's not going to get it," Cox continued, with a devious smile spreading across his face. "Not with those kids — because they're too busy plying their own horrendous furrows."
Read More About:
Source: Read Full Article