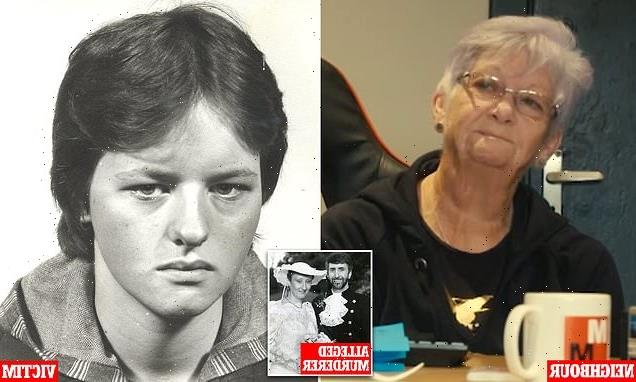 Neighbour of wife killer Andrew Hunter claims he used to watch her breastfeed as documentary explores theory he was also behind one of Scotland's most notorious cold cases
Sandra Midler recalled feeling unsafe around her neighbour Andrew Hunter

Hunter, was convicted of murdering his wife Lynda in 1987 and died in 1993

In the Footsteps of Killers explores theory Hunter committed another murder

Read more: Who REALLY killed Carl Bridgewater? Murder of young paperboy 40 years ago remains one of this country's most terrible unsolved murders, but has the mystery finally been SOLVED? 
A former neighbour of a convicted murderer who strangled his wife to death has revealed he used to watch her breastfeed her baby through the window.
Sandra Midler and her husband Dennis, from Dundee, used to live next door to Andrew Hunter, who was given a life sentence for murdering his second wife Linda in 1987.
Channel 4 documentary In the Footsteps of Killers investigates the theory Hunter may also have been responsible for one of the unsolved Templeton Woods murders in 1979 and speaks to journalists and cops involved in the case at the time, as well as people who knew the wife-killer.
While speaking about her ex-neighbour, Sandra recalled telling her husband Dennis that she didn't 'feel safe' with Hunter living next door.
Speaking to Professor Wilson, Sandra Midler recalled how Andrew Hunter would watch her breastfeed while he was living next door
She told criminologist Professor David Wilson: 'I was breastfeeding and he walked past a path. He had no reason to be looking in at me but he used to watch me breastfeed while I was feeding a young baby.
'You know how you get the feeling at the back of your neck? He'd be sitting watching me from his window and I used to come in and say, "I don't feel safe with him watching me all the time."'
Meanwhile her husband Dennis branded Hunter 'creepy' as he admitted he and Sandra rarely had anything to do with their neighbour. 
'Everything about him – you felt he was a creep,' he recalled, adding he thought Hunter had been involved in the murder of Carol Lannen eight years earlier.
In the Footsteps of Killers returns to Channel 4 at 10pm this evening and investigates the Templeton Woods murders of Carol Lannen (left) in 1979 and Elizabeth McCabe (right) in 1980. Presenters Emilia Fox and professor David Wilson investigate the cold case, for which no one has ever been convicted
The Templeton Woods murders, as they have since been dubbed, took place in 1979 and 1980 claiming the lives of 18-year-old mother-of-one Carol Lannen and 20-year-old Elizabeth McCabe.
Within 11 months of each other, Carol and Elizabeth's bodies were found in Templeton Woods in Dundee, but despite strong speculation and a murder trial, no one has ever been convicted over their deaths.
The fact that both bodies were found in the woods has led to speculation over the years that Carol and Elizabeth were victims of the same serial killer, but after going over the details of the case, hosts Emilia Fox and Professor Wilson concluded it was more likely that the women were targeted by two different murderers.
Over the course of the program they interviewed other criminologists, police officers who had investigated the cases at the time, and a defence lawyer to determine what may have happened to the two women.
The documentary explored the theory that Andrew Hunter, who was convicted of killing his wife Lynda in 1987, also murdered Carol Lannen (Andrew and Lynda pictured on their wedding day)
One interviewee was investigating officer in the Carol Lannen case, Bob Donaldson. 
He recalled: 'People didn't like this murder. It was bad weather, I remember them searching the snow in their old raincoats, welly boots… that negated any evidence we found.' 
He revealed Carol's body had been found by two dog walkers, naked and uncovered, with little attempt to disguise it.
Bob also said Carol had last been seen in an area of Dundee known for 'kerb crawling' and where men would often pick up sex workers. A witness had reported seeing her get into a red Ford Cortina at around 7.30pm the night before her body was found in the woods.
Carol Lannen's family has always strongly denied the mother-of-one, who left a three-month-old son behind when she died, was involved in sex work.
As the hosts tried to piece together the cold case, David also interviewed George Donnelly, a defence lawyer for Vince Sampson who was charged with both murders in 2005 and later acquitted. 
Sandra's husband Dennis said he thought Hunter was 'a creep' and suspected he had been involved in Carol Lannen's murder eight years before he murdered his wife Lynda 
He revealed there was a lot of speculation in legal circles over the years that Andrew Hunter, in fact, was responsible for Carol's murder. Hunter died in jail 1993 after serving just five years of his life sentence.
Later in the programme David spoke to Alexander McGregor, a journalist who covered the murder of Linda Hunter, Andrew's second wife.
He revealed that Hunter's first wife Christine, whom he'd met through the Salvation Army, had taken her own life.
David cast doubt on the idea she had killed herself, but McGregor replied the story was 'accepted at the time'.
He explained that Hunter had strangled Linda to death using a dog lead after the pair had had an argument in the car on the way to Linda's mother's house, at which point David noted Carol had also been strangled with a ligament. 
McGrecor recalled the chilling detail that, after murdering his wife, Hunter returned home to go on a work night out, before going home and putting on a blonde wig before driving the car he shared with his wife down to Manchester and leaving it there. He speculated that this was a 'red herring' to make it look like Linda driven the car. 
He said: 'You've got to remember that Andrew Hunter wasn't on the police radar at the time of Carol Lannen's death it was only 8 years later after he murdered his wife that people like me started to think "wait a minute".'
The former reporter added that, at the time of his wife's death, Hunter had been linked to a 22-year-old prostitute called Betsy – and told a chilling story about the fate of the young woman. 
He said: 'On the day that the police came to the house to say they'd found Linda's body over at the woods in Fife he was with Betsy. And the very next day, Betsy's found dead.'
After writing an article about Hunter and Betsy, the ex-reporter recalled receiving a letter from Betsy's mother who claimed she had no idea about her daughter's sexual  relationship with Hunter, and instead believed he was her social worker.
Professor Wilson then posed the question of whether Hunter may have known Carol Lannen through his career as a social worker, as Carol had also been in the care system.
After doing some digging and speaking to Carol's family (who did not want to appear on camera), the professor told his co-host he had managed to establish a connection between Hunter and Carole, in a care home called Harring House where Carol had stayed while pregnant and Hunter had worked.  
He concluded: 'They could have met each other in the care system long before Andrew hunter was a convicted murderer.' 
Although the program does not draw any complete conclusions, the hosts said it was likely the Templeton Murders were not the work of a serial killer and that Elizabeth McCabe and Carol Lannen had been killed by different people.
However, professor Wilson said it could not be ruled out that Hunter was a serial killer and had murdered his wife Lynda, Carol Lannen and 22-year-old Betsy. 
Read more: 
Producer of documentary about April Jones's murder reveals locals in Machynlleth refuse to speak Mark Bridger's name after he abducted and murdered the 5-year-old 

Heartbreaking moment mother of murdered April Jones, 5, plays with her 'little Thumbelina's' favourite toy in new documentary 

Woman describes alleged Tinder date with Idaho murders suspect Bryan Kohberger 7 years ago: He 'kept trying to touch' her and said she had 'good birthing hips' 
Source: Read Full Article