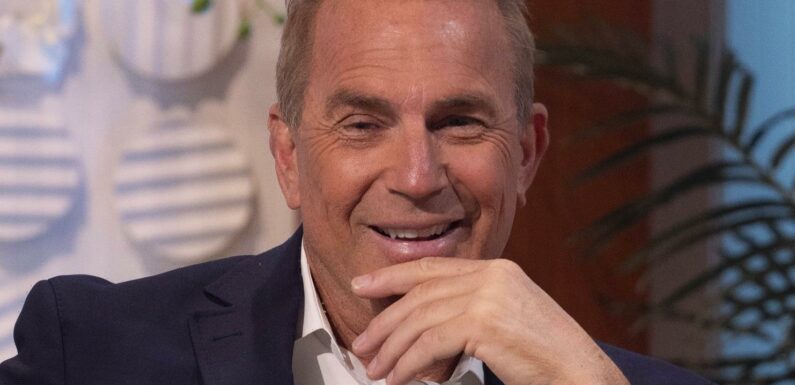 A deep appreciation. Kevin Costner shared a heartfelt message upon winning the 2023 Golden Globe for best actor in a TV drama despite not being able to attend the ceremony due to the flooding in California.
Golden Globes 2023 Red Carpet: See What the Stars Wore
"Thank you to the Hollywood Foreign Press and @goldenglobes for this tremendous honor and to the @yellowstone team for bringing John Dutton's world to life," the Yellowstone star, 67, wrote via Instagram on Tuesday, January 10. "I share this recognition with my castmates, the producers, and our incredible crew. Most of all, thank you to our show's fans, who love Yellowstone Ranch as if it were their own."
When announcing Costner's win for his role as John Dutton, presenter Regina Hall couldn't resist cracking a few jokes as she read the teleprompter message about the Dances With Wolves actor's whereabouts.
"Kevin Costner, he so much wanted to be — ," the Scary Movie star, 52, read before going off script. "I always like how they write this. It's like, 'He so much wanted to be [here]. No, I'm sure he did."
As the Nine Perfect Strangers alum continued to read the words on screen, she continued to lose her composure. "But because of the — it's been raining — the unprecedented weather and flooding, he has to shelter in place in Santa Barbara. Jesus," Hall commented, smacking her forehead while the crowd laughed.
The Girls Trip actress attempted to recover after the playful diss. "No, this is a sad story right now. He's stuck in Santa Barbara. Let's pray everyone," she said. "Everyone, we do, we pray and we hope everyone affected by these storms remains safe. I'm gonna set that award right there, on your behalf, Kevin."
Golden Globes 2023: Full List of Nominees and Winners
Minutes before the 80th annual awards show was set to begin, Costner took to social media to explain his absence from the Beverly Hilton that evening.
"Yesterday, we had to pull the kids out of school, and in Santa Barbara, this is the second time in five years … the freeways flooded out," the Oscar winner stated on Tuesday, speaking to his Instagram followers from a palm tree-covered cliff overlooking the ocean. "We found ourselves on the wrong side of town and couldn't get back last night. We couldn't even get back to the house this morning in time, with the freeways closed."
Costner shares Cayden, 15, Logan, 13, and Grace, 12, with wife Christine Baumgartner. He is also the father of Annie, 38, Lily, 36, and Joe, 34, with ex-wife Cindy Silva, and Liam, 27, with ex-girlfriend Bridget Rooney.
Golden Globes 2023: What You Didn't See on TV
"Nobody's sadder than us that we can't be there at the Golden Globes," the Field of Dreams star added, noting that he and Baumgartner, 48, were "looking forward to walking down the red carpet" together.
Instead of stepping out for the A-lister event, the couple celebrated at home. "She went out and bought me some gold and yellow and black and silver balloons, and so we're gonna [watch] the television and see what happens," Costner shared with fans.
While apologizing to his Yellowstone castmates, directors, the Hollywood Foreign Press Association and the "international press" for not being able to make it, the Bodyguard star concluded: "I hope we're invited back next year."
For access to all our exclusive celebrity videos and interviews – Subscribe on YouTube!
Source: Read Full Article