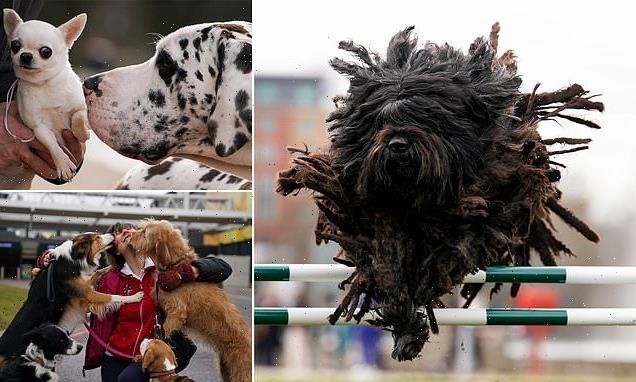 Who will be best in show? Crufts contestants arrive in Birmingham ahead of 2023 competition and show off their skills
Dog owners are arriving at the NEC for a photocall for this year's Crufts 
The pampered pooches were practising their racing and jumping skills 
The most impressive, well-groomed and obedient dogs are ready to strut their stuff as they prepare to compete in the 2023 Crufts competition.
As the pampered pooches arrived in Birmingham ahead of this year's canine contest, they showed off their skills and checked out the competition.
And the introductions may have seen the birth of a few unlikely friendships, with breeds of all shapes and sizes cosying up to each other. 
One particular unlikely pairing was a Harlequin Great Dane called H who took an interest in a chihuahua named Boo – although it's not clear if Boo was quite so impressed.
This year's competition, organised by The Kennel Club, begins on Thursday, 9 March and will run until Sunday, 12 March. 
Dog owners are preparing their canines for glory as they arrive at the Birmingham NEC ahead of the 2023 Crufts competition. Unlikely friendships already appear to be forming, although little Boo the chihuahua seems a little unsure about H the harlequin great dane
From beagles to Bavarian mountain hounds, the pooches ran around the pen outside the NEC and jumped over hurdles to get in some important practise before the big events. Here, FEMAIL takes a look at some of the best photos from the pre-contest event. 
Boo looks somewhat bewildered as H approaches him for a sniff and a little greeting, looking at the much larger canine with wide eyes and an open mouth
Best of friends! After an uncertain start, Boo seems taken by H and the pair are captured frolicking together
Trainer Lucy Creek arrives at the NEC in Birmingham for the photo-call with her several pooches in tow
What a fur-bulous bunch! These canines look picture-perfect as they pose for a photo by the paw stand, with one pooch putting his arm around his beagle friend
A Bavarian mountain hound looks up lovingly at its owner while on the lead as it arrives at the NEC for the photo-call
Diligent dogs including a beagle and a corgi arrive with their owners, who are carrying their leads, at the event
A Bergamesco shepherd named Alfie shows off his skills as he jumps over the fence while his owner struggles to keep up with him
Lightning fast! The pooch zooms around the field after jumping over the fence as he prepares to showcase his skills in the real thing
Irish wolfhound Ragnar jumps over the fence as he practises for the Crufts competition as his owner looks on
Peek-a-Boo! The chihuahua also captured the attention of Ragnar, and a snap capturing the pair of them together showed the stark contrast in their size
Source: Read Full Article