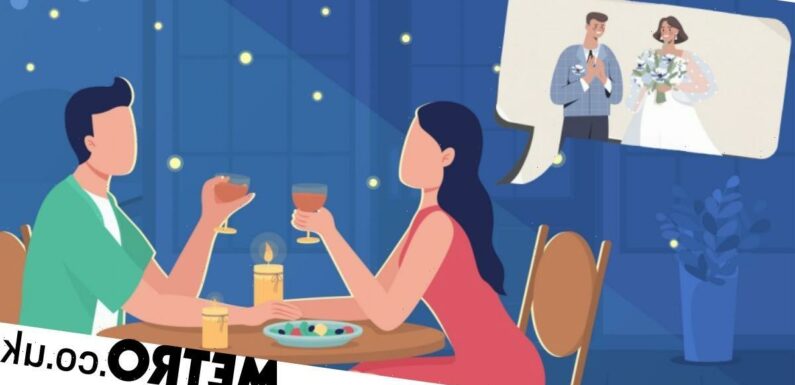 It's not your fault.
You've watched enough rom-coms to believe that you're destined to be with the mutual friend who drives you from Chicago to New York, or that the floppy haired bookshop owner really is your Mr. Right.
So when you do find yourself locking eyes with a stranger on the tube, or on one of those impossibly great first dates, it's hard not to let your mind wander.
In reality, he might just be a one night stand you'd like to see again, but in your mind, he's so much more.
You've already imagined introducing him to your friends – and the way he'll charm them, of course. You've thought about that first sizzling summer getaway together where you won't be able to keep your hands off each other, and yes, you've let yourself picture the look on his face when you walk down the aisle.
If this sounds all too familiar, you're a fully fledged datedreamer.
In reality, you might just be seeing each other, but in your mind, you've built your crush up to be the man of your dreams.
And, while it might be fun to datedream a little, it's easy to lose a grip on the reality of the situation.
Hayley Quinn, dating expert at Match, says we all do it.
'It's easy to get caught up,' she says. 'If it's been a while since you felt a connection and you've found a strong spark with someone, then you may find yourself fantasising about what a future with this person would look like.'
But hold your horses.
'Building expectations about someone, before you've really got to know them, is a sure-fire way to set yourself up for disappointment,' says Hayley.
'It takes a long time to get to know someone properly so in those early stages of dating, check in with yourself.
'If you find yourself thinking, "They're perfect!" or "We have so much in common," just remind yourself that these are all maybes. Maybe you do have a lot in common – but you don't know for certain, and only time will tell.'
And the biggest pitfall of datedreaming? You're setting yourself – and your crush – up for a fall.
'No one is perfect and when you inadvertently put someone on a pedestal by imagining what they're like, you may get in the way of yourself engaging with who they truly are.'
It's also likely you could end up ignoring some red flags. 'If you get swept up in a whirlwind romance, you may also find yourself turning a blind eye to any inconsistencies,' says Hayley.
'You may make excuses for someone or hold out, hoping they'll become the person you've imaged, even if they're no longer treating you respectfully.'
So how can we break out of the datedream and centre ourselves in reality?
'Instead of focusing on a great meet cute, first date or one night stand, stay present and look at someone's day-to-day actions,' says Hayley.
'If you're looking for a committed relationship, you may not need to be swept off your feet initially, but you definitely do need a partner who is consistent and where communication is easy.'
Hayley even suggests that 'hesidating' could be the approach to take here.
The new dating trend promotes the idea of taking it slow. This is no novel approach to dating, but some singles today are implementing an extra layer of patience in their dating life.
Do you have a story to share?
Get in touch by emailing [email protected]
Rush Hour Crush – love (well, lust) is all around us
Visit Metro's Rush Hour Crush online every weekday at 4:30pm.
Tell us about your Rush Hour Crush by submitting them here, and you could see your message published on the site.
Source: Read Full Article