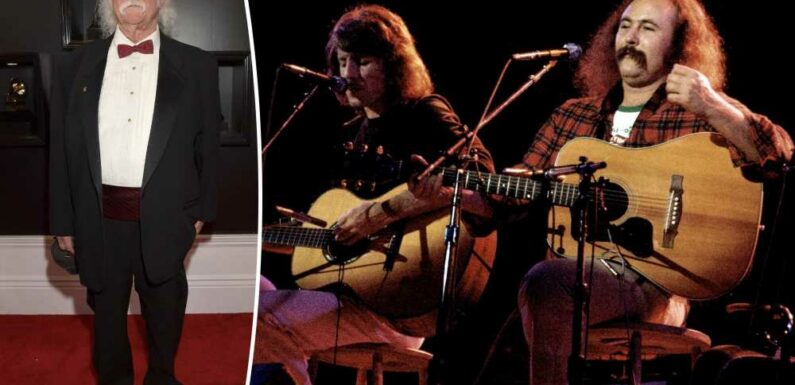 More On:
celebrity deaths
Leslie Jordan's cause of death revealed
Lisa Marie Presley's ex Michael Lockwood: Our kids are 'reeling' from her death
Naomi Judd's final note revealed: 'Do not let Wy come to my funeral'
Lisa Marie Presley's actress daughter, Riley Keough, now has two tragic legacies to bear
Rock legend David Crosby has died after a "long" battle with an unknown illness. He was 81.
The singer's wife, Jan Dance, announced the tragic news in a statement to Variety on Thursday.
"It is with great sadness after a long illness, that our beloved David (Croz) Crosby has passed away," the statement read. "He was lovingly surrounded by his wife and soulmate Jan and son Django."
It continued, "Although he is no longer here with us, his humanity and kind soul will continue to guide and inspire us. His legacy will continue to live on through his legendary music. Peace, love, and harmony to all who knew David and those he touched. We will miss him dearly."
The family concluded the statement by asking for "privacy" during this difficult time and thanked the guitarist's fans for all their "love and prayers."
Crosby rose to fame in the mid '60s as a singer-guitarist for the Byrds alongside Gene Clark, Rogen McGuinn and Chris Hillman.
Following his staggering success with the chart-topping group, he co-founded Crosby, Stills & Nash with Stephen Stills and Graham Nas.
He was inducted into the Rock & Roll Hall of fame in 1991 for his work in the Byrds and again in 1997.
Back in 2019, the rock star released a brutally honest documentary about his life called "David Crosby: Remember My Name."
Although the film didn't detail his nine-month prison stint in 1985, it did detail the singer-songwriter's impact on the music industry and his complicated relationships that followed.
"Most documentaries are shine jobs … We did not polish it up, it is not shiny and I'm an imperfect person … I'm not cute at all," Crosby said at the premiere. "I'm a guy who's been through a whole lot of stuff, has a very checkered history … I did not lie."
Crosby is survived by Dance, sons Django and James Raymond, as well as daughters Erika and Donovan from the singer's previous relationships.
He also fathered Melissa Etheridge's then-partner Julie Cypher's two children, Beckett and Bailey Jean, via artificial insemination. Beckett died at age 21 in 2020.
This is a developing story…
Share this article:
Source: Read Full Article