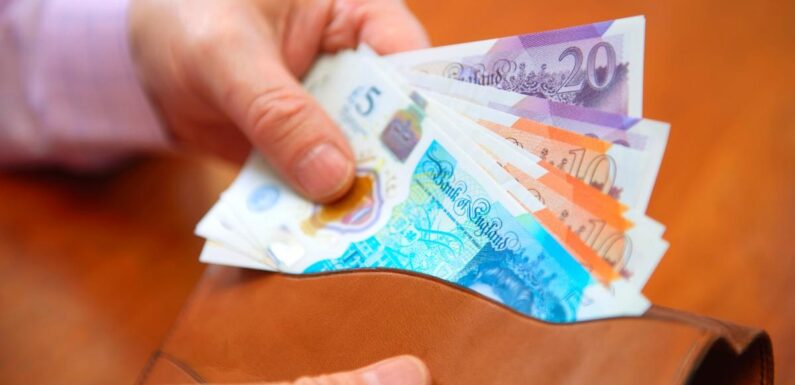 The Department for Work and Pensions (DWP) has issued a new warning about a new text scam which is preying on those worst hit by the cost of living crisis.
The scam SMS message begins with the word 'GOV' and tells the recipient they are entitled to a '£750 Living Payment'.
It also instructs them to 'take action' and 'claim' the money by clicking a link provided in the message.
The full text may read something like: 'GOV: The £750.00 (GBP) Living Payment is ready, take action by accepting the payment via legalaid.income-division.com'.
But clicking the link – not an official DWP or government website – may take you to a website that demands your personal details – such as your name, address, birth date, or even banking information, which could potentially be used to steal money.
However, if you are actually entitled to a Cost of Living payment, you don't need to claim it or get in touch with the government at all.
In fact, it'll arrive in your bank account automatically if you're eligible.
A DWP spokesperson confirmed in a statement: 'All Cost of Living Payments are sent out automatically and directly to those eligible, and customers do not need to apply or contact the government at any stage.
'If you have had a message asking you to apply, accept or contact someone about the payment, this might be a scam.'
The DWP indicated it would not ask people for personal details via text message or email, either.
If you're concerned you may have been sent a scam text message, the National Cyber Security Centre (NCSC) says you can report it for free by forwarding the text to number 7726.
You can also forward suspicious emails to [email protected].
What to do if you've been a victim of a scam
In England and Wales, you should contact Action Fraud. You can:
report online – either sign up for an account or continue as a 'guest'
call 0300 123 2040
If you're in Scotland and you've lost money because of an online scam or fraud, report the crime to Police Scotland.
Follow Metro across our social channels, on Facebook, Twitter and Instagram
Share your views in the comments below
Source: Read Full Article