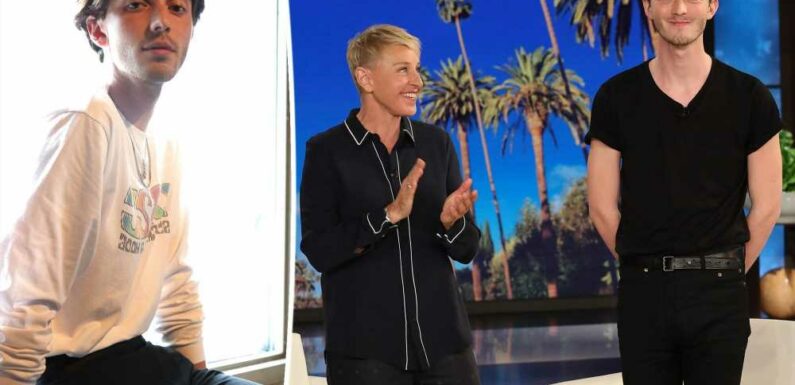 More On:
ellen degeneres
Rosie O'Donnell says she 'never got over' this Ellen DeGeneres comment
Sherri Shepherd wants show to be a mix of Oprah Winfrey and Ellen DeGeneres
Anne Heche once 'warned' Portia de Rossi about dating Ellen DeGeneres
Ellen DeGeneres and Portia de Rossi celebrate 14th wedding anniversary
Ellen DeGeneres' former protégée Greyson Chance claims he's "never met someone more manipulative, more self-centered and more blatantly opportunistic than her."
In a bombshell Rolling Stone interview published Thursday, the Oklahoma native, now 25, reflected on his life and career after a viral video of him performing Lady Gaga's "Paparazzi" in front of his schoolmates landed him on DeGeneres' now-defunct talk show in May 2010 when he was just 12 years old.
"We just couldn't believe what was happening," he told the magazine. "We were so unsure of what we were getting into, and the person that helped cure all of that skepticism and chaotic energy was Ellen."
When the two first met, claimed the musician, DeGeneres said to him, "I'm going to protect you. I'm going to be here for you. We're going to do this together."
Soon after, she co-created eleveneleven — a record label distributed by Interscope Geffen A&M Records — and signed Chance as her first act. She also hooked him up with high-profile managers, a booking agent, a publicist and a brand agent.
In October 2010, Chance released a mini EP. As his touring schedule became more demanding, he claimed, DeGeneres "became domineering and way too controlling."
"My whole week, my whole month, my whole year could change [with] one text message from her. That was horrible," he alleged, adding that he quickly learned that DeGeneres' opinions were the only ones that mattered.
While Chance was opening for Miranda Cosgrove on tour, DeGeneres got her hands on an advance copy of Justin Bieber's "Never Say Never" documentary. According to the singer, who was admittedly exhausted at the time, DeGeneres wanted him to watch it right away because she wanted him to emulate his career after that of the mega-successful pop star.
When he didn't make viewing the film a priority, Chance claimed, DeGeneres called his mother, Lisa, and berated her.
"What type of mother are you?" he recalled hearing the comedian allegedly ask his mom before she said to him directly, "Disappointed isn't even remotely what I'm feeling right now."
At that moment, the young star thought to himself, "OK, I'm a pawn in your game."
Chance said DeGeneres' widely rumored wrath seeped into every aspect of his career. "She would come in and look at a rack, yell at stylists, berate people in front of me and say, 'This is what you're wearing on the show,'" he claimed. "She was just degrading to people."

Chance claimed the comedian once called his mother and berated her.
Jeff Fusco

Chance claimed the comedian once called his mother and berated her.
WireImage

Chance claimed the comedian once called his mother and berated her.
WireImage

Chance claimed the comedian once called his mother and berated her.
WireImage
Elizabeth Chambers appears to have tried to work with Effie to hurt Armie Hammer
View Slideshow
Source: Read Full Article