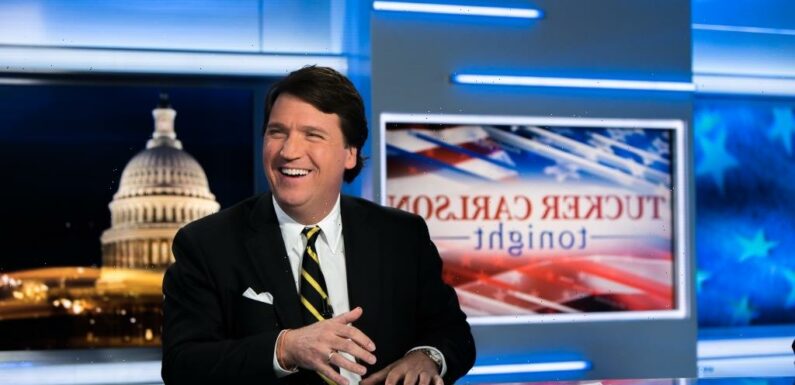 Dominion Voting Systems alleges that emails, depositions and text messages among Fox News executives and its top stars show that the network had a clear financial motive to lie to its audience about voter fraud in the wake of the 2020 election.
In a summary judgement motion filed Thursday, the company argued that Fox anchors feared losing viewers to rival Newsmax if they did not perpetuate the fantasy that the election was stolen from President Trump.
"The network is being rejected," wrote Sean Hannity, in a text message to Laura Ingraham and Tucker Carlson. In another text thread, Hannity wrote: "Respecting this audience whether we agree or not is critical."
Dominion is seeking $1.6 billion in a defamation suit against the network. A trial is set for April in Delaware Superior Court. The voting company alleges that Fox News sought to repair its fractured relationship with its audience at Dominion's expense, by allowing guests to spew wild conspiracy theories that the hosts and executives knew were "crazy" "ludicrous" and "insane."
The 192-page motion uses deposition transcripts and material obtained in discovery to portray a vivid picture of Fox News at a moment of crisis. President Trump was denying the outcome of the election, and Fox hosts feared that he could turn his anger on them if they didn't go along.
"What (Trump)'s good at is destroying things," wrote Tucker Carlson, according to the filing. "He's the
undisputed world champion of that. He could easily destroy us if we play it wrong."
Fox had already lost trust with its audience due to its early call of Arizona for Joe Biden. And the networks stars watched in dismay as Newsmax picked up viewers by pursuing the election fraud theme.
The motion is replete with quotes from network executives — all the way up to Rupert Murdoch — calling the election fraud charges "really crazy" and "nuts." But the network continued to host people like Rudy Giuliani and Sidney Powell, who were given a platform to spread those allegations.
The Dominion motion argues that Fox knew exactly what it was doing. It quotes from a memo from Ron Mitchell, the senior vice president of primetime programming and analytics, in which he commented on Newsmax's winning formula: "This type of conspiratorial reporting might be exactly what the disgruntled FNC viewer is looking for."
In another message, Bill Sammon, the managing editor of the network's D.C. bureau, lamented: "It's remarkable how weak ratings make good journalists do bad things."
On a some occasions, Fox hosts and reporters would push back on the election fraud theory. But inside the network such moments were seen as a "brand threat," as they risked alienating the audience, according to the filing.
In one instance, reporter Jacqui Heinrich offered a "fact check" of a tweet from Trump, in which she said that there was no evidence of vote tampering.
"Please get her fired," Carlson texted to Hannity. "Seriously What the fuck? actually shocked It needs to stop immediately, like tonight. It's measurably hurting the company. The stock price is down. Not a joke."
Fox argues that it was merely covering the controversy over the election results, and that such reporting is protected by the First Amendment. In a counterclaim filed on Thursday, Fox argued that Trump's allegations — even if false — were newsworthy, and that it also covered Dominion's denials.
"Freedom of speech and freedom of the press would be illusory if the prevailing side in a public controversy could sue the press for giving a forum to the losing side," the network's lawyers argued.
But according to Dominion, Fox cannot claim it engaged in "neutral reportage."
"Fox hosts took sides," Dominion's lawyers wrote, noting comments from Maria Bartiromo and Lou Dobbs that endorsed the election fraud theories. "Fox knew the charges were false yet failed to provide viewers with any of the extensive evidence disproving them… 'Newsworthiness' is not a license to lie."
Fox also argued that Dominion's damages are not anywhere near $1.6 billion, as the company is worth no more than $80 million and cannot show that it lost contracts because of Fox's coverage.
Read More About:
Source: Read Full Article