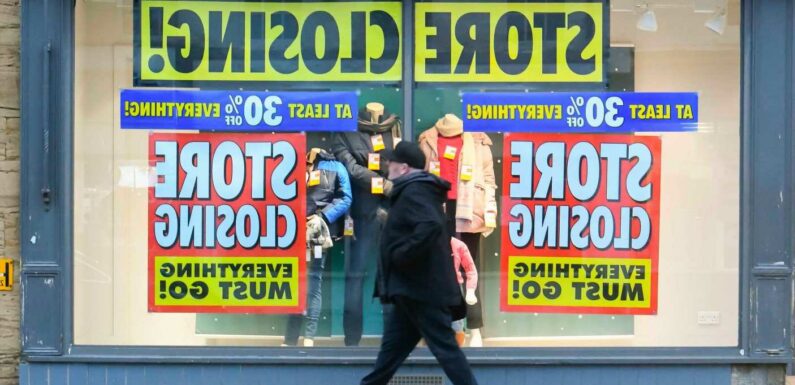 SHOPPERS saw some of their favourite retailers close down in 2022.
More brands collapsed last year after losing the same battle "many retailers" had been fighting amid the Covid pandemic.
It comes as this year the owners of Byron burger announced it had fallen into administration and will close nine restaurants immediately.
The closures will result in the loss of 218 jobs.
But, immediately, the business was sold to a new company Tristar Foods Limited.
It means 12 restaurants can continue to stay open, saving 365 jobs.
read more in shops
M&S to open 20 new shops and create 3,400 jobs – check if one is near you
Tesco makes a major change to supermarket essential – and shoppers will love it
But what happened in 2022? From the Scottish clothing brand M&Co to wellies store Joules, let's take a look at what went bust in 2022.
M&Co
In December, fashion company M&Co announced it would be plunging into administration for the second time.
It had previously closed 47 stores in 2020.
This time, it faced closing 180 stores across the country.
Most read in Money
McDonald's axes popular deal from delivery menus – and customers are furious
Lucky Brit claims huge £10k a MONTH jackpot prize that will last for 30 years
M&S to open 20 new shops and create 3,400 jobs – check if one is near you
Sky announces big change – it could save thousands of customers £180 a year
Whilst it is in administration it is no longer able to process refunds or accept vouchers but will exchange goods.
Administrators at Teneo blamed M&Co's collapse on the sharp rise in costs while squeezed household budgets have also depressed sales. 
But M&Co, which has 170 stores across the UK, is still trading and has already launched a closing down sale to try and clear stock.
Online clothes are being discounted at 50% off , while in shops items have 25% promotions.
Joules
Wellington retailer Joules said it was on the brink of collapse, putting 1,600 jobs at risk, in November last year.
The chain went on to file a notice of intent to appoint administrators.
The brand – famous for its posh wellies – said talks over an emergency cash-call with investors including its founder Tom Joule were unsuccessful and had ended.
Fashion retailer Next ended up paying £34m to buy the company plus £7m for its Market Harborough headquarters.
Made.com
In October, the news came that Made.com was nearly collapsed.
The furniture retailer had already put itself up for sale earlier in the year.
It was a sharp downturn for the company, which launched on the London Stock Exchange two years ago.
It had a £775 million price tag and promised accelerated growth and to lead the online furniture market.
But Made, which employed around 600 people, then sold its brand, website and intellectual property to Next in November.
McColl's
Cornershop chain McColl's confirmed it had gone bust, putting 16,000 jobs and 1,100 shops at risk in May last year.
The retailer had been in discussions with potential lenders to get a short-term loan, but discussions failed.
However, Morrisons since took over and now 450 McColl stores across the country are getting rebranded as 'Morrisons Daily'.
AMT
AMT, the coffee company often found operating in bus and train stations, collapsed in November.
Its sales fell to 63% in 2020 during the pandemic to £7.6m since people were encouraged to work from home.
The drop meant it lost £3.2m altogether.
The company has since been bought by SSP Group which will continue 25 coffee shops, but close 18 along with the head office.
100 jobs were lost.
Missguided
Online fashion giant Missguided called in administrators after failing to secure a rescue bid in May.
The clothes company had previously been accused of not paying suppliers.
However, Mike Ashley's Frasers Group revealed it had snapped up the brand in a last minute deal.
It bought the company for around £20million.
Studio Retail
Online retailer Studio appointed administrators in February 2022 after warning that it was on the brink of collapse.
It stopped taking orders after failing to secure an emergency £25million loan to keep trading.
Read More on The Sun
You're getting stains out of your kids' clothes all wrong and it's ruining them
I eat one meal a day to feed my son & partner – I've lost three stone
Mike Ashley's Fraser Group once again came to the rescue, buying the company for £26.8million.
It meant that 1,500 jobs were saved and the company was able to start trading again.
Source: Read Full Article