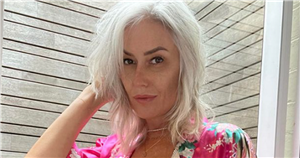 Bookmark
Sign up for the Hot Topics newsletter for hot style and sex tips
We have more newsletters
A 57-year-old gran, dubbed the 'Golden GILF' by her young male admirers, opened up about her racy OnlyFans account.
Viktoria Winslow followed in her daughter's footsteps to join the racy site – and has found that it's in particular younger men who love an older woman.
The Australian, who is based in Melbourne, shares saucy snaps of herself on the site, which she says is "empowering".
READ MORE: 'My daughter is now a Babestation model like me – people think we're sisters'
Her daughter, 24-year-old Zoe – who is also an OnlyFans model – even helps her take them.
As well as her soaring OnlyFans subscribers, the gran has also racked up an impressive 25,000 Instagram followers.
Viktoria says she used to worry about money all the time – however now has financial security, which is "invaluable".
She is also loving the job and the attention she's getting from it.
"I never thought in a million years I would be in this position, one word; empowered," the model, who is also a fitness instructor, revealed.
"I'll continue to make videos for as long as I have an audience – even if I'm 90 and wrinkly.
"One day, I admitted to my daughter that I was worrying about how to put enough money away for retirement.
"She then told me about her OnlyFans account, which she had been doing for a couple of years and had a decent income from.
"At first, I was a little concerned for her safety, but she kept encouraging me to give it a go and soon, I thought I might as well.
"Now, I absolutely love it."
Before earning fame on the platform, Viktoria said she lived "month-to-month" and had to move in with a friend after not being able to afford her rent after using up all her savings.
In March 2021, the mum-of-one started posting various snaps and was at first concerned about how people would react to her age. but ended up being "shocked" at the level of attention she received.
And the grandma, who is divorced, gets daily messages from younger men, having had her fair share of toyboys in the past.
She said: "Zoe and I often team up and do mother and daughter photo shoots which always set tongues wagging.
"Men as young as 19 have subscribed and I think being a hot grandma is a niche market, which helps.
"To be honest, it still always surprises me that they want me."
She said she's not looking for love from any of her young admirers at the moment though.
"I'm not really looking for a man, especially a toy boy, at the moment, as I'm enjoying my work and all the men online – but never say never," she said.
"But doing this as an older woman has been so empowering in many different ways.
"Women are told that to be attractive we have to be young and thin – but I can tell you, this is certainly not the case.
"Men love my wrinkles, my dimples, my stretch marks."
Viktoria does admit she's had some odd requests though.
"One fan asked me to step on bugs on camera (I didn't do it) – and there's so many people out there with foot fetishes, it's unbelievable," she said.
"I only do what I'm comfortable with."
But it's not all been smooth sailing, as trolls still come out of the woodwork to mock Viktoria for her age.
She said: "It's usually young girls, who I think are jealous, with others saying I haven't got any class.
"I've been told on TikTok before: 'Get off here grandma' and I've been called names such as 'Old hag' as well as asked: 'What would your children think?' numerous times.
"I block [these people] and move on – it's a laugh and jealousy is a curse.
"To me, the 'grandma' label is great and there's a lot of people out there that think we're highly desirable.
"I'm a granny who's proud to show off what I've got."
Her daughter, Zoe, has expressed her admiration for her mum, specifically toward her dedication.
Zoe said: "I'm so proud of my mum for her incredible worth ethic, as she's so dedicated and on the ball – it's truly inspiring."
Now, Viktoria continues to share her saucy snaps online and with the support of her friends and family, it's a dream come true.
She added: "Every single person has been truly supportive and told me I'm inspiring or brave.
"Plus, they all know what a hard time I had been through, so they're happy to finally see me thriving!"
READ NEXT:
Expert explains why men touch their crotch so much – and it's not what you think
Miss England winner 'regrets' campaign to ban swimwear – and blames feminists
Horny Brits bonk during work hours as 40% admit to sex on company's time
Influencer shares secret to getting 'Insta bum' in pics taken seconds apart
For more lifestyle stories, sign up to the free Hot Topics newsletter here
Source: Read Full Article