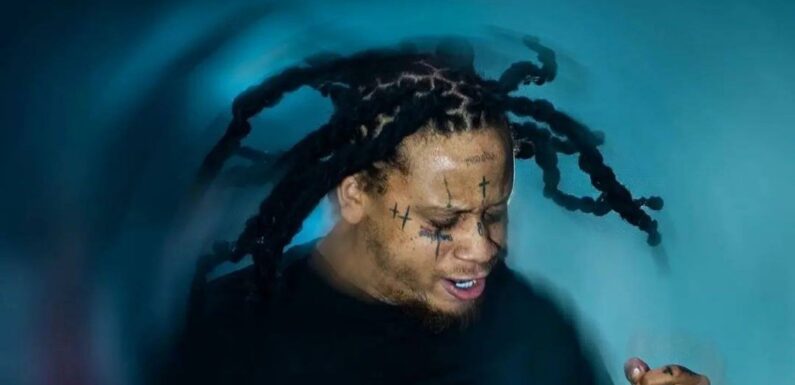 Rapper Trippie Redd's net worth is estimated to be $5 million. He will be dropping his next album with the likes of Travis Scott.
With a massive 13.8 million fan following on Instagram, the young musician has taken the record world by storm. He is best known for his hit singles Dark Knight Dummo, Topanga, and Taking a Walk. Dark Knight Dummo broke the charts and hit on Billboard's Hot 100 becoming his first solo hit as a lead artist. Taking A Walk peaked at number 46 on Billboard's Hot 100 and remained there for weeks making the young artist instantly popular. Intending to make timeless music, he has set his standards high for acing the award events like the Grammy and the AMA.
Trippie surprised his fans by dropping his new album Mansion Musick on 20th January. It includes collaborations with Lil Baby, Future, and Travis Scott.
Trippie Fulfilling His Brother's Dream
Michael Lamar White II was born on 18th June 1999 in Canton, Ohio. According to Gulf Times, as a child, he listened to many rap, rock, and R&B artists since his mother was a fan of these types of music genres. He practiced with them and wrote songs that were unreleased. Becoming a rapper was his older brother's dream, and he went by the moniker 'Dirty Redd.' It was him that introduced Michael to hip hop, unfortunately, 'Dirty Redd' got killed in a car crash. The latter was devastated by his brother's untimely death, and he took upon himself the mission to become the world's best rapper, and Trippie Redd was born.
RELATED: From GoT To Narcos: Here's How Pedro Pascal Became A Hollywood Star
His mother wanted him to take up a regular job, the sensational rapper reported to work at Little Caesar's pizza house for two days and ended up quitting the job for his passion for making music. He recorded his first tracks on cheap equipment at fourteen and uploaded them on a music streaming platform. His first single Angry Vibes, gained him 100k subscribers within days of the upload. He decided to push his career further and moved base to Atlanta to pursue professional rapping.
Redd Hung Out With Influential Rappers And Rose To Fame
On reaching Atlanta, he did not have to pay for studio sessions since he hung out with rapper Lil Wop and female rapper Kodie Shane. They helped him create his first three EPs titled – Beast Mode, Rock the World, and Awakening my Inner Beast over 11 weeks in 2016 from August – November. He created another EP in 2017, which got him noticed among music lovers. He debuted his first mixtape, A Love Letter To You, in 2017. The 12 compositions debuted at number 32 on Top R&B and Hip/Hop charts and number 64 on Billboard 200. He dropped his first album, Life's A Trip, in 2017, which debuted instantly at number 4 on the Billboard 200 chart. The album sold 74,000 units and 15,000 traditional units worldwide. According to Forbes, his third installment of A Love Letter To You, released in 2018, debuted directly at number 3 on the Billboard 200 chart. The tracks moved 84,000 units in the first week; it recorded an estimated 72,000 SEA units, which equals 108.8 million audio streams.
According to On Smash, the fourth installment of his mixtape, A Love Letter To You 4, proved to be the turning point of his career. It debuted at number 1 on the Billboard 200 in 2019, moving approximately 104,000 units in the first week. Fourteen thousand total album sales, 1000 track album units, and 88,000 streaming equivalent album units. The total album units reached an estimated 125.9 million on-demand audio streams.
Crossing 19 Million Monthly Listeners On Spotify
His Trip A Knight album dropped on 20th August 2021. It consisted of 18 tracks and came out as a sequel to his earlier album, Life's A Trip. The first week's sales of the album were approximately 75,740 copies. It debuted at number 2 on the Billboard 200 chart for 27 weeks. Single Miss the Rage from the album peaked at number 11 on the Billboard Top 100, the track also featured Playboy Carti. It stayed in this position for 11 weeks on the charts making it a sensational single hit for Trippie. According to The Sun, the rapper currently crossed 19 million monthly listeners on the streaming platform Spotify.
On 20th January 2023, he surprisingly dropped his fifth album Mansion Musick. It is touted as an ode to Chief Keef's 2018 mixtape by the same name. The album has set a phenomenal collaboration lineup with Lil Baby, Future, Travis Scott, Juice WRLD, Da Baby, Lil B, Rich the Kid, LUCKI, and many more prominent rappers from the music industry. The only tracks he performs solo are Van Helsing, Free Rio, and Killionaire. The new album is a follow-up to his 2021 album Trip at Knight.
Trippie Redd had a sensational start with his Billboard debuts, and he continues to make ground-breaking rap music along with celebrity collaborations.
READ NEXT: A Peek Inside Pete Davidson's $1.3 Million Staten Island Condo
Sources: Gulf Times, Forbes, On Smash, The Sun
Source: Read Full Article