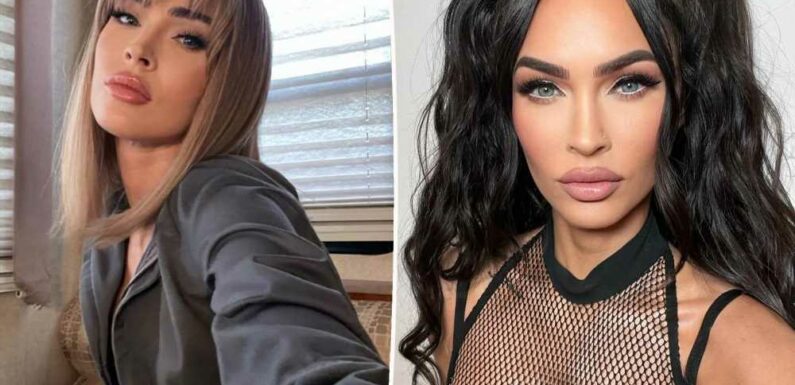 More On:
megan fox
Machine Gun Kelly responds to Megan Fox's post about 'seeking a girlfriend'
Megan Fox, Machine Gun Kelly go Christmas shopping with her three kids: photos
Machine Gun Kelly has leeches crawl on his stomach: 'My best friends'
Machine Gun Kelly touches up Megan Fox's manicure with nail polish collab
Megan Fox is now a blonde bombshell.
The "Transformers" actress, 36, took to her Instagram Stories Friday to show off her new blonde bob to her nearly 21 million followers.
In the pics, which were seemingly snapped in her dressing room trailer, Fox gave a sultry look at the camera as she debuted her shoulder-length, ombré locks.
Fox also rocks bangs, which covered her forehead until right above her eyes.
The new 'do is a drastic change from her signature dark hair, but the switch-up could be for a new sci-fi movie she is currently filming titled, "Subservience," alongside "365 Days" star Michele Morrone.
Aside from showcasing her different hair, Fox she also posted a snap of her toned physique in a tiny orange bikini.
In the grainy pic, the fiancée of Machine Gun Kelly pulled up the sides of her bikini bottom in order to flaunt her fit bod.
The "Jennifer's Body" actress has not been one to shy away from pushing the envelope in fashion.
While supporting the "Bloody Valentine" singer, 32, during his performance at Art Basel last month, Fox made headlines when she channeled Pamela Anderson with an all-pink outfit reminiscent of what the "Baywatch" alum famously wore to the 1999 MTV VMAs.
"Guys you don't understand it's just like…really hard when the only thing anyone ever notices about you is how smart you are," Fox sarcastically captioned the Instagram post at the time.
The skin-baring pants didn't seem to bother MGK, however, as the "Emo Girl" singer commented, "that's why I love you 🧠."
Share this article:
Source: Read Full Article