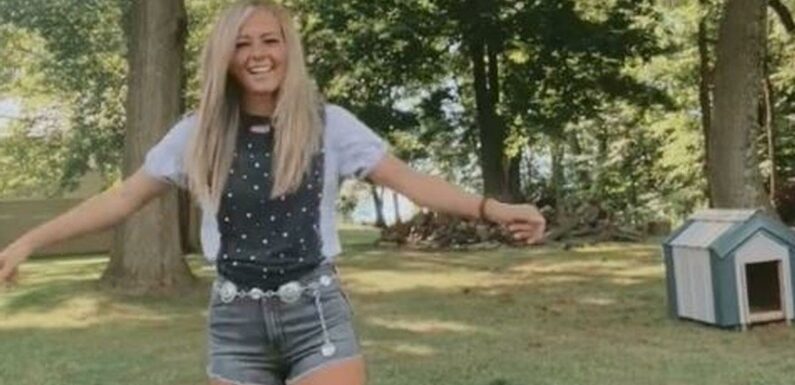 Blokes are begging a gorgeous farm girl to "settle down" with them after she posted a video of herself dancing in her white cowboy boots.
TikTok user Jallyn, who posts under the username @jalgiauque, showed off an outfit she wears to work and it left men in a frenzy.
The young farmer posted a short clip of herself dancing in a pair of cowboy boots and denim hot pants, and people can't get enough.
READ MORE: 'I got dress-coded at the gym but I was covered up – I must look hot'
She wore a black and white studded top, and paired it with super-cute little denim shorts.
The look was finished off with a classic cowboy chain belt and white cowboy boots.
Jallyn was seen dancing around the garden in the video and strutted her stuff for the camera, as she captioned the clip: "When he's ready to settle down."
Even if she has a mystery men, it's clear she's spoilt for choice when it comes to romance, as many social media users commented hoping to snap up the stunner.
One person said: "That's literally goals", while another added: "I just need a good woman like you to do it with."
A third begged: "Give me a chance finally."
Someone else said: "Your're beautiful", while a fifth simply left several ring emojis symbolising a marriage proposal.
Meanwhile some people said they'd jump at the chance of travelling miles to be with her.
One social media user commented: "I'd definitely move to Ohio if I had a chance with you."
"If I had the money I would move in a heartbeat," another added.
A third cheekily replied: "On my way to Ohio right now."
In other clips the sassy dancer can be seen on the farm with her dogs and videoed near the tractors.
The trend #farmtok is becoming increasingly popular, and is used to show what people's lives are like working at farms.
READ NEXT:
Gym babe takes pics one minute apart to show how easy it is to hide big tums

Gym babe strips down to lingerie to show it's 'normal' to have tummy rolls

Page 3 babe dubbed 'Prime Queen' as she sips drink while flashing boobs
Source: Read Full Article