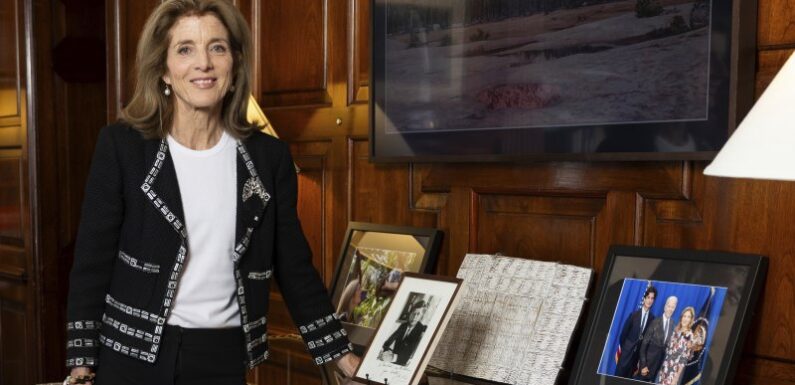 By Matthew Knott and Peter Hartcher
United States Ambassador to Australia Caroline Kennedy gets a surf lesson from Australian three-time world champion surfer Mick Fanning at Kirra Beach in Queensland.Credit: Instagram
Save articles for later
Add articles to your saved list and come back to them any time.
Caroline Kennedy is in the market for a car. Nothing fancy like a Porsche or a Bentley. The United States' ambassador to Australia, a member of one of America's most storied political dynasties, is looking for a second-hand clunker to drive across the outback.
Asked during an interview what she wants to achieve during her Australian posting, Kennedy responds, with a twinkle in her eye, that she wants to sample one of the Country Women's Association's famous scones. She then offers a second aspiration: "I also have been looking online to buy a car for $1500 because I want to go in the shitbox rally."
Excuse us?
The shitbox rally, Kennedy explains to her confused guests, is a challenge to drive across some of Australia's most remote roads (from, say, Adelaide to Perth or Melbourne to Alice Springs) to raise money for the Cancer Council. She first learnt about the event last October when she visited a Bunnings hardware store in Canberra to experience an authentic Australian sausage sizzle and got chatting to the volunteers. Almost a year later, the event is still on her mind.
The ambassador explains what a "shitbox rally" is to her interviewers, Matthew Knott (centre) and Peter Hartcher (right). Labradoodle Chester listens in. Pictured at the US embassy in Canberra. Credit: Alex Ellinghausen
Kennedy's advisers, who confirm her persistent interest in the topic, appear less enthused about the idea of her engaging in such a high-octane activity. At first, they too had no idea what she was talking about: why does the ambassador want to buy "a ship box"?
Kennedy arrives for the interview after walking her labradoodles, Joey and Chester, around the grounds of the American embassy in Yarralumla, a five-minute drive from Parliament House. In a relaxed mood, the daughter of John F Kennedy is wearing a black puffer jacket and joggers, her footwear of choice even for formal occasions. Those who meet her are inevitably struck by the lack of airs and graces for someone born into a life of power and privilege.
She says if she gets her way, her dogs will be joined at the embassy by a flock of sheep. "I've done a lot of sheep research and nobody else is as excited about it as me," she says.
Kennedy arrived in Australia last July with instant impact, chiding a veteran male reporter whom she believed interrupted a younger female counterpart during a brief press conference.
Since then, she's been seen more often than heard, largely avoiding long-form interviews, press conferences and policy speeches.
Unlike her Washington counterpart Kevin Rudd, a globally recognised expert on China, she is not prone to lofty geopolitical pronouncements. Instead, she has focused on travelling the breadth of the continent: visiting the Garma festival in the Northern Territory, attending Dolly Parton drag show in Perth and climbing 80 metres up a tree in an old-growth forest in Tasmania.
"I wanted to visit all the states and territories in my first year – that was a deliberate goal", she says, pointing out that she is ambassador to Australia rather than Canberra.
Having served as ambassador to Japan during the Obama administration, Kennedy says it was her request to President Joe Biden to return to the Asia-Pacific, specifically Australia, for a second diplomatic posting. She admits, however, she was not an expert on the nuances of the country. "I didn't come in with a lot of, really, foreknowledge," she says.
As well as a way to soak up information about her new home, her travels have been an exercise in soft power diplomacy, using her celebrity status to project a positive image of Australia's most important security partner.
Rather than just passing through, she tries to stay in touch with those she meets along the way: traditional elders in East Arnhem Land were impressed by how she followed up a visit to an Indigenous primary school by arranging for the students to speak to astronauts on the International Space Station.
A year into her posting, Kennedy is becoming more expansive: her 45-minute, no-topics-off-limits interview with this masthead is her most sustained media encounter since arriving in the country.
Caroline Kennedy and her other "diplomutt" Joey, pictured at the US embassy residence in Canberra. Credit: Alex Ellinghausen
Earlier in the morning she had bantered on air with Today host Karl Stefanovic. "I grew up being teased and all that so this is somewhat familiar to me," she says of the jocular Australian sense of humour. "You can't just relax, you've got to stay on guard."
Speaking at the unveiling of Rudd's official prime ministerial portrait this week, Prime Minister Anthony Albanese praised Kennedy for doing a "remarkable job" as ambassador.
Michael Fullilove, executive director of the Lowy Institute international affairs think tank, says: "Caroline Kennedy was already an accomplished diplomat with an excellent record of public service when she arrived in Canberra.
"I have been impressed by her understated manner, her conscientiousness and her curiosity.
"And of course, she has the ultimate ambassadorial superpower: the ability to get the President of the United States on the line."
Caroline Kennedy, almost three, peeps over her father John F Kennedy's shoulder. Credit: AP wirephoto
Kennedy's 2013 appointment to Tokyo was initially greeted with some scepticism because of a perceived lack of foreign policy experience. Today, Japanese diplomats are effusive about her role in helping to arrange a historic visit by Obama to Hiroshima, the first time a US president had visited the city since it was devastated by an American nuclear bombing attack in World War II. In 2021, Japan's emperor named her a first-class member of the prestigious Order of the Rising Sun in recognition of her work promoting US-Japan relations.
While some children of celebrities develop a tortured relationship with their family history, Kennedy has embraced hers, using it as a way to advance chosen charitable causes and American foreign policy. A signed photograph from her father, who was assassinated when she was six, is on prominent display at her Canberra residence and she describes her diplomatic postings as a continuation of his work. JFK, she says, had hoped to be the first sitting US president to visit Japan and Australia.
"I'm so proud of my family legacy and I think that being part of a big extended family was a huge source of strength," she says. "Certainly, my mother [Jacqueline Kennedy Onassis] set an example and encouraged my brother and I to pursue our own independent interests within that broader family legacy."
Last week, Kennedy travelled to the Solomon Islands with her 30-year old son, Jack Schlossberg, to recreate part of the famous 1.2-kilometre swim her father made in 1943 when his navy ship was rammed and sunk by a Japanese destroyer.
Again, the personal is geopolitical: as in WWII, the Solomons is playing a pivotal role in a great power competition, this time between the US and China. During her visit, Kennedy met in Honiara with the mercurial Prime Minister Manasseh Sogavare, who has alarmed Western leaders by praising Beijing and signing an expansive security pact with China. She says she emerged from the meeting assured that Sogavare wants to deepen ties with the US and Australia.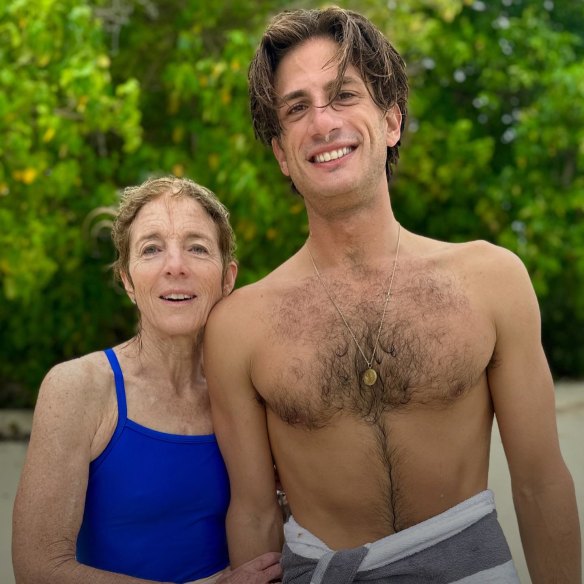 Caroline Kennedy, the US ambassador to Australia, and her son Jack Schlossberg on their visit to the Solomon Islands last week. Credit: Instagram
During her travels, Kennedy says she has been struck by the depth of affinity between the US and Australia, but there's no doubt her country has suffered major brand damage in recent years. A Pew Research poll released this year showed that 47 per cent of Australians have an unfavourable view of the US, the highest of the 23 democracies surveyed besides Hungary. The possibility of a Donald Trump return to the White House looms over the alliance, fuelling questions about how dependable a partner the US will be in the long term.
"I don't think we are an unreliable ally," Kennedy insists.
"I think there's a lot of drama and attention and certainly we're heading into an election year. But if you look at the underlying trends … America has been and will remain a reliable ally. We are engaged in increasing our engagement in this region. So I'm confident that Australia should be able to count on us."
So should Australians feel relaxed about a future Trump presidency?
"Well I don't know if relaxed is the right word," she says. "But in terms of our foreign policy there's bipartisan support, everyone in the US Congress, everyone in the US, loves Australia, appreciates Australia."
Kennedy's cousin Robert – a prominent proponent of anti-vaccine misinformation – is running against Biden for the Democratic Party's presidential nomination. As a diplomat, Kennedy says it would be inappropriate for her to offer personal views on political candidates (her son Jack was more forthright in a recent video filmed in Australia, blasting his relative's presidential campaign as an "embarrassment" and a "vanity project"). Still, there's no doubt about who she is supporting.
Kennedy made a surprise guest appearance at the Summernats car festival in Canberra in January. Credit: Instagram
Reflecting on the Fox News portrayal of Biden as doddering and infirm, Kennedy grows animated in defence of her longtime friend. Describing Biden as an "absolute master" of the US political system, Kennedy points to his ability to pass bipartisan legislation on infrastructure, green energy and semiconductor production.
"I think President Biden has done an incredible job," she says. "He ended our longest war, he beat Donald Trump by more than 5 million votes … our economy is stronger than any other. I think that the achievements of his presidency are really historic."
Much of Kennedy's tenure will be focused on deepening US-Australia military co-operation and bedding down the AUKUS pact, including the transfer of nuclear-powered submarines. Kennedy says she has been personally involved in efforts to grant Australia priority access to US defence technology, and is hopeful Congress will pass export control legislation by the end of the year.
"I'm here to advance the president's agenda, and it's a really full agenda," she says. As for procuring a shitbox and the embassy sheep, that remains to be seen.
Cut through the noise of federal politics with news, views and expert analysis. Subscribers can sign up to our weekly Inside Politics newsletter here.
Most Viewed in Politics
Source: Read Full Article