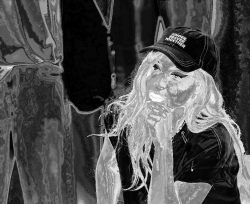 Lady Gaga and her non-profit organization Born This Way Foundation have teamed with the Cotton On Foundation to help draw awareness to mental health.
As part of the "Kinder, Braver Together" campaign, a range of limited edition products from T-shirts to caps and totes are on sale through Oct. 10. In addition, a pop-up shop at Westfield Century City is set to open Sept. 27.
Ahead of the pop-up store opening, Gaga and her mother, president of the Born This Way Foundation Cynthia Germanotta, stopped by and met with a group of young people. In a safe and intimate space, the Academy Award-winning superstar heard stories from the youth and stressed the importance of accessible mental health resources.
Talking about her collaboration with the Cotton On Foundation, Gaga said, "It is so refreshing to see a brand want to do something about mental health, but also not make it a drop in the bucket and let's just do a T-shirt. They took the time to make this cool and beautiful and something that people can latch onto in a cultural way."
Gaga spent time listening to individual stories and asked how the Be There Certificate, an interactive online mental health course that individuals aged 16-25 can take for free and at their own pace, had changed their outlook on confidence. Designed as a framework for young people to have the knowledge, skills and confidence to safely support anyone struggling with mental health, Gaga told the group, "You are part of 30,000 young people who took the Be There Certificate online and that's very inspirational."
The Born This Way Foundation was co-founded in 2011 by Gaga and Germanotta, with the goal of supporting youth mental health and building a kinder, braver world. Germanotta told the group, "We always try to stay true to our mission, which is inspiring and empowering youth."
Said Gaga, "I like this idea that we can better ourselves for each other."
Read More About:
Source: Read Full Article