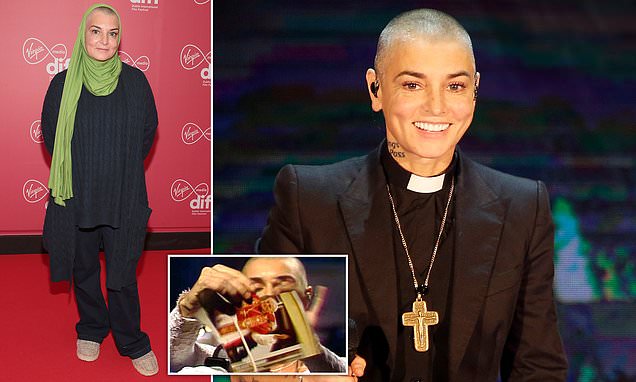 How religion shaped Sinead O'Connor's troubled life – from ripping up the Pope's photo to becoming a 'priestess' and saying she rejected 'non-Muslims' after converting to Islam
The Irish singer was known for her tumultuous relationship with religion 
READ MORE:  Who are Sinead O'Connor's children?
Sinead O'Connor, who has tragically passed away at the age of 56, was embroiled in multiple controversies throughout her lifetime, but at the root of many of her most memorable public moments was her difficult relationship with religion. 
The legendary Irish singer, who spoke of her personal connection to the holy spirit, was raised a Catholic, but caused outrage by ripping up a picture of the Pope on Saturday Night Live in October 1992, as a statement against sexual abuse in the church.  
In 1999, O'Connor caused uproar in Ireland when she became a priestess of the breakaway Latin Tridentine Church – a position that was not recognised by the mainstream Catholic Church. 
Almost a decade later, in 2018, Sinead announced her conversion to Islam and changed her name to Shuhada, which means 'martyrs' in Arabic, but later provoked further controversy when she said that she only wanted to associate with Muslims. 
Sinead O'Connor, the singer associated with her rocky bond with religion,  has died aged 56 after years of mental health battles
Sinead O'Connor pictured in a priestess outfit while she performed during the Italian State RAI TV program Che Tempo che Fa, in Milan, in 2014
The singer was born at a time where the Roman Catholic Church had a great influence over Ireland, and her own middle name, Bernadette, was a nod to Saint Bernadette of Lourdres. 
But after the decline of her parents marriage, Sinead experienced a negative side to the Catholic Church. 
From the age of 15, her shoplifting and truancy led to her being placed for 18 months in a 'training centre' that had once been part of one of Ireland's notorious Magdalene laundries.
O'Connor later told how she had to wash priests' clothes for no wages at Dublin's An Grianan Training Centre, although a nun at the institution did give the musician her first guitar.
A contemporary of O'Connor's told in a post online how many of the girls who attended the home had been 'abused either sexually or physically'.
They spent their lives scrubbing floors and washing their own clothes as rats ran along pipes above them.
'Prayer was a big part of life there, grace before meals and Mass every Sunday,' she added.
She called the home a 'prison', where she was 'deprived of a normal childhood' and girls 'cried every day'. The experience left her so angry that it directly contributed to her symbolic attack on the Pope.
For 18 months of her childhood, Sinead O'Conner was sent to a Catholic 'training centre' that had once been part of one of Ireland's notorious Magdalene laundries. Above: O'Connor as a young girl and, aged 23 at the Grammy Awards in 1989
The home attended by O'Connor had been part of High Park Magdalen laundry, where for more than a century young women had lived and worked without pay. Above: The building is now the home of a housing association's offices
But, despite Sinead's bad experiences, she never truly left religion behind and in and interview with Oprah Winfrey in 2014, O'Connor she said: 'To me, music is the holy spirit', before claiming that if she had not found music, her truancy would have only intensified.
The singer first invited the public into her controversial beliefs on religion during her infamous SNL performance.
Then 26 years old, the singer performed an acappella rendition of Bob Marley's 'War' to bring attention to the issue of child abuse.
As she sang the final refrain 'And we know we shall win/As we are confident in the victory/Of good over evil,' she held up a picture of Pope John Paul II and tore it to pieces right in front of the single camera.
In a shocking move, O'Connor said 'fight the enemy' while staring down the barrel of the camera before blowing out the surrounding candles on stage and walked off.
The singer held the photograph in a stand against the issue of sexual abuse in the Catholic Church, long before such allegations were widely reported.
Her rebellious act was not received well, and in her 2021 memoir, the performer recalled the aftermath, saying: 'When I walk backstage, literally not a human being is in sight.
Sinead O'Connor was performing on SNL on October 1992 when she pulled the stunt that rocked the globe 
The then 26-year-old singer performed an a cappella rendition of Bob Marley's 'War' to bring attention to the issue of child abuse
'All doors have closed. Everyone has vanished. Including my own manager, who locks himself in his room for three days and unplugs his phone.'
The network was later inundated with complaints and calls for days about the broadcast.
Despite the adverse reaction, SNL's show creator Lorne Michaels still allowed O'Connor back on stage at the end of the program to wave goodnight to the audience.
He later added that O'Connor's action was 'the bravest possible thing she could do.'
However, the following week SNL distanced itself from the act by having host Joe Pesci reassemble the photograph and tell the audience that had he been present he would have given the singer 'such a smack'.
O'Connor faced considerable backlash in the months after her SNL performance with protests, death threats, cancelled gigs and even a bulldozer used to flatten a pile of her records in Times Square.
Her apparent rejection Catholicism, did not span to all of Christianity though, and a few years later, in 1999, she was ordained a priest by the Irish Orthodox and Apostolic Church. 
The decision shocked members of the Roman Catholic Church given that women can't be priests. 
Despite her ordinance as a senior member of the Christian faith, Sinead continued to call for a full investigation into the extent of the church's role in concealing child abuse by clergy.
In 2010, Pope Benedict XVI apologized to Ireland to atone for decades of abuse, but Sinead remained unsatisfied. 
O'Connor condemned the apology for not going far enough and called for Catholics to boycott Mass until there was a full investigation into the Vatican's role, which by 2018 was making international headlines.
'People assumed I didn't believe in God. That's not the case at all. I'm Catholic by birth and culture and would be the first at the church door if the Vatican offered sincere reconciliation,' she wrote in the Washington Post in 2010.
At the time church's abuse was making major newspapers in 2018, Sinead announced her surprising conversion to Islam and changed her name to Shuhada Sadaqat, which means 'martyrs' in Arabic. 
The Irish star announced the news on Twitter with a picture of her wearing a hijab. 
Sinead O'Connor shared this picture of herself on Twitter as she announced her conversion to Islam
The singer edited the spelling of her name to Shuhada, which means "martyrs' in Arabic
She wrote: 'This is to announce that I am proud to have become a Muslim.'
The singer added: 'This is the natural conclusion of any intelligent theologian's journey. All scripture study leads to Islam. Which makes all other scriptures redundant. I will be given (another) new name. It will be Shuhada.'
O'Connor did not stop there, she also uploaded a new twitter profile image to a Nike tick with the caption 'wear a hijab. Just do it.'
While her conversion came as a surprise, the singer said it rooted back to a time when she was given her first hijab by her friend Elaine and 'got chills all over' her body when she put it on.
At the time of her death, the musician, who changed her name to Shuhada' Sadaqat in 2018 when she converted to Islam, was thought to be spending her time between Co Roscommon, Ireland, and London
O'Connor's public relationship with Islam did not stop there, and she later posted a video of herself singing the Islamic call to prayer called the Adhan. 
She wrote: 'Here is my attempt at singing the Azan [sic]. I got some pronunciation [sic] wrong because emotions took me from my page…but there'll be hundreds of others onstage to come.'
The conversion led to a flurry of support from Muslims, whom she publicly thanked for their support. 
To show her appreciation of the welcoming response from the Muslim community, Sinead tweeted: 'Thank you so much to all my Muslim brothers and sisters who have been so kind as to welcome me to Ummah today on this page. You can't begin to imagine how much your tenderness means to me.'
But others responded negatively to her Islamic conversion, which later prompted an extreme outburst from Sinead where she said that she no longer wanted to associate with individuals that were not Muslim. 
'I'm terribly sorry,' she said. 'What I'm about to say is something so racist I never thought my soul could ever feel it. But truly I never wanna spend time with white people again (if that's what non-muslims are called). Not for one moment, for any reason. They are disgusting.' 
The singer later recognized her extreme thought and backtracked by saying that the outburst was prompted by the Islamophobia she'd suffered after her conversion.  
Source: Read Full Article