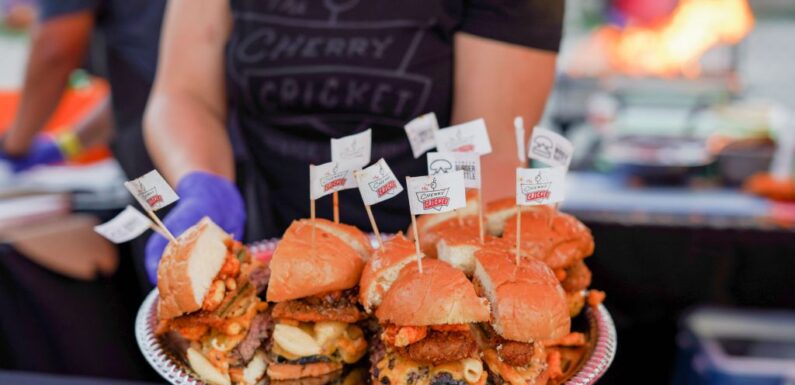 Denver Burger Battle
Thursday. Denverites enjoy access to a miraculous selection of classic hamburgers, from the urban Cherry Cricket and My Brother's Bar to the further-afield Bud's Bar in Sedalia. But what about delicious innovations in the state at large?
Denver Burger Battle, which returns on Aug. 3, will pit more than 20 Colorado restaurants and food trucks against one another in the ultimate red meat championship — including off-menu burgers, organizers said, along with new contenders such as Hickory & Ash, Edgewater Beer Garden and Slater's 50/50.
"A team of burger experts and enthusiasts carefully vet and hand select each competing burger so that guests have the chance to taste and vote from an impressive, curated bracket of local restaurants," they wrote. (Full disclosure: Denver Post dining reporter Lily O'Neil is one of the judges.)
Belly up for the patty battle starting at 5:30 p.m. on Thursday at the Auraria Campus Tivoli Quad, 1000 Larimer St. Tickets, $79-$154, are available at eventbrite.com. — John Wenzel
Cheers to 30 years
Saturday. Avery Brewing Co. has been a stalwart of Colorado's craft beer scene for three decades. Now that calls for a toast. The Boulder brewery will be celebrating in style with a festival Saturday, July 29, that not only showcases dozen of original recipes, but also those from more than 50 locally and nationally renowned breweries.
To sweeten the deal, Avery will pour a specialty release for the occasion: an Anniversary Barrel-Aged Strong Ale, which blends several styles and brewing techniques "representing the culmination of 30 years of brewing experience."
The party, complete with live music, a commemorative glass, and all beer tastings included, runs 1 to 5 p.m. at 4910 Nautilus Court North in Boulder. Tickets cost $93 on eventbrite.com. Call 303-440-4324 for more. — Tiney Ricciardi
Stretch in the sunshine
Saturday. Downtown Denver's Rally Hotel is giving locals a darn good reason to wake up early and get their stretch on. Starting Saturday, July 29, the hotel will host free yoga classes every other week on its rooftop against the backdrop of the city skyline and the Rocky Mountains.
Classes, led by teachers from CorePower Yoga, run 9-10 a.m. — reservations via Eventbrite are encouraged but not required — and post-stretch, yogis can dine at The Original restaurant in McGregor Square and earn gratis bottomless mimosas with any purchase.
The Rally's rooftop yoga series continues on Aug. 12 and 26, and Sept. 9 at 1600 29th St. in Denver. Call 720-907-1234 or visit eventbrite.com. — Tiney Ricciardi
Reels, for real
Tuesday-Aug. 29. How well do movies reflect Colorado's real-life science and history? The experts at History Colorado are taking a cinematic survey with Real to Reel, which begins at 6:30 p.m. on Tuesday, Aug. 1, with 2007's oil-boom fable "There Will Be Blood." The Sie FilmCenter screening is followed by a post-film discussion with Rachael Storm, Curator of Business & Industry at the state's historical society.
More titles include "Cannibal! The Musical," "La Bamba" and "Pom Poko" — all featuring in-person Colorado academics, activists and playwrights. It pairs nicely with Denver Film's ongoing Sci-Fi Film Series at the Sie, which features scientists and others from the Denver Museum of Nature & Science putting context to films such as "Nope," "Everything Everywhere All at Once" and "Them!"
Tickets to both, $15 each, are at denverfilm.org/about/sie-filmcenter. — John Wenzel
Subscribe to our weekly newsletter, In The Know, to get entertainment news sent straight to your inbox.
Source: Read Full Article