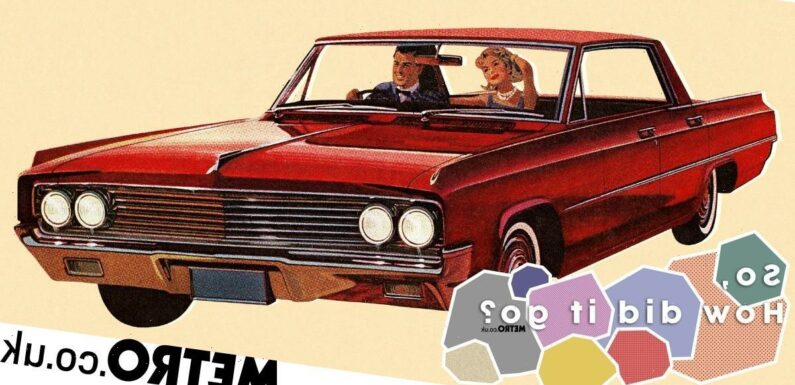 In summer 2020, like many, I was short on cash.
During those few months of illusion that the pandemic was over, when pubs and restaurants reopened in London, I took on a part-time job in a café.
No, not one of those hip places with incredibly creamy oat cappuccinos, it was more like an old-style diner worthy of the Top Boy set.
My weekend shifts were brightened up by a local guy, who used to come in regularly and order a takeaway drink. Just before leaving, he'd hook me up with intense eye contact.
He was more hardcore than my usual type (we are talking neck tattoos here), but the whole silently-looking-at-me game was exciting. After serving him countless strawberry milkshakes in front of my giggly coworkers, there was finally some progress.
One day, he came in later than usual and found me on a break sitting at a table in the back having my lunch. He simply sat in front of me, handed me his phone and said, 'Type your number in. What are you doing after this?'
Never has a day of work passed by so quickly. I was thrilled after waiting for this moment for so many weeks!
Before clocking off, I had already received a text: 'Yo, Kane* here.'
We met that same evening, and he picked me up in a Mercedes. A bit OTT, sure, but I mean… wow.
I must admit, the mystery around this guy was exciting
The first date was unremarkable but fun – we simply drove around the neighbourhood, chatting, listening to music, smoking endless cigarettes and cracking jokes. I left his expensive car thinking that he was cheeky but a great flirter, sweet and with a spot-on sense of humour.
We continued seeing each other casually, but there were a few odd things.
To begin with, I never fully understood what he was doing in life. He mumbled something about a part-time job in transport, which, anyway, wouldn't explain the Mercedes and the other cars.
Correct, he had a few of those 50k+ beauties and he'd show up at the wheel of a different one every time, including a Jaguar (eek) and a BMW.
My initially curious and then increasingly insistent questions about the car collection were always dismissed.
'Don't worry about it, babe', or 'Yeah, I share them with a couple of friends', were the usual answers.
One night, on our way to get food, Kane said he had to 'stop just a minute to pick something up.'
We ended up driving to an industrial area where he pulled over, rolled down the window and had a quick exchange of words with a random guy standing there before collecting a wad of cash from him.
The idea of living a wild adventure with Kane somehow pushed me to keep agreeing to meet him again
I froze. When I tried to play it casual and ask where that money was coming from, he smiled and reassured me it was just a friend paying back a small loan.
I really wanted to believe him, but I couldn't help to start connecting the dots and feeling a bit alarmed. Bad thoughts were running fast in my mind. Was I maybe sitting in a dealer's car?
Yet, reluctantly I must admit, the mystery around this guy was also exciting. When I'd be telling these stories to my girlfriends, they were more thrilled than worried, saying things like: 'Omg, so sexy!' and asking for juicy details.
The idea of living a wild adventure with Kane somehow pushed me to keep agreeing to meet him again.
At times, while riding in his expensive cars and overhearing puzzling phone calls, I felt like a character in one of those shows like Bodyguard or Money Heist that we watched together.
It was as if my actual safety took second place over the intrigue for this extravagant guy I barely knew but I wanted to believe simply had an ordinary job in transport and loads of money for unclear reasons.
He could be sweet, too. One night, we witnessed a cat getting run over by a car. The driver did not stop and Kane rushed immediately to the middle of the road to rescue the dying kitten.
He started calling emergency vet clinics across town and drove like crazy to get to one as soon as possible, while I was holding and cuddling the moaning cat on my lap.
I couldn't stop thinking about how hot that scene was. A tough guy saving a kitten! Technically we didn't save it because, at the vet clinic, the cat didn't make it.
Kane was barely holding back the tears and I, while also devastated by the news, felt intensely attracted to him because of that.
However, shortly after, it all fell apart. I kept growing more suspicious as Kane would ignore my texts for hours if not entire days, and I had no idea how he was spending his time.
One night, we had a pizza and movie date planned but at around midday, he stopped replying to my texts.
I followed up a few hours later to see if he was still up to meet. Nothing again. I called a couple of times but there was no answer.
I felt a bit lost and hurt, was he trying to bail on me?
But then I got worried – maybe something bad happened? The evening we were meant to meet came and went and he still hadn't been in touch.
However, at around midnight, the answer came – a text.
'Babe, got arrested. Call you when I'm out.'
My first reaction was: I knew it, I knew this guy was not legit. He did call me the day after and said something about a fight he'd got into. He told me he had spent the night in a cell and was going to have to go to court in the following months.
I never knew the full story, whether it was true or if there was more, but it was just too much for me. The suspicions I'd always had about Kane came back to mind all together and with crystal clear clarity. I decided to follow my gut feeling telling me that this wouldn't be going far, in any case.
I didn't ask for more explanations and stopped it right there, it just didn't feel right. Shortly after this episode, Covid struck again in the winter, a new wave of lockdowns came, I stopped working in the café and never saw Kane again.
All in all, those couple of months of dating were a wild ride and gave me a good lesson. While things never got serious between us, I truly hope all went for the best for Kane.
Despite everything, he was a fun guy!
*Name has been changed
So, How Did It Go?
So, How Did It Go? is a weekly Metro.co.uk series that will make you cringe with second-hand embarrassment or ooze with jealousy as people share their worst and best date stories.
Want to spill the beans about your own awkward encounter or love story? Contact [email protected]
Rush Hour Crush – love (well, lust) is all around us
Visit Metro's Rush Hour Crush online every weekday at 4:30pm.
Tell us about your Rush Hour Crush by submitting them here, and you could see your message published on the site.
Source: Read Full Article