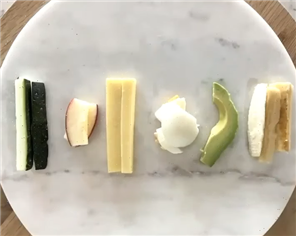 MEAL times can be stressful for parents – especially when you're trying to move baby onto hard foods.
To help relieve some of the food anxiety, a first aider has revealed what all parents need to do before getting their babies to try new food.
She calls it the "squish test", and says it's vital to minimise the risk of choking.
Mum and CEO of the Australian parenting organisation Tiny Hearts Education, Nikki Jurcutz, shared a video to tell mums and dads what to do.
She wrote: "This easy trick is a quick way for you to test if a food is safe to give to your little one.
"Pinch the food between your pointer finger and thumb to mimic the pressure of a toothless gum chewing it.
Read more on parenting
Warning to all parents as expert reveals most dangerous Easter eggs for kids
I'm a flight attendant and here's my top tips for dads travelling with kids
"If the food squishes easily, it's likely safe to give to bub.
"If it doesn't easily squish, you need to modify, substitute or avoid it to minimise the risk of choking."
She demonstrates crumbling up slices of banana, avocado, egg, cheese, all of which are soft and safe for toothless babes.
But when she tried to squish apple and cucumber, it is much harder, so would be a food item to prepare differently for a little one.
Most read in Health
Better-off patients 'may have to pay to see a GP to help save ailing NHS'
Warning to parents as cases of Victorian illnesses surge – the signs to spot
NHS given £200m cash boost to clear hospital beds with 7m Brits on waiting lists
Everything you need to know about new transmissible 'Kraken' Covid variant
However, the mum added: "In saying that, anyone can choke on anything, so knowing what to do is so, so important.
"If bub is choking, remember -'five to stay alive'.
"Five back blows, followed by five chest thrusts over and over until the obstruction is cleared, the ambulance arrives and takes over, or bub goes unconscious and needs CPR."
Here's 5 choking hazards every parent must know
Some 20 children under the age of 10 years old have died as a result of choking in the last four years, the majority aged between one and four years old, usually when a child starts to eat solid foods.
1. Nuts
Nuts are a leading choking hazard because they are harder for a child to grind down in their mouth. 
2. Sausages and hot dogs
When you give sausages to a youngster, never cut them into chunks – the perfect size to get stuck if swallowed.
3. Popcorn
Popcorn can get stuck in the airways as well as cause irritation.
4. Marshmallows
The problem with a marshmallow is that if swallowed whole, it can easily become lodged in the airways.
5. Large fruits
Like every other food, fruit should not be given to young kids in chunk shapes.
That includes fruits such as apples, melon and bananas.
Source: Tiny Hearts Education
Yesterday we told how she warned parents some Easter eggs could be more dangerous than others for young children.
She said smaller and harder eggs are a choking risk, so parents should avoid these for small kids.
Larger or hollow eggs are a better option, as they can be crumbled up into smaller chunks.
The NHS says that if someone is mildly choking then they will usually be able to clear the blockage themselves.
You should encourage them to keep coughing in order to remove the blockage.
Read More on The Sun
Charles letters reveal he asked paedophile Jimmy Savile to advise royals
Sanctioned Abramovich 'begs pals to lend him £1M to stay afloat'
But if coughing doesn't work you can then start back blows.
Read More on The Sun
Geordie Shore castmate AXED for second time in huge series shake-up
People realise same thing about 31 December birthdays & it's blowing minds
If you need to carry out a back blow for someone who is choking then the NHS advises the below.
Stand behind them and slightly to one side. Support their chest with 1 hand. Lean them forward so the object blocking their airway will come out of their mouth, rather than moving further down.
Give up to 5 sharp blows between their shoulder blades with the heel of your hand. The heel is between the palm of your hand and your wrist.
Check if the blockage has cleared.
If not, give up to 5 abdominal thrusts.
We pay for your stories!
Do you have a story for The Sun news desk?
Email us at [email protected] or call 0207 782 4104. You can WhatsApp us on 07423 720 250. We pay for videos too. Click here to upload yours
Click here to get The Sun newspaper delivered for FREE for the next six weeks.
Source: Read Full Article