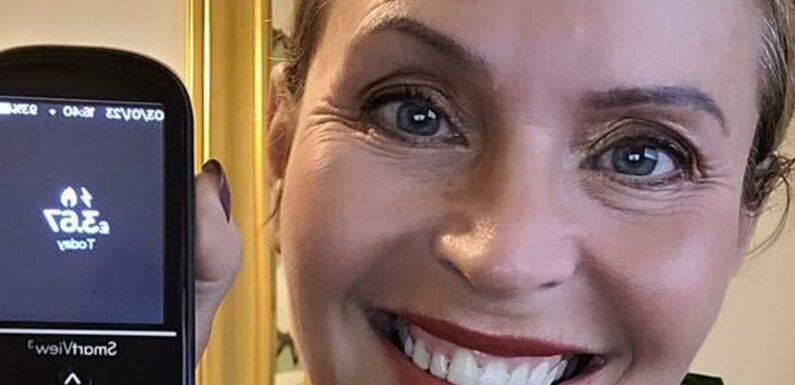 MUM-of-two Heidi was hit with a mega £1,700 energy bill – but ditched the oven and made big washing changes to clear it.
Heidi was shocked when she received a final energy bill from her old supplier in April last year, telling her she owed the eye-watering amount.
Her energy supplier used to be Powershop, but it went bust in 2021.
E.on Next became her supplier in April 2022 after it acquired the company.
But the energy giant told project manager Heidi, 51, from Plymouth, that she was roughly £1,700 in arrears, and had to pay the debt back.
"It was a shock, as I had always paid my direct debit, and I was never told there was a problem," she said.
Read more in Money
Full list of energy saving tips which could slash your bills by up to £1,666
Cheapest time to buy energy saving devices like air fryers – and when to avoid
"I challenged the bill but E.on said it was right – I felt sick and horrified at the thought of paying that back alongside my bill, which had gone up too."
On a mission to clear the bill, Heidi and her husband Dave, 42, and her two kids Archie, 15, and Daisy, 13, started to slash their energy usage.
Using a number of energy saving tricks, Heidi has nearly paid off all of the debt in eight months – including ditching the oven, tumble dryer and central heating.
"Now I owe £355 and by April I should be able to close the deficit – it's a relief, especially knowing that bills are going to go up again in April," she said.
Most read in Money
Martin Lewis reveals when DWP £900 payments could be made to millions
Argos shoppers praise £50 dehumidifier that helps 'completely eradicate mould'
Millions on Universal Credit missing out on cash worth £1,200 – how to get it
Martin Lewis urges workers to check code on payslip as you could be owed £1,000s
Here's how Heidi managed to cut her usage.
Used the washing machine less
Heidi was putting on two loads of washing a day, but has managed to reduce this to four loads a week.
The family would put their towels and clothes in the wash after just one use.
But now, clothes will be worn multiple times before being put in the wash basket – and towels will go in once a week.
She uses an antibacterial special spray to make their clothes stay fresher, and cleaner, for longer.
Cutting down the number of times she uses the washing machine means Heidi is saving herself £2.56 a week – which is £10.24 a month, according to Uswitch.
She's seen the benefit on her water bill too.
"My water bill was £98 a month, and I've reduced this to £60 a month," she said.
Axed the tumble dryer
Tumble dryers are big energy guzzlers, costing around 41p per cycle to run, according to Uswitch.
Heidi was drying all her laundry in her tumble dryer, and it was costing her a fortune.
She was using it twice a day, which added up to a whopping £5.74 a week – or £22.96 per month on average.
But Heidi has left hers switched off since she got her big bill through from E.on.
"I find that hanging clothes up in front of the window is better if it's a sunny day," she said.
"When I'm desperate I'll use the heated-airer – but that uses electric, which costs money, so I'll try to avoid it."
Ditched the oven
Heidi never uses her oven anymore.
Instead, she batch uses a slow cooker and an air fryer too.
A typical electric oven uses a 2,100W heating element, according to the Centre for Sustainable Energy.
This means it costs roughly 71p for each hour your oven is on.
But using different cooking appliances costs a fraction of this.
Slow cookers cost 11p an hour to run, while air fryers cost according to Uswitch.
"I plan my meals around the appliances and how I'll cook them," Heidi said.
"I like to batch cook meals in my slow cooker and microwave them over the next three days, for example."
Switch off the heating
Putting the heating on is one of the biggest drains on your energy bill.
Recent figures from CheckaTrade show the average cost of running your heating per hour is 11.51p per kilowatt-hour.
This means that if you have a 24 kW boiler, it might cost you £2.76 an hour – leaving it on overnight for eight hours could cost you £22.08.
Heidi has left her heating off all winter to save cash on her energy bills – and has been keeping warm in other ways.
"I put electric blankets on all our beds – we put them on before bed to warm us up", she said.
"We have thermal layers we wear from Primark and hot water bottles.
"We have a halogen plug in heater, and I put it on for six minutes in the morning in the kids' bedrooms to get them up and moving.
"We stay on top of mould by using a dehumidifier, which is cheaper than putting the heating on."
According to Uswitch, using an electric blanket for one hour a day, every day of the week for a year, would cost you £12.48 in total.
Read More on The Sun
Woman shares clever trick to dry clothes with no tumble dryer in under two hours
Pregnant Amy Childs confirms due date for twins and 'natural' birth plans
While some halogen heaters cost 18p an hour to run.
Which? says a dehumidifier could cost you nearly £30 a year to run if it's on an hour per day.
Source: Read Full Article