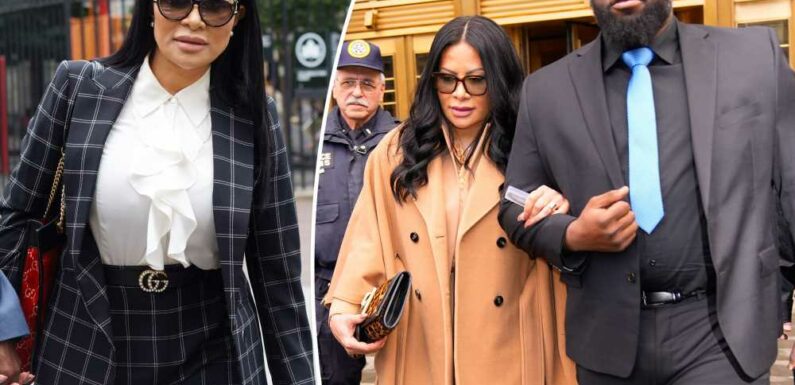 More On:
jen shah
Jen Shah creating prison play 'Real Housewives of Bryan' with fellow inmates
'RHOSLC' star Jen Shah's jewelry wanted by authorities for forfeiture
'Beautiful' Jen Shah's skin and hair look 'great' in prison: pal
Jen Shah is getting out of prison sooner than expected
Hopefully "The Real Housewives of Bryan" is lucrative.
Jen Shah's lawyer claims the imprisoned "Real Housewives of Salt Lake City" alum owes her $124,422.95.
Priya Chaudhry filed court documents Thursday, obtained by Page Six, stating that Shah failed to pay $50,000 in legal fees in addition to $74,422.95 for other expenses.
The filing comes after Chaudhry requested to drop Shah as a client, arguing that the reality star's six-figure debt had breached their contract.
"[Shah] and her husband [Sharrieff Shah] repeatedly promised to pay these outstanding amounts, and the firm continued to provide services, relying on the written engagement with [Shah] and the promises of her husband," Chaudhry said in March 24 court papers.
A New York judge has yet to rule on the attorney's request to withdraw from the case.
Chaudhry didn't immediately respond to Page Six's request for comment.
Shah, 49, has not addressed the claims, as since she is currently serving a five-and-a-half year sentence at FPC Bryan in Texas.
The former Bravolebrity's manager recently shared that his client has been making the most of her time behind bars and participating in several activities — including teaching her fellow inmates how to read and write, praying with other Muslims and even creating a play dubbed "The Real Housewives of Bryan."
For more Page Six reality TV updates
Subscribe to our weekly "Housewives Hangover" newsletter
Listen to our "Virtual Reali-Tea" podcast
Shop our exclusive merch
Shah's assistant, meanwhile, told fans that the ex-"Housewife" has already lost 15 pounds and "looks beautiful" with "glowy" skin and hair while behind bars.
Shah pleaded guilty to a wire fraud charge in July 2022 after being arrested in March 2021 for running nationwide telemarketing scheme that predominantly targeted the elderly.
She additionally has to pay a whopping $6.5 million in restitution to her victims, which her rep recently confirmed is in the works.
"She has initiated her payments towards restitution, and we hope to have her home as soon as possible so that she may resume life with her family and work, putting this chapter of her life behind her," the rep told People.
Most recently, federal authorities began the process of seizing Shah's jewelry as part of her forfeiture obligation.
Share this article:
Source: Read Full Article