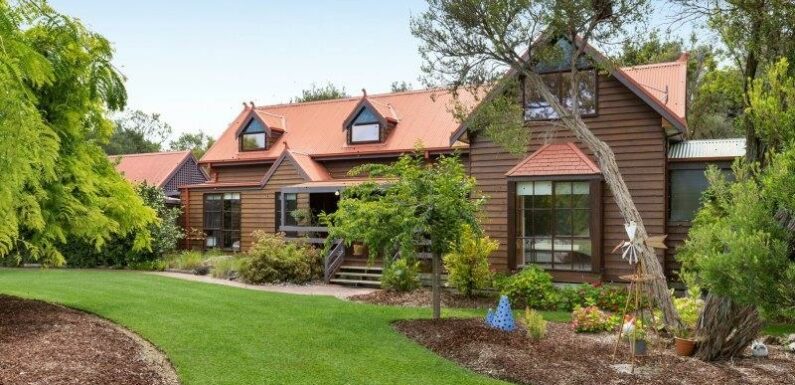 Key points
The four-bedroom home features a barn that's been transformed into a concert venue.
The vendors have held concerts to raise funds for musicians and for charities.
Rye's house prices have flown over the past year, up 7.6 per cent to a $1.2 million median according to Domain data.
Property listings
Many people sing from the hilltops when they find their dream home, but buyers of an unusual four-bedroom residence on the Mornington Peninsula could go one step further and hold their own concert.
That's because 156 Weeroona Street, Rye has its own concert venue of sorts, which has been used by the music-loving vendors as a way to raise money for charity and musicians.
The home's concert venue caters for up to 100 people.Credit:Home AU Real Estate
Barry and Jill Swayn are selling their family home to downsize, having built it in 1986 and lived there for 36 years.
Barry Swayn said the concert venue was built in the property's barn about 20 years ago, an update to its original use as a fully equipped gym.
"Our oldest son is a musician in a local band, and I'm a lyricist, so music is a really good little project for us both to have," Swayn said. "We do a lot of different fundraisers at home, and we've had a lot of bands here, usually folk bands."
Country musician Bill Chambers, father of Kasey Chambers, is one of the best known stars to play at the venue, Swayn said.
The stage area, and the couple's large backyard, is big enough to hold about 100 people, and concert tickets had been sold for about $20 per head.
The funds were sometimes given to musicians to help with their living and touring expenses, while money was also raised for charities such as Beyond Blue and Oxfam.
"We usually have three to four concerts over the summer," Swayn said. "I'd like to see it continue in that vein with whoever buys it."
The property has also hosted family weddings and the manicured gardens are the perfect backdrop for photos, he said.
The home has hosted concerts and weddings.Credit:Home AU Real Estate
The property is listed for private sale with price hopes of $2.8 million to $3.08 million, a big leap from what the Swayns paid when they first bought it in the 1980s.
"We could have bought six of these places back then for the price," he laughed.
Mornington Peninsula house prices skyrocketed when many Melburnians fled there between COVID lockdowns to find a beachside home with more space.
Rye's median house price, at $1.2 million, is 76.5 per cent higher than five years ago according to Domain data.
Selling agent and Home AU Real Estate sales manager Sheree Hay said the property was one of a kind on the Peninsula.
"It's very unique for this part of Rye, particularly being within a short distance to the beach and the shops and other amenities," Hay said.
Buyers looking for a lifestyle property had been interested in the home and barn/concert venue, as well as those looking for an investment, she said.
"They really want the Happy Days type of lifestyle where everyone can come together and use it."
The Morning Edition newsletter is our guide to the day's most important and interesting stories, analysis and insights. Sign up here.
Most Viewed in Property
Source: Read Full Article