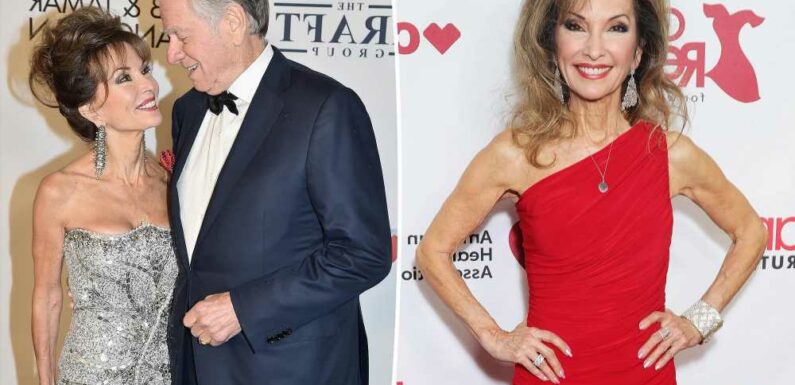 More On:
susan lucci
Stars and socialites raise $4M at Central Park 'Hat Lunch'
Susan Lucci's husband, Helmut Huber, dead at 84
Jane Seymour, Susan Lucci and more stars over 70 stunning in swimwear
Susan Lucci, 74, sizzles poolside in a white swimsuit
Susan Lucci is happily single.
The "All My Children" star, who was widowed last year, shared that she has no interest in dating.
"No, no. I can't imagine," she told Page Six exclusively at the American Heart Association's Red Dress Collection concert on Wednesday.
Lucci's husband of 52 years, Helmut Huber, died at age 84 in March 2022.
The couple met at Red Salt Room restaurant at Long Island's Garden City Hotel in the '60s when Lucci was a waitress and Huber was the executive chef. They wed in September 1969 and went on to have two children.
The actress explained to us that it feels too soon to start contemplating romance again.
"It's been 10 months. It's not a long time," she noted. "It's not on my radar. … He was a very hard act to follow."
Lucci said she thankfully keeps busy with "amazing friends who like to be out and about," adding, "And I like to be out and about."
The former soap star walked the AHA's celebrity fashion show to promote heart care for women because she had emergency cardiac surgery to implant two stents in 2018.
"It felt like an elephant pressing on my chest," the TV icon added. "I was driven to St. Francis Hospital, and I learned I had a 90 percent blockage in my main artery and a 75 percent blockage in the adjacent."
Other celebrities who took part in the annual event included Gina Gershon, Teri Hatcher, Elisabeth Röhm and Star Jones.
Share this article:
Source: Read Full Article