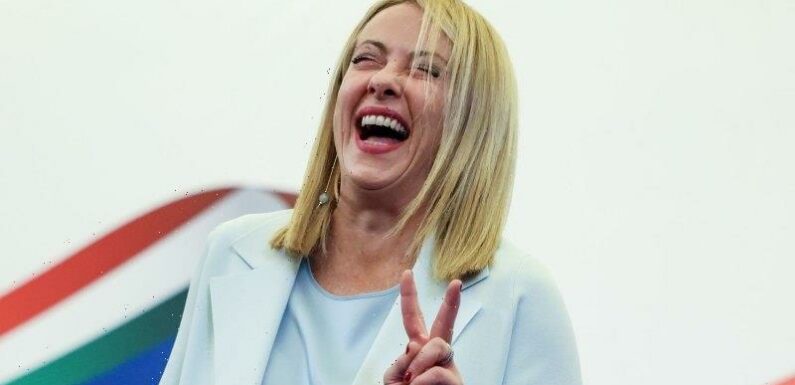 What is the point of having women in positions of leadership? Do we want them there simply as a measure of equality, or do we expect more of them? Do we want them to use their power to improve conditions for other women, or are we content to just let them take their rightful place at the apex?
The arrival of two very different female leaders this week tested these questions in interesting ways.
Giorgia Meloni, leader of the right-wing Brothers of Italy, holds a sign saying "Thanks Italy" as her party emerged victorious in Sunday's election.Credit:AP
The first was Italy's first female prime minister, Giorgia Meloni, a far-right politician who makes much of her identity as a woman and a mother.
Meloni's party won about 26 per cent of the vote. She is expected to lead a coalition government made up of other right-wing populists, together with former premier Silvio Berlusconi (he of the "bunga bunga" parties) and Matteo Salvini, who leads a far-right party called League (in 2018 he called for a "mass cleansing" of immigrants).
Brothers of Italy won just four per cent of the vote in the 2018 election, but this time Meloni was propelled to popularity on the back of a by a strong anti-immigrant, pro-nationalist and "anti-woke" agenda. She rails against what she calls "gender ideology" and global elites.
Brothers of Italy traces its lineage back to the post-fascism of WWII – its direct forebear was the neo-fascist Italian Social Movement (MSI), which was formed by supporters of Benito Mussolini after the war, following the banning of the National Fascist Party. And the Brothers of Italy party has the same tricolour flame logo as MSI.
From left, Matteo Salvini, Silvio Berlusconi and Giorgia Meloni during a campaign rally in Rome.Credit:Bloomberg
As reported by Reuters this week, the party has "moved out of the shadows and into the mainstream without ever fully repudiating its post-fascist roots".
Meloni has an interesting back-story – one that mirrors Barack Obama's. She was brought up in a working-class neighbourhood of Rome, by a single mother, her father having abandoned the family after she was born.
She was talent-spotted early by a right-wing activist named Fabio Rampelli, who wanted to build a new generation of conservative politicians.
"Meloni was blonde, blue-eyed, petite, easy-going and witty," he said. "She was also very concrete and not ideological. All the characteristics we needed to take the Italian Right to the next level."
Illustration: Reg Lynch. Credit:
Blonde, blue-eyed, petite, easy-going and witty: It's interesting that while right-wingers tend to be opposed to gender quotas, declaring them patronising to women, they are often happy to exploit the markers of femininity when they come together in a suitable political candidate.
(It's also easier for women candidates to argue convincingly against "gender ideology", which is the new front in the culture wars. We saw this close to home earlier this year, with the pre-selection of Katherine Deves as the Liberal candidate in Warringah.)
Should we herald the election of Meloni as a feminist victory? Are we a pack of feminist hypocrites if we don't?
Ruth Ben-Ghiat is an American scholar with an expertise in fascism and authoritarian leaders. She wrote in The Atlantic recently that Meloni is an example of gender-washing – when female far-right wing politicians house their extreme policies in a non-threatening, feminine package.
Take a look at the policies, though, and you will find many of them harm women, particularly immigrant and disadvantaged women. Not to mention gay women, women who want out of constricting gender roles, or any woman wanting access to safe abortion.
Meloni is opposed to diversity or gender quotas – she says that being a woman has advantaged her. "When you are a woman you are often underestimated, but that can help you," she has said.
Most women will agree that we can be underestimated, but the notion that this helps us is laughable.
Former US secretary of state Hillary Clinton told Italy's Il Corriere that far-right parties often like female leaders because women "are often the first to support the basic pillars of male powers and privilege".
If that kind of female leader is bad – the one promoted just to prop up the patriarchy – then it follows that a good female leader will do something different. She will effect change from within, use her place in the system to redress gender inequality, right?
Justice Jayne Jagot has been appointed to the High Court.Credit:Peter Rae
Which brings us to another woman elevated to a position of power this week – Justice Jayne Jagot, who was appointed to the Australian High Court on Thursday.
Her arrival, replacing retiring judge Patrick Keane, will tip the balance of the seven-member bench to being female-dominated. The Court is helmed by a woman – Chief Justice Susan Kiefel.
One day (hopefully soon) the appointment of female judges will not be of any particular interest, but we are not there yet. Attorney-General Mark Dreyfus made sure to say Jagot was appointed on merit grounds – it must be irritating to her that he even has to make that explicit.
The Law Council put out a statement welcoming the appointment, stating that diversity was "an essential feature in ensuring a responsive and well-informed judiciary … representation in our courts should reflect the community that they serve".
This is an important point – equality is only effective when it's visible. We need to have confidence that our institutions are non-discriminatory, in order to enact principles of equality in our own personal and professional lives.
Meloni seems to have noticed that being a female has marked her out for a different life experience than that of a man. She has tried to parlay her femininity into her politics.
"I am woman, I am a mother, I am a Christian," she told a rally this year, railing against the non-binary labels of left-wing identity politics.
October 9 marks the 10th anniversary of former Prime Minister Julia Gillard's "misogyny speech". In an interview Gillard gave last week, she said she wished she had moved earlier to call out the sexism levelled at her. She spent too long trying to ignore it and ride it out.
That's the thing about sexism, or any form of discrimination – it doesn't care about your politics, or your position.
It finds you anyway.
Jacqueline Maley is a regular columnist.
The Opinion newsletter is a weekly wrap of views that will challenge, champion and inform your own. Sign up here.
Most Viewed in Politics
From our partners
Source: Read Full Article