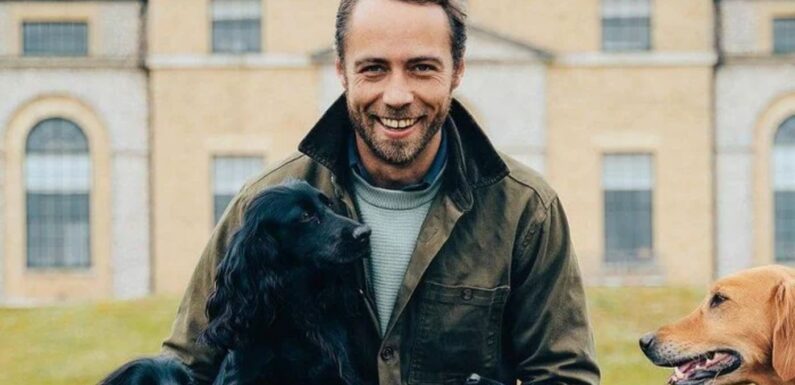 James Middleton expresses his hope on his instagram account that his marriage to Alizee Thevenet will last as long as Queen Elizabeth's.
James and Alizee got engaged in 2019 and tied the knot in southeastern France in 2021. Middleton has also launched several projects since meeting Thevenet, including his dog wellness brand Ella & Co. and the Paw Print Fund, which supports animal welfare charities.
Middleton is the owner of dog food company, Ella & Co. He is the owner of six dogs himself: Ella, Zulu, Inka, Luna, Mabel and Nala.
He is also an ambassador for Pets As Therapy UK, a charity providing therapeutic pet visits to care homes, hospitals and schools.
In lieu of posting a photo of him and his wife, James paid a loving tribute to the late Queen Elizabeth. The picture he chose was one of the monarch on her wedding day with her husband, Prince Philip.
"Today is our 1st wedding anniversary," he wrote in the caption. "However it doesn't seem right to celebrate while mourning the loss of Queen Elizabeth II"

"Instead I'm sharing a photo of the marriage of the Queen & the Duke of Edinburgh on their wedding 74 years ago," his message continued.

"To my darling Alizee,I look forward to sharing as many with you in our lifetime ❤️"
RELATED: 10 Scandals Surrounding Kate Middleton's Brother, James
James Middleton and Alizee Thevenet have dogs to thank for their love story.
The couple were "introduced" by James' dog Ella.
According to The Telegraph, James said, "The two of us were at the South Kensington Club in Chelsea."
"Ella was lying at my feet under the table; realizing she might want some water, I trusted her to take herself to the water bowl across the terrace. However, she made a beeline for Alizee. Rather embarrassed, I went over to apologize and bring Ella back."

"Little did I know, I had just met my future wife, all thanks to Ella," he shared. "If I hadn't trusted Ella, I wouldn't have brought her to the South Kensington Club and she wouldn't have been able to say hi to the woman who became my fiancée."
James posted a picture of them together with his wife after they got married.
"Mr & Mrs Middleton ❤️ 🇬🇧 🇫🇷," he wrote. "Yesterday I married the love of my life surrounded by family, friends and of course a few dogs in the beautiful village [of] Bormes-les-Mimosas. Words cannot describe how happy I am ❤️."
James Middleton is also known as a sweet husband and a dog lover.
"Celebrating International Women's Day through our love of dogs, because they are Woman's best friend too 🐾 ❤️"

"I am fortunate to be surrounded by incredible women, my wife, my mother, my sisters, my friends, my colleagues and many more who inspire me every day. Happy International Women's day."
READ NEXT: Kendall Jenner With Her NBA Star Boyfriend Devin Booker Had A Lavish Date Night at Marni
Sources: The Telegraph, PEOPLE, Independent
Source: Read Full Article