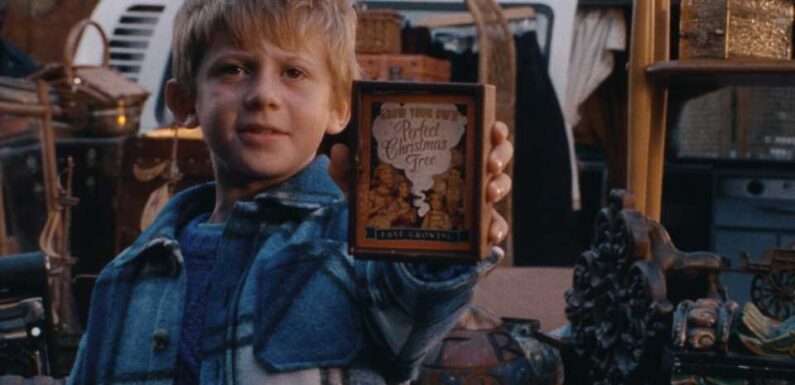 THE most anticipated Christmas advert of the year is finally here – and it'll warm your heart on cold days.
The John Lewis ad is about a little boy's quest for the perfect Christmas tree, befriending a playful character along the way.
The advert starts as eight-year-old Alfie picks up a seed to grow a "Christmas tree" at a flea market with his grandma.
As he nurtures the little seed at home, it quickly grows into an energetic and mischievous Venus flytrap named Snapper.
The fast-growing wannabe Christmas tree becomes a life force with its playful personality and gets in on all the festivities, but it eventually comes to an abrupt halt.
When Snapper grows so big that he tears Christmas decorations at the house, he's cast outside in the cold by the family.
Read more on Christmas ads
FESTIVE FEELS
John Lewis Christmas adverts through the years from 2007 to 2021
GOLDEN TICKET
Aldi releases Willy Wonka-inspired Christmas ad – a fan favourite is back
The tearjerking moment leaves Alfie heartbroken, who's set on not freezing him out.
The advert ends as Snapper is embraced back into family life when Alfie and the family join him in the garden to give Christmas gifts.
The playful plant gobbles up all the wrapped Christmas gifts only to keep the wrapping paper and give back the prezzies to the family.
The music is provided by famous opera artist Andrea Bocelli who performs a song called "Festa", which means celebration.
Most read in Money
LONG GONE
Hellmann's discontinues 'best sauce EVER' and there's NO plans to bring it back
CHOC SHOCK
Nestle confirms it is scrapping iconic chocolate bar after 60 years
BAKE OFF
Greggs reveals Xmas menu including return of popular bake and all-new drinks
MER-LOW
I tested supermarket Merlot & £5.79 budget buy will have any connoisseur fooled
It's been written and produced specifically for the John Lewis advert.
It will be released in longer form as a charity single with a proportion of the proceeds from the sale going to John Lewis charity partners to help care experienced young people and families in need.
Customers will be able to buy items from the advert including a £18 plush plant, pyjamas ranging from £19 to £34 and a children's storybook for £9.99.
The retailer's Christmas ad is widely considered the major advertising event of the year – and signals that the run-up to Christmas has begun. 
This year's ad – which comes with the strapline "Let Your Traditions Grow" – is the first campaign by Saatchi and Saatchi after John Lewis changed agency after 14 years.
Charlotte Lock, customer director for John Lewis, said: "We are a nation that loves the traditions of Christmas – from classic traditions like pantos and putting up the tree to evolving new ones like crafting our own presents and Zoom get-togethers.
"Many of us have our own unique festive traditions and that makes them even more special.
"The film celebrates themes of family and evolving traditions and shows that a 'perfect' Christmas is finding joy together with loved ones, whatever your traditions."
The advert launches on the retailer's social media channels today and will be broadcast on TV during Gogglebox on Friday.
My John Lewis loyalty members got early access to the ad this morning.
Read More on The Sun
SAVAGE ATTACK
Dramatic moment armed police kill 'XL Bully' after 2 people mauled in rampage
MORE SHORE
Geordie Shore legend in shock return to show after six years and marriage split
To watch all the John Lewis ads through the years, read our round-up.
The retailer teased shoppers with a trailer for the ad and its release date earlier this week.

Source: Read Full Article