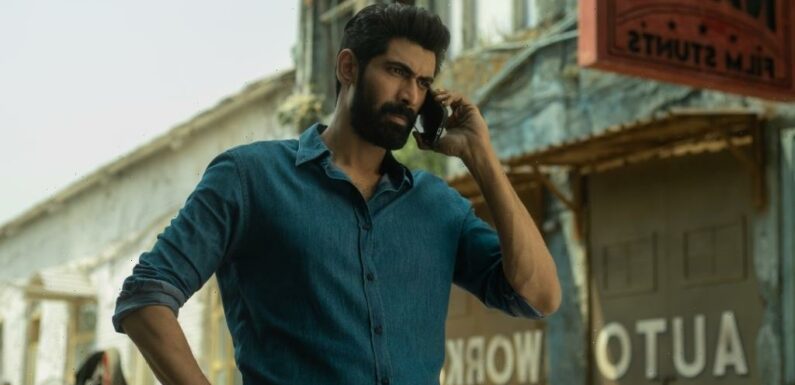 EXCLUSIVE: Karan Anshuman and Suparn Varma, two of the first writers, directors and showrunners to move into India's web series space, have co-directed Rana Naidu, Netflix's Indian remake of Ray Donovan, produced by Sunder Aaron's Locomotive Global. The Hindi-language show starts streaming worldwide from this Friday (March 10).
Anshuman is the showrunner on the series and co-directs with Varma. The cast is headed by two major stars of the Telugu-language film industry – Rana Daggubati and his uncle Venkatesh Daggubati – who appear on screen together for the first time, playing the warring father and son played by Liev Schreiber and Jon Voight in the original Showtime series.
Related Story
Prince Harry Receives 'ADD Diagnosis' Live During Interview With Canadian Therapist
Although initially resistant to the idea of doing a remake, Anshuman says he changed his mind after watching the original show, which ran for seven seasons and a movie. "What struck me is how families are integral to the story, and that obviously has relevance in India. Plus all the heightened drama with guns and gangsters could be pushed much more to the extremes when you move the action from Los Angeles to Bombay, especially when it comes to the imbalance of power and corruption."
Varma adds: "India is primarily all about emotions and family, and the way Karan and his team adapted the material, localizing the story and making the characters our own, gives the show a completely fresh perspective even if you've seen the original."
The end result does indeed push the guns and gangster elements to the extreme and is a huge departure for both Rana Daggubati, who plays a fixer for celebrities who get themselves into a mess, and Venkatesh Daggubati, playing his father freshly released from prison.
Rana has played bad guys before, most notably in S.S. Rajamouli's Baahubali, but the conflicted family guy he plays here is a much more complex role than we've seen him in previously. Meanwhile, his uncle Venkatesh is an even bigger star, with a long legacy as a romantic hero in Telugu cinema, and his traditional fanbase may be shocked by the foul-mouthed, badly-behaved, but somehow relatable character he plays in this series.
Varma says: "The casting is interesting, because in the original Jon Voight has a menacing look to him, but Venkatesh looks like an angel. And with the way Karan has written him, you never know until the last scene whether you like him or there's something a bit off about him. His image just gives an extra layer, which is kind of unique."
Anshuman adds: "OTT has been slower to take off in the south of India, so they're kind of the first stars from the South to take this step. And especially for Venkatesh, he was up for everything and didn't balk at anything we asked him to do. It's kind of insane because he's a huge star who doesn't need to do this."
While the OTT space is only five to six years old in India, Anshuman and Varma were among the first writers-directors to take that step, at least in the Mumbai-based Hindi-language industry, from movies to episodic projects. Anshuman is known as the creator and writer of Emmy-nominated cricket drama Inside Edge and gangster drama Mirzapur, two early originals commissioned by Amazon Prime Video.
Varma wrote Netflix's comedy crime drama Hasmukh and wrote and directed several episodes of the second season of Raj and DK's The Family Man for Prime Video. More recently, he was also the showrunner and director for the Indian adaptation of The Good Wife for Disney+ Hotstar.
Anshuman says he still has to explain to people what a showrunner is, but the writers' room culture is developing fast in Mumbai, although during the pandemic it was more of a writers' Zoom than a physical room: "The pandemic was actually great for writing as there's a lot more discipline and sense of routine when you're meeting online. No excuses about being stuck in traffic!"
He adds that writing in the early days of Indian premium TV was usually quite chaotic. "We were all losing our tempers and the laptop chargers were flying across the room. But now some seven or eight rooms later we have writers working out of Spain, Goa, Mumbai and Los Angeles and we've all found our rhythm and it's super seamless."
Varma also makes the point that the changing writers culture is opening the industry up to international collaboration. "We can have writers in India consulting on shows in the U.S. and we just got two British writers to work on formats here. The volume of work here is massive because we're the world's most populous country; there's a lot of eyeballs and we do need content. And it's also starting to happen, not just in Hindi, but across other languages."
They also say that Indian premium TV still doesn't have any set rules, which may be a good thing, at least in these early stages. Some shows are written by just one or two writers and the common practice of having a separate writer to focus on dialogues remains. Rana Naidu's dialogues were written by Vaibhav Vishal, who also wrote dialogues for Inside Edge and Scam 1992: The Harshad Mehta Story. As this space evolves in India, it will inevitably develop its own unique characteristics.
"Sometimes it just comes down to the money, as some shows can only afford one writer," Varma explains. "And writers work on multiple shows because they can't afford to do one show a year when people aren't paying for exclusivity. But we're just starting out and we'll get there eventually."
Must Read Stories
Top TV Writers, Stiehm, More Talk WGA Negotiations; Guild "Good Sheriff In A Bad Town"
$58M U.S. Bow Sets Record For 'Rocky' Spinoff Pics & Amazon; $100M+ Global: Analysis
'Top Gun', 'Everything Everywhere', 'The Bear', 'Andor' Win At ACE Eddie Awards
Chris Rock TKOs Will Smith's Oscar Slap & "Selective Outrage" In Netflix Live Special
Read More About:
Source: Read Full Article