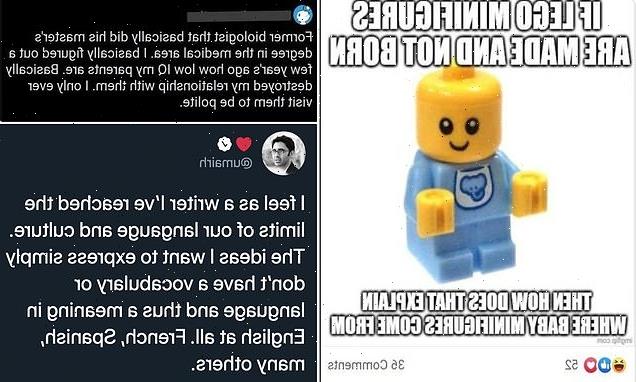 Artificial intelligence! Boastful statements by people who think they're really smart will make your toes curl
 Social site Ranker has revealed messages from those who think they are smart
 Must read: People reveal the very quirky reasons they ditched their partner 
From boasting about their interest in quantum physics to dropping hints about their psychology degree, people can often excel at bigging themselves up. 
And now on US social site Ranker, messages from those who think they are better than everyone else have been revealed.
One read: 'I just don't find pandering comedy funny. I prefer cerebral comedy.'
Meanwhile another read: 'I can't understand why people struggle with mathematics at all. Everything is just pure and simple logic. There could also be a possibility of me being a better human.'
Here FEMAIL reveals all the toe-curling messages shared on the site.  
Messages from those who think they are better than everyone else have been revealed on viral gallery site Ranker (pictured, one person in the US was missing the joke of this hilarious meme) 
Another person, from the US, confessed their relationship with their parents had been destroyed because he discovered they had low IQs
This man from the US has claimed that the ideas he wants to express cannot be found in our current language…maybe he just hasn't found the right words
Hilarious: This person who prefers cerebral comedy to other comedy sadly doesn't know that the jokes on them
Pure and simple: This person claimed they spend time making calculus equations for fun and can't understand why the rest of the world 'struggle with mathematics' 
This person claims that they had read 400 books by the age of nine and got the top score in an IQ test – but also admitted they still can't do mathematics 
Ur… what is this person saying? If they could explain in text talk, that would be easier for the rest of us to understand 
This person claims to be setting aside their ego, but then boasts that science is finally catching up with their view
Just like Alexander Hamilton, this person from the US claims they are the smartest in the room (most of the time) 
She may be able to speak seven languages, but by saying she is 'better than others' isn't going to win her any points for her social skills 
Taking things literally: This internet dater gave an honest answer when a woman asked where all the good men had gone 
When a shopper called this man in the US 'dumb' for not wearing a face covering during the Covid-19 pandemic, he got more than he bargained for 
This person believes they bond more with older people as younger people simply don't understand much
When one texter from the US said they made some regrettable choices on a night out, the other brought up how much they had learned on their psychology degree 
Most people think medical doctors are the experts – but this person was so confident that they told the medic what to prescribe them
Educated? One person in a philosophy class slapped down a fellow learner, saying the topic was too complex to understand 
This person is clearly a student but doesn't want to be  identified as such as it is merely a societal role 
Source: Read Full Article