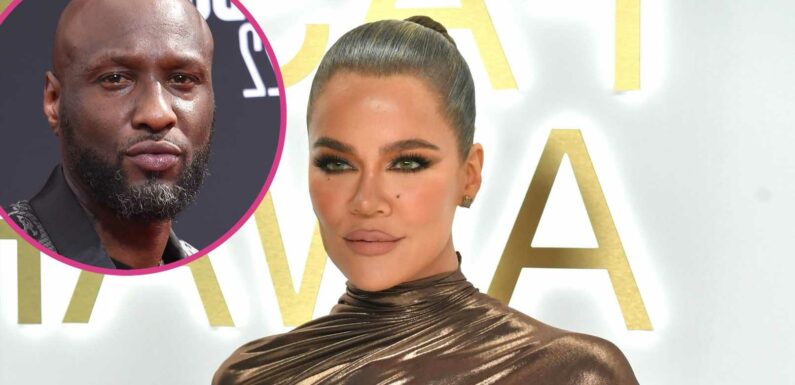 After Khloé Kardashian filed for divorce from ex-husband Lamar Odom, she became "obsessive" about working out — and what the scale read about her weight.
Khloe Kardashian's Body Evolution Through the Years
"When I first started [working out], I cared so much. Maybe [it's] just being younger. I think you care about the scale," the Kardashians star, 38, told InStyle in an interview published on Friday, March 10. "The scale Fs with you. I don't even look at a scale anymore. I think it's really unhealthy. I haven't in years. They're just numbers."
She continued: "I go off of how confident I feel in myself. I'm all about [doing] what's best for me, mind, body, soul. There is no one size fits all."
Everything Khloe Kardashian Has Said About Her Ever-Changing Look
The Good American designer has long been candid about her weight loss journey, which even landed her a hosting gig on Revenge Body.
"The reason why I turned to the gym was actually through my divorce. I didn't really know what to do," she recalled to the outlet. "Of course, in the beginning, you [have to] get over that hump of it being really hard and something so new for you. But I felt so accomplished. I'm sort of a control freak, but in life we can't control everything. But the gym, what I put in it, I know I'm going to get out of it. And being a control freak — I'm proud of it — I love that I have that control."
In order to view the video, please allow Manage Cookies
Kardashian and Odom, 43, tied the knot in September 2009 after one month of dating. However, after four years together, the Khloé & Lamar alums called it quits when Kardashian filed for divorce in December 2013. The Strong Looks Better Naked author later called off her filing after the former Los Angeles Lakers player was left comatose after overdosing at a legal brothel in Nevada in order to be his caretaker. Following Odom's recovery, Kardashian refiled for divorce in May 2016 and it was finalized seven months later.
"Him and I each played a significant role in each other's lives, so I think it's natural," Kardashian told sister Kim Kardashian during a 2019 episode of Keeping Up With the Kardashians about the Darkness to Light author speaking about their relationship journey. "So, if he feels like talking about it — and if this is a form of his healing and therapy — then I actually think it's really courageous to talk about the amount of addiction that he's had. Like, the depths of it. It doesn't bother me."
Relive Khloe Kardashian and Lamar Odom's Whirlwind Romance
After their divorce was finalized, Khloé found solace in working out.
"If I'm having a really bad day, I go to the gym. I might not want to go to the gym, but I go and right when I'm done, I feel so much lighter," the mother of two — who coparents daughter True, 4, and a son, 8 months, with ex Tristan Thompson — told InStyle in Friday's profile. "I think you have to listen to your body for sure, but no one's going to push you. So you do have to listen to yourself and know when you're really tired versus making excuses. The beginning is the hardest — I think the first three weeks are the biggest challenge. And then, once you get over that, I do feel like everyone finds a rhythm."
For access to all our exclusive celebrity videos and interviews – Subscribe on YouTube!
Source: Read Full Article