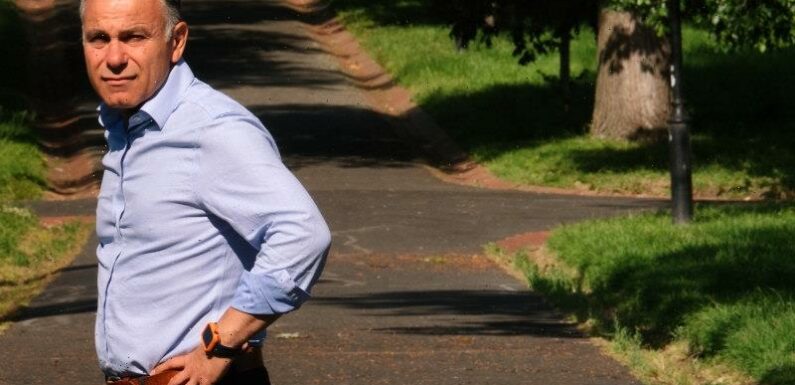 Hawthorn MP John Pesutto says that if the Liberals want to win the next state election, the battle to lead the party must not be framed as a contest between inner and outer Melbourne.
Pesutto, a lawyer who retook the leafy, blue-chip electorate on Wednesday is in a two-way fight for the top job with Brad Battin, a former police officer and Bakers Delight owner who holds the seat of Berwick in Melbourne's burgeoning outer east.
John Pesutto in Hawthorn on Friday morning.Credit:Luis Enrique Ascui
"This idea that there needs to be a choice between inner metropolitan seats, outer Metropolitan seats, and regional Victoria is a false one," Pesutto said. "There is no choice that needs to be made. As a party of government, we need to reach out to all corners of the state."
The 52-year-old argues that as leader he will help the Liberal Party retain the inner and middle Melbourne seats it won at last Saturday's wipeout to Labor, and appeal to Melbourne's sprawling suburbs and the regions where in the main it failed to turn some big swings into electoral gains.
But Battin's backers believe the Berwick MP has a rare ability to connect with outer Melbourne voters, and argue this is the Liberal Party's best path back to power. Battin, 46, won Berwick by 5 per cent. They also argue that while Pesutto fought an excellent campaign to win back Hawthorn, his appeal to outer suburban and regional voters will be more limited.
Pesutto, who was an industrial lawyer before his career in politics, said he could "relate to anybody", pointing to his own story of growing up in the Latrobe Valley as the son of Italian immigrants.
"I'm one of five kids who was born in Traralgon. My father was a sparky on the power stations among other things. My mom was a machinist, at McArthur's shoe factory in Traralgon."
Pesutto's father emigrated to Australia in 1961 and his mother in 1963; both were from Calabria in southern Italy.
"They were typical of the migrants who came out in the 1950s and 1960s: you didn't know the language but you associated with people from the same area. You looked after each other and you just worked yourself silly."
He said his Hawthorn victory was evidence he could win back Labor supporters, along with voters who toyed with voting for a teal independent.
Brad Battin is running against Pesutto for the Liberal Party leadership in Victoria.Credit:Simon Schluter
He reclaimed Hawthorn from Labor's John Kennedy, also defeating a well-organised campaign by teal Melissa Lowe. But the win was narrow; on Friday he was just 1.26 per cent ahead of Lowe in the vote count.
Pesutto said Labor won last week's election because it had a better ground game and ran a better campaign. He said what had worked for him in Hawthorn would work elsewhere: "a combination of on-the-ground strong grassroots campaigning, very targeted social media", and more traditional politicking, including via the media.
In the years between losing Hawthorn and winning it back, Pesutto was a regular on the ABC and wrote several columns for The Age. Asked by the ABC's Raf Epstein on Thursday if, as leader, he would continue to narrow-cast the state Liberal Party's media efforts on commercial radio and News Corporation newspapers, Pesutto said he would encourage his team to better engage with all media.
"There'll be things that The Herald Sun might be interested in that The Age is not, that The Guardian is interested in, that The Australian is interested in. But make sure that when you're running campaigns and narratives, you … put in the work and you're actually [campaigning on] a genuine issue of concern."
Labor MPs have boasted since the election of the dwindling power of the media to influence elections.
"Dan [Andrews] has more Facebook followers than the Herald Sun has readers," Health Minister Mary-Anne Thomas said on Sunday, regarding the News Corporation newspaper's heavily critical coverage of the government during the campaign.
A father of three who for 21 years has been married to Betty Pesutto, who comes from a Greek family, he was once chief of staff to Upper House MP David Davis, and an industrial relations advisor to ex-premier Denis Napthine.
He ran unsuccessfully against Josh Frydenberg for preselection in the federal seat of Kooyong before winning Hawthorn in 2014.
Pesutto with wife Betty at 8.30pm on election night, when it looked possible he would fail to win back Hawthorn.Credit:Scott McNaughton
Often referred to as a moderate, his critics question whether that is an appropriate label for Pesutto, who has worked for hard-right think tank the Institute of Public Affairs, and attacked Labor aggressively over gang violence while shadow attorney-general in the run-up to 2018's poll.
A further question mark will hang over Pesutto's moderate credentials after he said as leader he would reverse former leader Matthew Guy's ban on newly elected Upper House Liberal MP Renee Heath sitting in the party room. During the election campaign, The Age's reporting on Heath's lifelong membership of an ultra-conservative church opposed to gay, transgender and reproductive rights led to Guy's party room ban.
Pesutto says the prohibition would not stand. "I'm not expecting that there will be any move to follow through on the commitments that Matthew made a couple of weeks ago," he said. "Any concerns that might have existed at that time won't result in any move being raised [against her] at the party room meeting."
Liberal MPs questioned by The Age this week on both Pesutto's and Battin's sides of the fight claimed their candidate had the numbers to win next Thursday's leadership ballot.
Pesutto for his part believes he can emerge victorious. "I'm very positive based on the discussions that I have had that I can go very close if not get there."
The Morning Edition newsletter is our guide to the day's most important and interesting stories, analysis and insights. Sign up here.
Most Viewed in Politics
From our partners
Source: Read Full Article