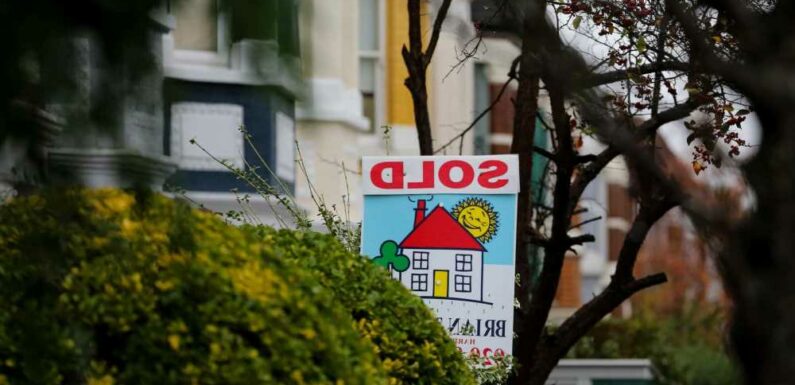 MAJOR banks have slashed their mortgage rates as experts predict they could fall even further.
Santander and Barclays have reduced their mortgage rates following a turbulent few months for homeowners.
Mortgage rates jumped in 2022 as the Bank of England (BoE) base rate climbed and the markets reacted to the mini-budget.
The central banked hiked interest rates for the ninth time in a row in December as it tries to tackle soaring prices.
More than 1.4 million households are facing the prospect of interest rate rises when they renew their fixed-rate mortgages this year, according to The Office for National Statistics (ONS).
But there may be a glimmer of hope for homeowners, as some high street banks have announced a surprise cut to rates which will see some customers' mortgage bills fall.
READ MORE IN MONEY
Mortgage borrowers could get share of £150million compensation – can you claim
Full list of freebies that first-time buyers can get to help buy a house
Barclays has has reduced the rates on its five-year fixed rate deal for borrowers with a 25% deposit at 4.41% – a reduction of 0.27%.
The bank is also offering a two-year tracker deal for those with a 25% deposit for 3.86%, which is down from 3.99%.
On Tuesday, Santander rates fell by up to 0.2% across its product range.
It now offers a 25 per cent deposit, five-year fixed rate at 4.58% with no fee.
Most read in Money
UK's 50 best gastropubs for 2023 are revealed – does your boozer make list?
List of Wetherspoons pubs up for sale in the UK – is yours at risk of closing?
Dad saves £750 by turning off energy 'guzzling' appliances – see the worst ones
Full list of over 250 postcodes getting £75 cold weather payments
Nationwide also reduced rates by up to up to 0.20% last week.
While HSBC said it has made reductions of up to 0.15% across more than one hundred rates.
Figures from Moneyfacts show that both the average two- and five-year fixed rates are falling following 13 consecutive months of rises recorded up to November 2022.
Rachel Springall, finance expert at Moneyfacts, said: "Product choice within the mortgage market has improved in recent months.
"This activity has led overall fixed rates to fall and indicates the focus of lenders' repricing strategies."
Experts now predict that that the Bank of England base rate could hit 4% when the Monetary Policy Committee meets next month. 
Fixed-rate mortgage holders are cushioned from base rate rises, but there are concerns that people will have to re-mortgage onto a much higher rate when they eventually come off their deal.
Should I fix now?
If you have a fixed rate, you could see higher rates when you come to the end of the current term.
Around 2.2million borrowers are due to come to the end of a deal that they fixed when the base rate was at a historic low of 0.1%.
But if you're nearing the end of a fixed deal soon, you may be wondering if it's worth looking for another one now.
David Hollingworth, associate director of L&C Mortgages, said that given the cost of living crisis, homeowners may be keen to take advantage of these rates.
He told The Sun: "These lower rates will be much more appealing than those on offer only a a few months ago, although will still be higher than rates available in recent years. 
"With base rate still expected to have further to climb I expect that many will prefer a fix. 
"It's worth noting that securing a deal now doesn't mean that they can't hop onto a lower rate if there are further cuts."
Carmen Green, mortgage and protection adviser at Xpress Mortgages said whole fixing my be tempting, it can be down to individual circumstance and plans.
She said: "Discount and tracker rates do still usually offer an initial discount compared to the fixed rates, so if overall cost is priority, it may still work out cheaper to go for a variable rate. However, the gap between the rates has been closing.
"The Bank of England base rate is to be reviewed in the coming weeks which will often impact the rate payable on a tracker or discounted rate, depending on the underlying rate it tracks ."
Tips for getting the best mortgage deal
Getting the best rate on your mortgage can depend on the rates available at the time, but there are several ways to land the best deal.
Usually the larger the deposit you have the lower the rate you can get.
If you're remortgaging and your loan to value ratio has changed this could also give you access to better rates than before.
A change to your credit score or a better salary could also help you access better rates.
If you have a fixed rate, you could see higher rates when you come to the end of the current term after the BoE rise., either when shopping for a new fixed deal or reverting to the standard variable rate (SVR).
But if you're nearing the end of a fixed deal soon it's worth looking now. You can lock in current deals sometimes up to six months before your current deal ends.
Fixed rates have historically been cheaper than SVRs, but that may not be the case now, so its worth comparing the costs, and how long you want to be locked in for.
Leaving a fixed deal early will usually come with an early exit fee, so you want to avoid this extra cost.
But depending on the cost and how much you could save by switching versus sticking, it could be worth paying to leave the deal – but compare the costs first.
To find the best deal use a mortgage comparison tool to see what's available.
You can also got to a mortgage broker who can compare for you, but you may have to pay for this service.
It could cost a couple of hundred pounds but it might save you thousands on you mortgage overall.
You'll also need to factor in fees for the mortgage, though some have no fees at all, or you can add it on to the cost of the mortgage, but beware that means you'll pay interest on it and so will cost more in the long term.
You can use a mortgage calculator to see how much you could borrow.
Read More on The Sun
Millions of iPhones became 'dangerous' this week – but you can fix it easily
Woman who tried henna freckles ended up the spit of Princess Fiona in Shrek
Remember, that you'll have to pass the lender's strict eligibility criteria too, which will include affordability checks, and looking at your credit file.
You may also need to provide documents such as utility bills, proof of benefits, your last three month's payslips, passports and bank statement.
Do you have a money problem that needs sorting? Get in touch by emailing [email protected]
Source: Read Full Article