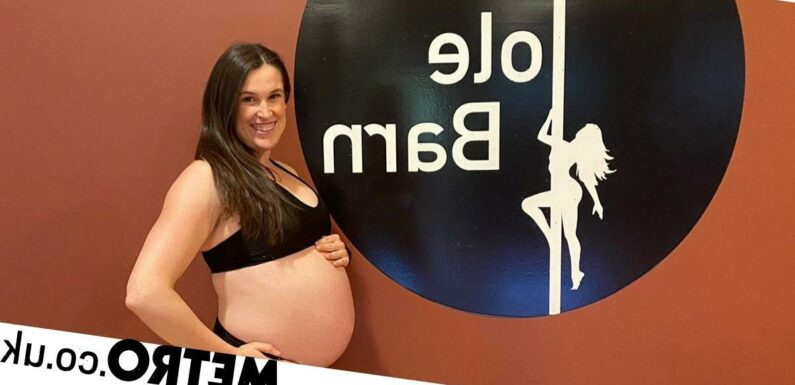 A mum found pole dancing to be a saving grace throughout her pregnancy – despite cruel trolls claiming she 'didn't care about the baby'.
Danielle Nicole, 36, started pole dancing seven years ago, when she attended a private class for her 29th birthday.
She loved the sport, and went on to take it up as a hobby. She's since won pole dancing competitions and taught pole classes to others.
It's helped her get through traumatic experiences too, after she suffered a miscarriage at 18 weeks pregnant in April 2021.
She said: 'The pole dancing was how I healed and it was a creative way for me to express my feelings.'
In November 2021, seven months after her miscarriage, she fell pregnant again and decided to continue pole dancing.
Seeking medical advice, her obstetrician told her it was fine to continue as long as she took safety precautions, and her pregnancy didn't develop any complications.
Danielle gave birth to baby Felix, in August 2022, without a hitch.
But strangers online claimed she 'didn't care about the baby' and 'just wanted more Instagram followers'.
'It was hurtful, but I wanted to stick up for women in general,' Danielle said.
'It's perfectly safe if you know what you're doing, I didn't do anything dangerous.'
Danielle, from Michigan, US, said: 'It was a piece of me that was important to continue.
'For the first 20 weeks I didn't change a lot, I had a bit of nausea, so I didn't do spin pole.
'I taught pole dancing up to 32 weeks and I changed from teaching a higher-level class to a lower-level class.
'I didn't do flips or climb high, and I wasn't doing upper pole stuff.
'I often dance barefoot and didn't do a lot in heels. I was mainly on the ground.
'I modified what I did for the baby's safety as I didn't want to hurt him.'
She believes continuing helped make childbirth smoother, crediting the health benefits of pole.
'Giving birth is one of the most stressful things your body will go through,' she added.
'You have to have a good core and good pelvic muscles to be able to push and deliver a baby effectively.
'There was an emotional importance too – it is my community, and I am surrounded by other women and we empower each other.
'I didn't want to lose my identity just because I was pregnant.'
She found climbing stairs to be 'more difficult' than pole dancing, which she did twice a week while pregnant, and now does once a week post-partum.
Danielle said: 'I kept pole dancing a secret for five years because of the way it is perceived.
'I just wish people would be less judgmental, most mums are doing the best they can and know their bodies.'
Do you have a story to share?
Get in touch by emailing [email protected]
Source: Read Full Article