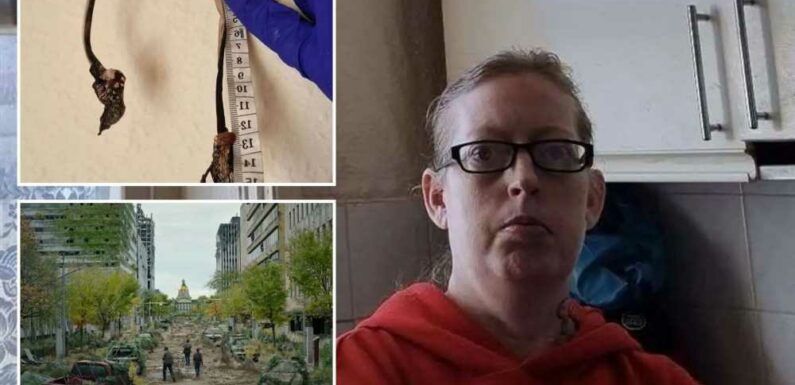 A GRANDMOTHER whose flat is being invaded by huge mushrooms has compared it to living in The Last of Us.
Sarah-Jane Knight, 40, first noticed the fungus in her home in Margate, Kent, on February 11 after a number of leaks in neighbouring properties.
It's meant that worried grandma has been left fearing for her grandsons health and safety.
The young lads, along with their mum, live in the apartment where the 15cm growths dangling above her work surface.
Sarah-Jane has even compared the mushrooms to those in hit Sky programme The Last of Us, where spores emanating from fungus infect human brains and turn people into zombies.
Sarah-Jane told KentOnline: "We're living in hell.
Read More in Property
We built fence to stop people snooping but now council demand we tear it down
We took an old mill & gave it a Grand Designs makeover – now it's worth £1M
"The mushrooms are growing where I used to prepare the kids' food and their bottles.
"I now make my youngest grandson's bottles in the front room because I'm worried about his safety from the fungus."
The grandmother adds that her home has been blighted by leaks since December 2021.
The incidents are said to have affected her bathroom, lounge and one of her grandson's bedrooms, tripping the electrics.
Most read in Money
Major bank to close 100 branches despite bumper profits
Martin Lewis issues urgent pension warning & says many Brits could miss out
High street retailer confirms 106 shops to close for good within WEEKS
Major supermarkets impose rationing on fruit and veg as shortages hit shelves
The growths have also left her "terrified the cupboards could come off the wall and the ceiling will come down".
But Sarah-Jane says she has "nowhere else to go" as "we can't afford a more expensive rent, and the council won't house us all together".
She continued: "The kitchen has now leaked twice.
"On February 11, this one above my kitchen sink and cupboard started.
"I have a lot of health problems and this is the last thing I need. It's like The Last of Us.
"It's pushing me to my edge – I'm supposed to be able to look after my daughter and my grandsons, but I can't."
Bosses from Regent Lettings, which manages the property on the landlord's behalf, say contractors were previously sent to the property, but were not let inside.
Sarah-Jane disputes the claim, adding she only refused to let in an electrician once because she was unwell.
A spokesman for Regent Lettings said: "A leak at the property was reported to us last week.
"Contractors could not find the source of the leak.
Read More on The Sun
Boots makes big change to 2,247 stores pulling essential products from shelves
ITV confirms future of popular show after a year off screen
"We have arranged visits in the past, but contractors have been turned away at the door.
"We have sent another contractor over on Monday to look at the issue."

Source: Read Full Article